Fanon article ownership
This fanon page was created and is owned by
Auror Andrachome
(
talk
). Unless the edit is constructive and/or minor (such as fixing a template), please do
not
edit this page unless given permission from the author.
Worth family

Description
Started off by Niles Worth, the family has spread beyond the little farmhouse where everything began into new eons. 100 Old Farm Road fit the the family's needs at first, but 102 Firefly Pass eventually became the new permanent base for the Worth home. With the unfortunate deaths of both Niles and Patricia, will Trista and Justy be able to keep the Worth family strong and burly?
Name
Worth family
Members
Justy Worth, Trista Worth, Anna Worth, Cyromil, Comet Worth, Kaylynn Worth, Lucas Worth
Number of generations
4 generations
Family connections
Wan family, Viejo household, Roth family
Lot
102 Firefly Pass
Funds
§302,034
Other information
Game
The Sims 2: Seasons
Playability
Playable
Neighborhood
Riverblossom Hills
Write a Review!
The Worth family is a very prominent family in the breadbasket region of Riverblossom Hills. The family now spans several generations and traces its roots towards the haplogroup C-M356. The main line now reside at 102 Firefly Pass comfortably.
Current Main family
Edit
Family tree
Edit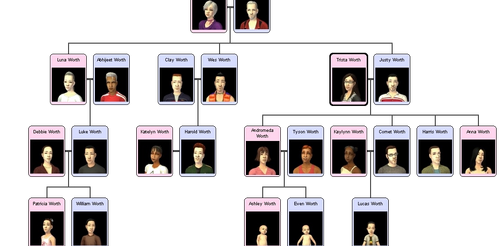 All family members
Edit
First Generation
Second Generation
Third Generation
Fourth Generation
Pets
Maxx - lives with Luna Worth and her family
Cleo - lives with Wes Worth and his family
Cyromil - lives with the main family
References
Edit
↑

Because he's the only child of the 3rd Generation Hair, he's the the heir by default. This is definitely subject to change.