Fire
can happen in Sims' homes, burning furniture and objects. Fires can start from
cooking
accidents, using objects that use fire, inventing on the
Scraptronic™ Workbench
[

TS3:A

]
or
magic
.
A fire can spread from its original tile and will eventually burn objects, but if it is extinguished early enough, the objects can be saved. Urns or tombstones cannot be burned. Fire makes the build and buy modes unavailable, so Sims or objects cannot be moved out of the way, and fire alarms can't be bought.[1]
A fire can be extinguished by any Sim, but Sims can also die in a fire. It is therefore better to call a firefighter. If a fire alarm is in the same room as the fire, the fire department will automatically be called. In most games, the Sim extinguishing the fire will "generate" a fire extinguisher to put out the flames. However, in The Sims 2 for consoles, a fire extinguisher must be bought before a Sim can put out a fire and is offered for purchase in buy mode. The player can also go to Classic Mode and put out the fire using the action.

As of The Sims 3 for PC platforms and The Sims 4, a notification will be displayed to alert the player to a fire. This message is also used in The Sims 3 for consoles.
In The Sims 2, The Sims 4, and The Sims 3 for console, the player will not be able to save the game when there is a fire. However, in The Sims 2: Open for Business, the player can save an owned community lot during a fire and the owner can leave, although fire will automatically break out at the same spots whenever a Sim visits the lot. In The Sims 3, a warning will appear if the player tries to save when there is a fire. In The Sims 4, players also can't go in to Manage Worlds or build mode during a fire.
How fires start
Edit
The main way for a fire to start is through a cooking accident. A Sim is more likely to start a fire when cooking a meal for the first time, or one that they have just enough cooking points to be able to make. Even a Sim with 10 cooking points may start a fire when cooking a very difficult meal like lobster thermidor or baked alaska. Also, Sims can set themselves on fire when lighting the flambé on a baked alaska or crepes suzette.
Fires can happen in a few different situations:
The Sims 2
Edit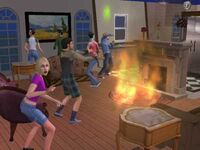 The Sims 3
Edit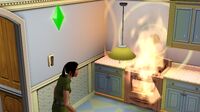 NOTE: In The Sims 3, fires are much more likely to start when using cheap fireplaces, grills, or stoves. Leaving a fireplace burning for more than a couple Sim days is not advised, as it increases the chance of the object catching fire.
The Sims 4
Edit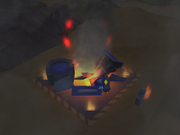 Sims' reaction to fire
Edit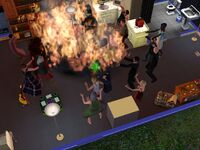 Fire in the room causes a Sim's needs to drop quickly, and Sims will panic, stopping all actions to run towards the fire and complain, becoming completely useless. While the player can cancel the "Fire!" action and tell the Sims to move away from the fire, they are likely to ignore that command and go back to the fire. Sims who have learned Fire Prevention[TS2:AL] or have the brave trait[TS3] can be partially immune to this. In The Sims 3, Sims are smarter and give the player more time to choose an action, although choices are limited as many interactions are disabled. In The Sims 2: Apartment Life and The Sims 3: Supernatural, evil witches and warlocks will not react to fires that they start.
In The Sims 2, Sims observing a fire will lose hygiene rapidly, and if they catch on fire, all of their needs will begin to drop very quickly, eventually resulting in death. Other Sims can extinguish a Sim who is on fire, but it is impossible to tell a Sim that is on fire to do anything else. However, in The Sims 2, Sims who have not realized that they are on fire can be told to extinguish the fire, though they will eventually realize they are on fire, and panic.
In The Sims 3, fire will no longer cause a Sims needs to decline, though a burning Sim will receive the "On Fire!" moodlet. If not extinguished within 1 hour (30 minutes if the Sim was already singed) the Sim will die. The Sim will have the "Singed" moodlet for a while after being put out. In The Sims 3, Sims can walk around while on fire; burning Sims can use a pool or shower to extinguish themselves.
In The Sims 4, Sims won't have their needs declining, if witnessing a fire. If a Sim catches on fire, they will receive a tense "I'm on Fire!" moodlet. If the Sim won't extinguish themselves, they will die. The Sim will have a tense "Singed" moodlet for 18 hours after being put out.
Sims will receive a negative memory if they witness a fire.[TS2][TS3] If the fire occurred at home, they will get a memory for that, even if they were not home at the time of the blaze.[TS3]
Babies and toddlers[3] cannot die by fire. Many adults will autonomously carry babies and toddlers out of the house if they spot a fire. Sims who live in an apartment will autonomously get out of their apartment until the firefighter arrives. If the apartment has no fire alarm, the landlord will eventually call the fire department.[TS2:AL]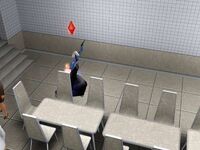 Many Sims will have a
fear
of fire, and lose
aspiration points
if they see one.
[

TS2

]
[

TS2C

]
Sims with the
daredevil
trait
may
wish
to be involved in a fire whereas
coward
Sims will faint if they see a fire.
[

TS3

]
[

TS3C

]
In The Sims 3, if the house of the family that is being played catches fire, neighbors may take notice and will stand outside of the house acting worried. Additionally, if a house next door catches fire and a firefighter[Ambitions] goes to put it out, the other playable Sims on the active lot will run outside and panic as though the fire is on the home lot.
Extinguishing a fire
Edit
A fire alarm will automatically summon the fire department; a Sim can also call the fire department themselves using either a house phone or a cell phone. When they arrive, firefighters will attempt to extinguish the flames[TS] unless they cannot get to the fire.[TS2][TS3] A teen or older Sim who is not on fire can try to "Extinguish" a fire. In The Sims 3: Supernatural, an awakened Bonehilda will stop what she is doing and attempt to extinguish the fire.
In The Sims: Makin' Magic, one of the Crystal Clear Ability Rocks can give magical Sims the ability to summon a cloud that will quickly extinguish a fire. This may save the burning object, but the Sim may be fined if non-magical Sims see it happen. With The Sims 2: Apartment Life, a good witch can use the Exflammo spell to extinguish fires. In The Sims 3: Supernatural witches can use an Ice Blast to extinguish fires.
The Sims 2: University introduced the Skimmer Securities Ceiling Sprinkler, which will immediately extinguish a fire, although they leave a watery mess behind, and Sims will react negatively to the sprinklers. One sprinkler will cover a 5x5 area. In Open for Business, Sims can construct HydroBots; a working Hydrobot will put out fires it can reach. In Seasons, fires caused by lightning are often extinguished by the rain.
In The Sims 3: Ambitions, Sims are able to become firefighters and fight much bigger blazes. Sims using the inventor workbench who catch fire can put themselves out by using the shower.
In The Sims 3 Pets for consoles, casting the "Bless the Mess" karma power can extinguish fires and replace burnt objects for free. The power takes about ten seconds to extinguish these flames. Sims will stop panicking and will begin to cheer when the fire disappears.
In The Sims 4, firefighter NPCs do not exist, but the player may buy a sprinkler system to put out fires or have one of the household Sims put it out. In Get to Work, Sims can also use a SimRay invented with the Invention Constructor to extinguish a fire. A Sim that successfully puts out a fire will gain a confident moodlet for a few hours and any Sims that witnessed the fire will be very tense afterwards.
Fire extinguisher
Edit
In most Sims games, Sims will "generate" a fire extinguisher when told to extinguish a fire. However, fire extinguishers are buyable in the console versions of The Sims 2 and The Sims 2 Pets. This fire extinguisher is required to put out a fire in The Sims 2; however, it has no uses in The Sims 2 Pets. In The Sims 3: Ambitions, Sims at level 5[4] in the firefighter profession will have a personal fire extinguisher in their inventory, which they can use both on and off the job. In addition to that, they can be upgraded with the handiness skill, which will change the smoke and power of the extinguisher.
Death by fire
Edit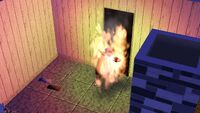 If a Sim catches on fire they can die. Catching on fire causes a Sim's needs to drop very quickly. In The Sims, Sims who catch on fire are destined to die and cannot be saved. In The Sims 2, Sims have a short period of time to be extinguished, and if still on fire at the end of the period, they will die.[5] In The Sims 3, Sims will get the "On Fire" moodlet for an hour, and will die when the moodlet expires. In The Sims 4, Sims will get the "I'm on Fire!" tense moodlet, and will die if not extinguished in time. It is not possible for a Sim who is on fire to leave the fire behind by teleporting. They will still be on fire at their new location.
The Grim Reaper will come when they die. The Grim Reaper may pass through another Sim who is also on fire, extinguishing the flames from that Sim. It is not known whether this is a bug or a feature.
Sims who die by fire will have a flame as their grave symbol.[TS3] Death by fire has its own ghost type. In The Sims 2, the Sim appears red and smoking. In The Sims 3, they appear orange with an animated flame and smoke "texture". In The Sims 4, they will emit smoke from their body. They will sometimes swim in pools or in the sea.[Bon Voyage] While these ghosts are not always angry or violent, they are more likely to be unquiet, causing them to sometimes get easily angry at anybody. In The Sims 4, ghosts who died by fire will also set off continuous fires when they're angry.
Related traits
Edit

Sims can only get this trait if they are the offspring of a firefighter Sim. The trait allows them to set fire to random objects and they get positive moodlets for doing so!

Fire Fighters are able to survive countless fires; not because of their natural immunity to fire. It's a trait that they pass on to their children.
Naturalist[TS4]

Sims that are Naturalists don't need to fear fire; it won't touch them, and they can extinguish it with ease.
Death by Fire[TS4]

This Sim died in a fire, and flames haunt them still.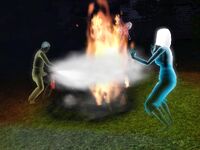 Featured Article
This article is a
Featured Article
. Its layout and content is an example of excellence on The Sims Wiki.
Dates featured: September 1–15, 2011.