Ad blocker interference detected!
Wikia is a free-to-use site that makes money from advertising. We have a modified experience for viewers using ad blockers

Wikia is not accessible if you've made further modifications. Remove the custom ad blocker rule(s) and the page will load as expected.

Funke family

Description
'Some might say that Sabrina and Rhett Funke are too flaky to be successful at raising kids. Will their three talented tots turn out ok in the end, or will they let the pressure get to them?'
Name
Funke family
Members
Rhett Funke, Sabrina Funke, Irene Funke, Spencer Funke, Carol Funke
Number of generations
2 generations
Funds
§20,500
Difficulty level
Other Information
Game
The Sims 3
Playability
Family Bin
The Funke family is one of the family bin families and can be placed in any lot or neighborhood in The Sims 3. The family consists of Rhett Funke, his wife Sabrina, and their three children, Irene, Carol and Spencer.
Like Gobias Koffi of Sunset Valley, the Funke family are an apparent reference to the TV series Arrested Development, as several characters in the show share the surname Fünke (pronounced "FYUN-kay"). However, unlike Gobias, none of the members of the Funke family seem to directly reference any characters from the show. There are few similarities between them other than Rhett's Never Nude trait being shared with a character on the show (who is also the direct inspiration for Gobias), and the shared general premise of their being a large, eccentric family.
Onomatology
Funke: German for "Spark"
Rhett: speaker. From Latin origin.
Sabrina: Derived from the name of the river, Severn.
Irene: Derived from the Greek word eiréné, "peace".
Spencer: It is of Middle English origin, and it means "dispenser of provisions".
Carol: In French Carol means song of joy and in English it means strong.
Family tree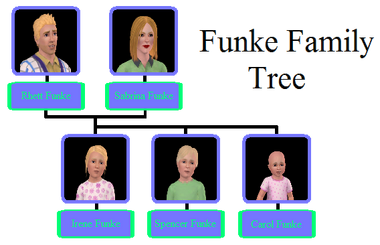 Members
Photo album