Grant Rodiek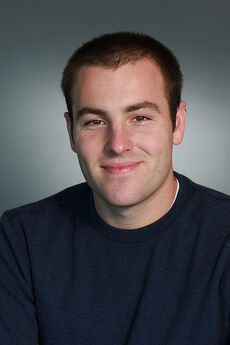 Grant Rodiek, an Associate Producer at Electronic Arts.
Grant Rodiek was the Associate Producer at Electronic Arts. He has worked at Electronic Arts and held his present position since 2005. He left sometime late 2010 but returned in October 2011. His focus is primarily on gameplay feature production and writing.
The book "Point Farmer: The Story of Grant Rodiek" featured in The Sims 3 is named after him, as is the book "Point Farmer No More: The Downfall of Grant Rodiek" featured in The Sims 4. There is an asteroid type named for him, Unusual Rodiekceous. He created Kim Kent, Liam O'Dourke and Piper Hipp, and they were made downloadable on the exchange and also featured in a preview video.[1]
Grant Rodiek has been confirmed as one of the producers working on The Sims 4, which was announced on the 6th of May, 2013 for a 2014 release.[2]
External links
Edit
Interviews
Edit
References
Edit
Ad blocker interference detected!
Wikia is a free-to-use site that makes money from advertising. We have a modified experience for viewers using ad blockers

Wikia is not accessible if you've made further modifications. Remove the custom ad blocker rule(s) and the page will load as expected.