Equestrian Regional Training Grounds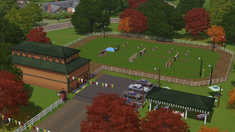 Equestrian Regional Training Grounds in Appaloosa Plains
A horse ranch is a lot assignment introduced in The Sims 3: Pets. In the horse ranch, horses can hang out with Sims and train their jumping and racing skills.
The only pre-made horse ranch in Appaloosa Plains is Equestrian Regional Training Grounds, being the opposite of JRA International Equestrian Center which can be placed on any other neighborhood. There is a ranch where horses can relax and sleep at the stalls. The big space full of training objects is for horses to train their skills. There is also a bar, a buffet table and a barbecue grill.
Ad blocker interference detected!
Wikia is a free-to-use site that makes money from advertising. We have a modified experience for viewers using ad blockers

Wikia is not accessible if you've made further modifications. Remove the custom ad blocker rule(s) and the page will load as expected.