Hot tub
Talk

6
9,143pages on
this wiki
Hot tub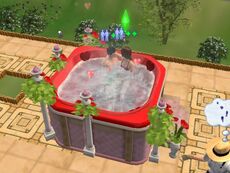 Two Sims using the Love Tub hot tub.
The hot tub is a type of object in The Sims Series. It provides fun, hygiene, social, and comfort to Sims who use it, as well as giving them a place to build relationships and even WooHoo[TS:HD][TS:V][TS2][TS3:LN]. Extremely outgoing Sims may get in the tub naked. Don Lothario of Pleasantview was known for wooing his women into here, and then having WooHoo with them.
In The Sims 2 and The Sims Stories, pregnant Sims cannot get in a hot tub.
There are multiple hot tubs available in The Sims and its expansion packs. These tubs have different prices, different seating capacities (some seat 4, some seat only 2), and improve motives at different rates. Hot tubs can be bought from the plumbing section of the buy catalog.
WhirlWizard Hot Tub
WhirlWizard Hot Tub
Game
The Sims
Buyable
Buy mode
Price
§6,500
Type
Motives
Size
2x2
The WhirlWizard computer-controlled indoor/outdoor hot tub is the pinnacle of current relaxation technology. 16 jets provide a multitude of massage settings for up to 4 Sims simultaneously. The WhirlWizard is also equipped with a chip that remembers up to 256 separate personal profiles per seat, and has a self-cleaning setting for minimal maintenance.

Comfort: 6
Hygiene: 2
Fun: 2
Required pack: None
Niagara Love Tub
Niagara Love Tub
Game
The Sims
Buyable
Buy mode
Price
§7,999
Type
Motives
Size
2x2
Like the plunging and raging falls of the famous honeymoon spot, the Niagara Love Tub brings out the untamed side of couples everywhere. Hypnotic and relaxing? Or energetic and invigorating? Either way, every caressing curve of the form-fitting seats, along with the heavenly flow of hot, massaging bubbles will turn even the most uptight Sim into pliable, indulgent libertines.

Comfort: 5
Hygiene: 2
Fun: 3
Required pack: Hot Date
Note:
Sims can "Play" (aka WooHoo) in this hot tub.
Only seats 2 Sims.
Redwood Hot Tub
Redwood Hot Tub
Game
The Sims
Buyable
Buy mode
Price
§8,511
Type
Motives
Size
2x2
Back in the early 70's, Sim Nation was full of crazy ideas: free software, good public schools, affordable housing, and many other fads. While tax rebellions and fear destroyed most of them, the "hot tub" fad has become an entire industry! And no wonder...with the epidemic triad of overwork, troubled children, housing shortages, Sims everywhere need a way to relax!!! 100% reclaimed redwood.

Comfort: 5
Hygiene: 2
Fun: 4
Required pack: Vacation
Note:
Sims can "Play" (aka WooHoo) in this hot tub.
Only seats 2 Sims.
Jewel in the Crown Spa Tub
Jewel in the Crown Spa Tub
Game
The Sims
Buyable
Buy mode
Price
§9,999
Type
Motives
Size
2x2
Insta-hot heating coils, Dual PH gigabalance regulation system, redundant ultra-sav mood modulation rectifiers, 29 individual typhoon injector panels, rolling sonic wave instrumentation, no-stick polyfibred surface, stress inhibitor lounge seats, hybrid solar electric integrated feedback technology, nano-force streamlined air filtration apertures; if this tub had wheels it would be a luxury sedan. Test drive one today.

Comfort: 7
Hygiene: 3
Fun: 3
Required pack: Superstar
The Sims 2
Edit
Hot tubs in The Sims 2 fulfill Fun, Hygiene, and Social (if multiple Sims are in the hot tub). Sims can WooHoo and Try for Baby in a hot tub, although the success rate of Try for Baby is greatly decreased. Two hot tubs are available in the base game, and none are added with the expansions. The Sims 2 also has a hot tub (the Love Tub) which can be earned as an Aspiration reward that increases the success rate of romantic interactions while in the tub. All hot tubs in The Sims 2 and The Sims Stories seat four.
If Seasons is installed, a hot tub will satisfy a PlantSim's need for water.
This section is in need of additional information. You can help The Sims Wiki by expanding this section.
The Sims 3
Edit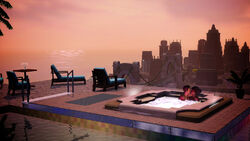 Hot tubs in The Sims 3 are introduced in Late Night, and more variations of hot tubs are featured in subsequent expansion or stuff packs. The hot tub appears in certain number of packs, but the functionality is carried forward in the base game via patch. Therefore, it's possible to own a hot tub without the need of Late Night or other expansion packs, by using custom contents or store contents.
There are two types of hot tub: normal and grotto. The normal hot tub takes up 3x3 space, while grotto hot tub takes up 4x4. Only built-in floor hot tubs are available, unlike the previous games. Sims are able to WooHoo in the hot tub. Sims can skinny dip in the hot tub as long as there's no teenagers or younger on the lot. Sims can also ask other Sims to skinny dip with them, and they often roll a romantic wish of it. The skinny dipping interaction requires Late Night, even if the functionality of hot tub is carried forward. Sims who relax in the hot tub can shorten the time period of "Fatigued" and "Sore" moodlets.
The Sims 3 Pets (console) has hot tubs which are from Late Night and feature skinny dipping. The order of which hot tub is the best has been swapped a bit; with the celebrity hot tub being second best and buyable, while the second best is best and has to be unlocked by solving the socialite club mystery.
Expansion
Image
Name
Price
Notes
Late Night
The Maelstrom Hot Tub
§6,500
Environment: 3

Fun: 4 Stress Relief: 3

Late Night
The Serenity Hot Tub
§12,000
Environment: 4

Fun: 5 Stress Relief: 4

Outdoor Living
The Modern Rustic Hot Tub
§6,500
Environment: 3

Fun: 4 Stress Relief: 3

Outdoor Living
The Resplendence Hot Tub
§6,500
Environment: 3

Fun: 4 Stress Relief: 3

Outdoor Living
The Empress Hot Tub
§9,500
Environment: 4

Fun: 4 Stress Relief: 4

Outdoor Living
The Aqueous Garden Hot Tub
§12,000

Environment: 4 Fun: 5 Stress Relief: 4

Outdoor Living
The Water Course Hot Tub
§12,000
Environment: 4

Fun: 5 Stress Relief: 4

Showtime
Top Deco Mini Spa Hot Tub
§7,800
Environment: 3

Fun: 4 Stress Relief: 3

Showtime
Ponce De León Grotto Hot Tub
§13,500
Seasons
Uniformity Hot Tub
§12,000
Environment: 4

Fun: 5 Stress Relief: 4

Island Paradise
"The Perfect Warm" Hot Tub
§12,450

Environment: 4 Fun: 5 Stress Relief: 4

Island Paradise
Wet-Side Hot Tub
§12,500
Environment: 4

Fun: 5 Stress Relief: 4
Glitches/Notes
Edit
A Hot tub can be obtained by unlocking it from TheSims3.com by posting a certain number of memories.
It is possible to skinny dip with a Teen or younger Sim on a lot by making those Sims leave the house, telling the adults to skinny dip and then having those Sims return. The Sims will continue to skinny dip but they cannot be commanded to skinny dip again.[confirmation needed]
References
Edit