Ichtaca family
Name
Ichtaca family
Number of generations
3 generations
Family connections
Scott family
Description
Descended from ancient royalty, Rubisel prides himself on his family's lineage and his chiseled good looks. Not to mention his handsome houseboat and his successful career in Law Enforcement. Will he ever settle down, or does his heart belong to the sea?
Members
Rubisel Ichtaca
Funds
§20,000
Difficulty level
The Ichtaca family is a pre-created, yet playable family featured in Isla Paradiso, from The Sims 3: Island Paradise. The family consists of the late Adalia Ichtaca, her two sons Guillermo and Rubisel, Guillermo's wife Carolina, and their two children Liliana and Everado.
According to their family description, they are descendants of the ancient island royalty and live in a large home, save for Rubisel, who lives in a houseboat. Rubisel also has a crush with Linda Scott who is also pregnant with his infant, Unborn baby Scott.
The Ichtaca family (Particularly Guillermo and Carolina) is mentioned in one of the object descriptions from The Sims 4: Movie Hangout Stuff.
Members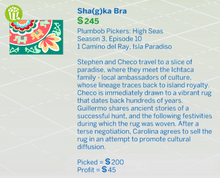 Ad blocker interference detected!
Wikia is a free-to-use site that makes money from advertising. We have a modified experience for viewers using ad blockers

Wikia is not accessible if you've made further modifications. Remove the custom ad blocker rule(s) and the page will load as expected.