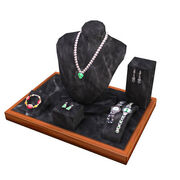 Jewelry, as a distinct type of item, was added in The Sims 2: Bon Voyage. In The Sims, some head and body skins were made so it would appear that a Sim was wearing jewelry, but it was not separate from the Sim's head or body. Some clothing for The Sims 2 was made in this way as well.
While The Sims 2 did not include jewelry prior to Bon Voyage, it did make glasses separate from Sims' heads. This allowed custom content creators to make earrings, necklaces, and other accessories that were categorized as glasses. Accessories such as bracelets and bags are also possible, but the display will remain focused on the Sim's head regardless of where the accessory is to be placed. These accessories are available in Step 4 of Create a Sim and when using a mirror's Change Appearance option. Later expansion packs recognized this by using "Head Accessories" in Change Appearance, though they still used "Glasses" in CAS. The Sims 2 also allowed creators to use custom "bins" for accessories. This allowed creators to make accessories that could be "layered" so that a Sim could have multiple accessories. While only one selection can be made from any given "bin", making a selection should not affect other selections that are in different "bins". This means that a player who wants to replace one accessory with another should be sure to remove the first accessory before selecting the replacement. Accessories made in this way are associated with various outfits by internal flags; the player cannot change this in-game, but these flags can be edited in SimPE.
Bon Voyage did not change this system or items that used it. It did, however, add a new system. Jewelry that used this new system was in a separate category in CAS, though Body Shop was apparently not updated to recognize this category. Jewelry that used the new system was also something that could be bought in stores or found on beaches. Once a piece of jewelry has been bought, found, or assigned in CAS, it can be put on or taken off with the Change Appearance option. The player can assign jewelry for all outfits, or each outfit can have its own jewelry. Bon Voyage added the SparkleMaster Jewelry Rack to allow Sims to buy jewelry on community lots. What type of selection it has depends on where it is placed. Placed in a vacation destination, it will offer a selection of local jewelry in addition to the selection that is available on all community lots. The rack was carried forward into FreeTime and Apartment Life, but most of the selection which was provided with Bon Voyage was not.
Buying jewelry from the SparkleMaster Jewelry Rack is similar to buying clothing. Jewelry is bought for the household, not for the Sim purchasing it, so Sims are not limited to purchasing for their own age and gender. Also, if an item of jewelry is available for more than one age, it only needs to be bought once to be available for all ages that can wear it. Sims cannot try on jewelry, but, as with clothing, it can be seen on a "mannequin" figure in the purchase dialog.