Ad blocker interference detected!
Wikia is a free-to-use site that makes money from advertising. We have a modified experience for viewers using ad blockers

Wikia is not accessible if you've made further modifications. Remove the custom ad blocker rule(s) and the page will load as expected.
Kahale family
Name
Kahale family
Number of generations
2 generations
Family connections
Wahine family
Description
Kai and Alana Kahale rule the island with iron wills and nerves of steel! Alana's brilliance keeps Kai at the top of his game and Kai's fearsome presence and political clout keep Alana out of any real danger. With their passions well in hand, their biggest focus in life is making sure their beautiful daughter lives the life of her wildest dreams... will Lealani follow in her parents' footsteps, or choose a different path?
Members
Kai Kahale, Alana Kahale, Lealani Kahale
Lot
9 Paradise Circle
Funds
§200,000
Difficulty level
This article needs a picture to illustrate what it is about. Find an image or upload one and add it.
Description
Akoni is kind and generous, wealthy and single... a hopeless romantic he relocated to the islands after a fortune teller foretold that this is where he would meet his one true love...
Members
Akoni Kahale
Funds
§20,000
Difficulty level
The Kahale family is a pre-made, playable family that first appeared in the downloadable neighborhood of Sunlit Tides and later Isla Paradiso. It consists of three members and an another in Isla Paradiso; Kai, Alana, Lealani as well as Alana's cousin Akoni Kahale. Kai and Alana both rule over Sunlit Tides and both hope that their daughter, Lealani, will take over their reins. However, their bio questions Lealani's career path.
The family, aside from Akoni who lives in a houseboat in Isla Paradiso, resides at 9 Paradise Circle and begin the game with §200,000 in household funds.
Onomatology
Kahale: (Arabic الكحالة) Is a village in Lebanon "KAH (verb meaning breathed); "AL or EL" (the name of the Caananite God El who was considered the God of mankind) and "e" (an ending denoting that El is the speaking God) KAHALE is not a Hawaiian name.
Kai: A water related name, meaning "Waves".
Alana: Feminine form of the name Alan.
Lealani: Meaning unknown, possibly from a Hawaiian background.
Family tree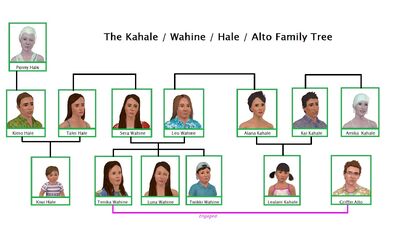 Members