Kara Carter

Biography
High freedom and high fashion? What more can a girl ask for?
Name
Kara Carter
Gender
Female
Age
Young Adult
Life state
Sim
Carter family
Marital status
Single
Zodiac sign
 Sagittarius
Lifetime wish

| | |
| --- | --- |
| | Celebrated Five-Star Chef |
Favorites

 Classical
 Fish and Chips

 Blue
Appearance
Hair color
 Blonde
Eye color
 Grey
Skin color
 Light
Body shape
 Thin
Kara Carter is a pre-made Sim, living in Midnight Hollow. She is implied be the leading chef in town with an eccentric sense of fashion, whom she took it from Vivienne Simwood and Marie Simtoinette (who are references to Vivienne Westwood and Marie Antoinette, respectively). She is also described as shabby chic, which is shown by her pink Victorian dress, and blonde hair with pink highlights and pigtails. She is currently employed in the Culinary career as a Pastry Chef.
Kara starts with 5 skill points in Cooking and 7 in Fishing. She is acquainted with Joaquin Dorsey, Josie Crane and her boss at the start of the game. She could be a reference to actress Helena Bonham Carter who is known for her eccentric style and often appears in gothic themed films, even though she is a blonde while the actress is brunette.
Kara Carter is mentioned in one of the object descriptions from The Sims 4: Movie Hangout Stuff.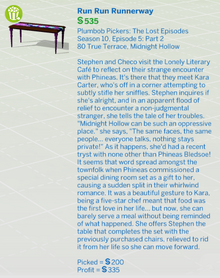 Ad blocker interference detected!
Wikia is a free-to-use site that makes money from advertising. We have a modified experience for viewers using ad blockers

Wikia is not accessible if you've made further modifications. Remove the custom ad blocker rule(s) and the page will load as expected.