Ad blocker interference detected!
Wikia is a free-to-use site that makes money from advertising. We have a modified experience for viewers using ad blockers

Wikia is not accessible if you've made further modifications. Remove the custom ad blocker rule(s) and the page will load as expected.
Landgraab family
Name
Landgraab family
Number of generations
5 generations
Family connections
Buckingham family
Description
Ruthless. Cunning. Brilliant. Ridiculously wealthy. These are just a few words the locals use to describe the Landgraab family, whose entrepreneurial ambitions can't be stopped by anything but their own mistakes. When you have this much money, you're your own worst enemy.
Members
Malcolm Landgraab IV
Lot
74 Gondola Way
Funds
§28,396
Description
The Landgraabs are old money. Nancy's family more or less founded the town, so it was no surprise that when she married Geoffrey, it was Geoffrey who changed his last name, not Nancy. Will young Malcolm be a mild-mannered doctor like his father or a voracious business tycoon like his mother?
Members
Geoffrey Landgraab, Nancy Landgraab, Malcolm Landgraab
Lot
10 Summer Hill Court
Funds
§75,000
Difficulty level
Description
Christina is a brilliant scientist who is just a tad self-centered...she has created clones of herself so she can have the "perfect" family. But as her clone children grow up they also grow away from their creator. Will Christina keep her family together through any means necessary, or will she accept that her clones have independent dreams and lives of their own?
Members
Christina Landgraab, Chris Landgraab, Chrissie Landgraab, Christa Landgraab
Lot
139 Avenue of the Asteroids
Funds
§10,000
Difficulty level
Description
Malcolm Landgraab moved from Sunset Valley in order to extend the reach of the Landgraab family. With good looks and a sharp wit, Malcolm has carved out a nice section of the town as his own. Now he has eyes on the mayor's office as he grooms his son to take over the business centers in town.
Members
Malcolm Landgraab, Hannelore Landgraab, Adrien Landgraab
Difficulty level
Description
The Landgraabs seem like the perfect family; wealthy, well-mannered, brilliant. But Nancy and Geoffrey are each hiding something. Will their secrets tear them apart or will they continue to build a wealthy dynasty?
Members
Geoffrey Landgraab, Nancy Landgraab, Malcolm Landgraab
Lot
Affluista Mansion
Funds
§85,000
The Landgraab family is a wealthy family dynasty that, in The Sims 3, resides in Sunset Valley; and lives in Bluewater Village in The Sims 2. The family name is occasionally spelled "Landgrabb", mostly in The Sims. Which spelling is used depends on which game or expansion pack introduced the object or place or Sim that used it. Landgraab Industries is featured prominently in both building names in SimCity 3000 and brand names for objects in The Sims. Most of the family's wealth appears to come from property and real estate (In SimCity 3000, they are associated more with residential property building, a role which resurfaced in The Sims: Bustin Out when most of the town seem to fail paying their rent.) In other Sims games, they are more associated with commercial property, giving the Landgraab name a literal meaning of "grabbing the land".
Family history
Origins
The Landgraab fortune, or at least a sizable part of it, presumably dates back to a historical figure named Gregory Landgraab, who does not appear in any known version of the Landgraab family tree. If The Sims 2: Seasons is installed, a chance card for the Adventurer career reads as follows:
Around the turn of the century, Gregory Landgraab, a humble school teacher, suddenly came into a great deal of money and became one of the wealthiest landowners around. This was never explained, though many theories suggest foul play and the Ministry of Adventure has tasked (name) with solving the case, once and for all. After a great deal of research, (name) believes one of two people will have the answers he/she needs: Spencer Oswald, the Landgraab's accountant or the local fortune teller, the gypsy. Who should (name) bring in for questioning?
The mentioned Gregory shares the same name with Gregory Landgraab of Oasis Landing. This could be a coincidence, as it's highly unlikely that they're the same person.
Demetrius and Dacian Landegraab
In The Sims Medieval: Pirates and Nobles, a family under the name of Landegraab appears. They own the city of Tredony, known as one of the richest cities in the kingdom. There are only two family members, father and son Demetrius and Dacian. Tredony and a neighboring city, Aarbyville, are at war and the player has the choice of choosing sides in the war.
If Demetrius and Dacian are direct ancestors of the Landgraab family, they would be the oldest known family members.
In The Sims, The Sims: Hot Date and The Sims: On Vacation, Admiral Landgraab is mentioned as another historical figure with an extensive background. Wren's Fens National Park on Vacation Island is described as one of his first colonial acquisitions, an Admiral Landgraab nutcracker can be bought on Vacation Island, and some items refer to him. His portrait, which is available in buy mode includes a short bio. Admiral Landgraab's first name is not given, and his relationship to the Malcolm Landgraab IV of Bluewater Village and the Landgraabs of Sunset Valley is unknown. It is likely that he lived after Gregory, as that would give the family time to gain prestige, but that is not definitely known.
His exploits are much further elaborated on in The Sims 3: World Adventures. Despite being his descendants, the Landgraab family has no easier time navigating his chateau in Champs Les Sims. They also get no bonuses for doing so.
The Sims 3
In The Sims 3, the Landgraabs are seen living in one of three mansions (the other two being the Goth mansion and the Alto mansion) and are already very wealthy. Nancy is a Landgraab by birth, born to Chester and Queenie Landgraab, and followed the family legacy by becoming vice president of the business district. At one point before the game, she married a modest, artistic doctor named Geoffrey, who took his wife's name for its privileged status, and they had a son named Malcolm, a smart child who Nancy is attempting to make a proper heir, however, it is stated that Nancy is too busy with work and publicity to dote on Malcolm, so although he is friends with his parents, he has a better relationship with his father than his mother and constantly dreams of being a doctor every time his father gets a promotion.
It is unknown how he is related to the other Malcolms in The Sims: Bustin' Out and The Sims 2, but his parents do not fit into the family tree given in The Sims 2. So, while Malcolm III might have been a child during the Sunset Valley time frame, he would not be this Malcolm. However, it is possible that he could be the Malcolm in The Sims: Bustin' Out and/or The Sims (console). Regardless of their relationship to the rest of the family, they also are very well off. They live in a large home and have §75,000 in household funds.
It is also mentioned several times in The Sims 3 that Nancy's family, helped start the town. It says in the family bio that "Nancy's family more or less founded the town", while the description of Sunset Valley states that "before Pleasantview, the town was founded by the Goths and built up by the Landgraabs". They have a business feud with the Altos, and are enemies with them, though young Malcolm and Holly Alto have no quarrel with each other.
The Landgraab family is "old money", so it is likely that they inherited their money from the earlier generation of Landgraabs that founded the town. However, it does not specify who exactly founded the town. It is possible that Admiral Landgraab, being the earliest mention of the Landgraab family from The Sims, is the town founder. However, he is not listed in the Landgraab family tree for The Sims 3, so Kermit Landgraab and/or Kitty Landgraab would be primarily who built up the town since The Goths founded Sunset Valley and Pleasantview.
Magnus Landgraab
If a Sim is level 10 in the Thief branch of the Criminal career, they can get a random event mentioning Magnus Landgraab. The event reads:
(Sim Name) was scoping out another job when he noticed that Magnus Landgraab was getting a delivery of expensive solid platinum induction coils for some nefarious purpose. Using his/her incredible skills he/she managed to snag one of these coils for free money. Magnus will never notice, especially since his plans never work anyways.
From the description of the event it can be concluded that Magnus is male thief or evil inventor whose "plans never work".
In addition, if a Sim works in the Law Enforcement career at level 10, another random event might occur, where the Sim will foil Magnus' plan to take over a small nation.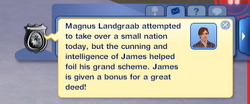 The Sims 3 (console)
In The Sims 3 for PS3/XBOX360, Malcolm Landgraab is an adult who has grown up and moved to Moonlight Bay. He has a wife named Hannelore Landgraab and a son named Adrien Landgraab.
The Sims (console) and The Sims: Bustin' Out
In console versions of The Sims, a Malcolm Landgraab is the richest man around who gives the main character real estate opportunities (fixing up each house they live in to sell at a higher price), and later marries their mom.
His children are Dudley Landgraab and Mimi Landgraab, both slackers, party animals and heirs to his vast fortune. In the sequel, The Sims Bustin' Out, Malcolm and Mom divorce and he goes into a rage of repossessing everyone's money and goods before the player stops him. Depending on the player's choices, a senator named Malcolm Landgraab can be killed as part of a government conspiracy. In the final stage, Mom chases Malcolm Landgraab out of his own mansion. It is unknown how this Malcolm is related to the Malcolm in The Sims 3, though it's possible that they could be the same person.
The Sims 2
In The Sims 2, the Landgraabs are mentioned in the first expansion pack, University. One of the dorms at Sim State University is named "Landgraab House", and the Secret Society there is known as the Landgraab Society. The connections, whether past or present, between the family and Sim State are not mentioned.
In Open for Business expansion pack, Malcolm Landgraab IV is introduced as a bachelor in a very large mansion in Bluewater Village. His family tree reveals exactly who his parents and grandparents are, but only dates back to Malcolm II and not Malcolm I. Malcolm Landgraab IV owns Club Dante and the Electronics Supercenter in Bluewater Village. While he is rich, most of his money is tied up in the house and its furnishings. The neighborhood view shows that his initial net worth is around §197,000, but he starts out with around §28,000 in funds.
The Sims 3 Store
In Lunar Lakes, the Landgraab household consists of elder scientist Christina and her three clone-children, young adult Chris and teens Chrissie and Christa. While they live in a large and expensive house, they start out with §10,000 in funds.
The Sims 3: Into the Future
The Landgraab family reappeared in Oasis Landing. The household consists of Gregory, Cheryl, Timothy, Lara and the family Plumbot, Model U. Unlike the Landgraab families from other worlds, the family is unplayable at the start of the game.
Gregory shares the same name as Gregory Landgraab who is mentioned in the chance card of Adventurer career in The Sims 2: Seasons, as stated above.
The Sims 4
The Landgraab family appear in The Sims 4, which takes place in an alternate universe from previous games in the series. The family can be found living in a mansion in Oasis Springs, and is made up of the same three family members who appeared in The Sims 3: Geoffrey, Nancy, and Malcolm. Like their former incarnations, Geoffrey and Nancy are Adults; Malcolm, however, has been aged up from a Child to a Teen. One notable difference between the universes is that while Malcolm in The Sims 3 had the Good trait, Malcolm in The Sims 4 is Evil; and Nancy, who was portrayed as a snobbish but basically kind businesswoman in the former, is a career Criminal in the latter. Meanwhile, though Geoffrey's personality remains basically unchanged, his career is changed from Medicine to Secret Agent, something which the family bio implies will create tension in his marriage to Nancy, once it emerges that they operate on opposite sides of the law.
A fourth member of the Landgraab family, Johnny Zest, appears in Oasis Springs in The Sims 4, though he neither lives with the rest of the family nor shares their last name. Johnny's bio explains that the family disowned him when he announced his intention to become a professional comedian, and that subsequently he now uses his stage name all the time. It is not specified whether Johnny is the son of Geoffrey and Nancy, and therefore the brother of Malcolm; a sibling of Nancy's; or a more distant relative. His appearance and the appearance of his home are reminiscent of Dudley Landgraab and Dudley's Trailer in the original timeline's console spin-offs; since it's not clear whether "Johnny" is his real first name or part of his stage name, it's possible that he is the alternate universe's version of Dudley.
Onomatology
Landgraab: as in "land grabbing", which is an illegal method for businessmen to earn more land assets by taking land in possession of poor people who cannot afford to make a deed from lawyers.
Malcolm Landgraab: "we will establish our estate upon." Malcolm is a name of Scottish and Gaelic origin. Malcolm is also the name of "Malcolm III of Scotland", who also had a fictional counterpart in Shakespeare's play Macbeth.
Marion Landgraab: (form of Mary) "bitterness", "rebelliousness", "wished for child" or "drop of the sea"
Margaret Landgraab: (Greek) "pearl" or "precious".
Mom: is a biological and/or social female parent of an offspring.
Dudley Landgraab: "dude" is an individual, typically male, or the place of the dead, a burying-ground.
Mimi Landgraab: "the star of the sea", faithful guard, strong opponent, bitter as in a bitterly wanted child.
Geoffrey Landgraab: means either "territory peace", "stranger peace", "hostage peace" or "god's peace".
Buckingham: in the 7th century AD, Buckingham, literally "meadow of Bucca's people"
Blair Buckingham: (Celtic) "a plain", from a surname.
Virginia Buckingham: (Latin) "chaste", according to legend, she was a Roman woman killed by her father so as to keep her a virgin.
Nancy Landgraab: Previously a medieval diminutive of Annis, though since the 18th century it has been a diminutive of Anne. It is now usually regarded as an independent name. During the 20th century it became very popular in the United States.
Chester Landgraab: From a surname which originally belonged to a person who came from Chester, an old Roman settlement in Britain.
Queenie Landgraab: Diminutive of Queen, which is from an old nickname which was derived from the English word, ultimately from Old English cwen meaning "woman, wife".
Kermit Landgraab: From a Manx surname, a variant of the Irish surname MacDermott meaning "son of Diarmaid". Theodore Roosevelt used it for one of his sons. The name is now associated with Kermit the Frog.
Kitty Landgraab: A diminutive of Katherine.
Family tree
Note: This is a possible version of the Landgraab family tree, that has not been officially confirmed. In "The Sims: Bustin Out" and "The Sims 3", there is a Malcolm Landgraab who is of an age with Mortimer Goth. The Malcolm Landgraab, who appears in "The Sims 3" for Nintendo DS, is around the same age as Alexander Goth. This suggest that he might be Malcolm V, the son of Malcolm IV. The family tree also includes Admiral Landgraab as a possible brother to Kermit and father to Malcolm Landgraab I as well as Malcolm's secret love Stella Livorno.
Members
Characters who share the Landgraab family name (or have a similar name), but whose connections (if any) to the family remain unknown, include:
Characters who do not share the Landgraab family name and has connections by in-game family descriptions alone.
Photo album
Landgraab-associated businesses
Throughout The Sims games, the name "Landgraab" is mentioned at many points, often in passing, and often along with a brief mention of some business or corporation that is (or was) affiliated with the Landgraab Dynasty in some way. Listed below are a few of the businesses that have been associated with the Landgraabs, along with several notable accomplishments:
The Landgraab home
The Sims 2: Open for Business
In The Sims 2: Open for Business, Malcolm Landgraab IV lives alone in a huge mansion overlooking the town. The house is large by Sims-standards, and features a large office and balcony, a hot tub, and indoor swimming pool. Oddly, the house has no television, even though Malcolm owns an electronics store. There is also a strange, empty shed to the left of the house. Its size and placement are just right for it to be a garage, with the addition of a driveway, a garage door, and, of course, a car. Also worth noting is that there are several blank white walls on the upstairs portion of the house, and while they are painted an "off-white", the player might prefer to revamp the second floor to match the rest of the house's interior. The house has very expensive furniture, many of it new mission-style furnishings that are featured in Open For Business. It also has hedges and a few rosebushes to the left and right of the entrance, and some trees and bushes in the back. Malcolm would do well to hire a gardener or butler[TS2:AL], especially if Seasons is installed.
The Sims 3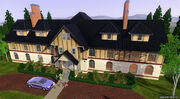 In The Sims 3, the Landgraab family lives in a luxurious mansion on 10 Summer Hill Court, in the town of Sunset Valley. Judging by the house and where they live, it is quite obvious that they are wealthy.
An elegant home on the most exclusive circle in town, this stately manor resounds with grandeur. Four fireplaces, a massive kitchen, formal and informal living areas, a large custom pool, two car garage, and elegant neoclassical landscaping round out its elegant features.
House Funds: §117,578
Lot: 60 x 60 3br 4ba
Landgraab Chateau
In The Sims 3: World Adventures, Sims can travel to Champs Les Sims, home to a giant tomb known as the Landgraab Chateau. Unlike most tombs, this tomb is rather unconventional in the sense that, since it is set in a huge mansion rather than an actual underground tomb. Most of the dungeon is actually above ground level. Since players also explore a basement underneath the chateau, it is one of the largest tombs in the game.
Furthermore, it is very hard to get into, due to the fact that its original inhabitant, Admiral Landgraab, was very paranoid and filled his large estate with booby traps. In order to fully explore the house, players will need to fulfill several Adventures in France that will give them keystones, and one keystone is only obtained by doing an Adventure in China to explore the cellar area. It should also be noted that Pangu's Axe is required to explore a small underground part behind the house, near the groundskeeper's shack.
Those who hope to complete the tomb should keep in mind it is impossible to complete in one trip, and may take (depending on Visa level) multiple trips to round out exploration of the chateau.