Life state
Talk

17
7,763pages on
this wiki
Not to be confused with Life stages.
A life state or a creature is a kind of Sim or Pet with special appearance and abilities, mostly inspired by legends or science fiction.
Two alternate life states exist in The Sims and its expansions, though they are not well-defined and do not grant any changes in a Sim's behavior.
When Sims die, they become ghosts. In Livin' Large, pleading with the Grim Reaper may result in him bringing a recently-deceased Sim back as a zombie. If Unleashed, is also installed, these zombies can be restored to normal by Miss Lucille, who can be found on community lots in Old Town, but she cannot restore their personalities. Also in Livin' Large, Sims using the chemistry set might make a purple potion that can temporarily turn a Sim into a monster.
It could be said that witches and warlocks come with Makin' Magic, but being magical is not treated as a life state in that expansion. Sims who take up magic still look and act the same, and the terms "witch" and "warlock" are not used.
In Makin' Magic, one of the charms that can be made is Beauty or Beast. This charm allows a Sim to temporarily change his or her appearance, and some of the available choices resemble life states from later games, such as werewolves and vampires. While players may choose to treat this as a temporary transformation or an illusion; the in-game effects are the same either way. The Sim who has been "charmed" is still a normal Sim; the charm does not affect the way the Sim behaves or the way other Sims react to him/her, and the Sim gains no extra abilities or interactions.
The Sims 2
Edit
Life states in The Sims 2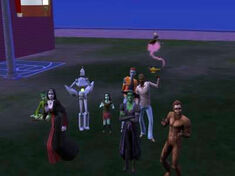 All of the Life states from The Sims 2 up to Apartment Life except for normal Sims and ghosts

Most expansion packs for The Sims 2 added an alternate state in which Sims can exist. Some added sentient creatures which Sims cannot become, but which can be playable Sims. These states have unique triggering techniques, advantages and disadvantages. These states are:
Normal Sim
Ghost (base game) (Not playable)
Alien (base game)
Each life state offers new opportunities for the Sim, making certain aspects of play easier to handle and others harder.
The Sims 3
Edit
Life states in The Sims 3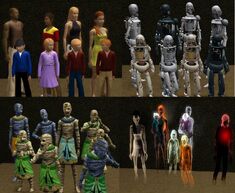 Families of The Sims 3 life states (except for normal Sims) up to Late Night.
The Sims 3 and its expansion packs, as of 5 March 2013 (2013 -03-05) , feature 14 life states. Occult Sims cannot be given makeovers by stylists. Official game text recognizes certain kinds of life state as "occult". Prior to The Sims 3: Supernatural, Ghost was not considered an occult status according to the game files. With Supernatural, players are able to create some occults with a Supernatural Type selector in Create a Sim. These life states include normal Sims, ghosts, vampires, genies, werewolves, witches, and fairies.
Non-occult
Occult
Tip:
Sims cannot be turned into occults properly through "Edit in CAS" with testingcheatsenabled cheat, even though the game allows players to do so.
Notes and references
Edit