List of Objects in Late Night
Edit
Air conditioner - Only decor, no function.[1]
Food trucks - A box van that travels around town selling different snacks.[8] Similar to food service trucks that are usually seen at or near construction sites in big cities such as New York. New type of NPC.
FX machine - Creates smoke, bubble, glitter, sparks, fire and snow effects[1][9]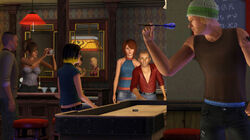 See also
Edit
References
Edit
Ad blocker interference detected!
Wikia is a free-to-use site that makes money from advertising. We have a modified experience for viewers using ad blockers

Wikia is not accessible if you've made further modifications. Remove the custom ad blocker rule(s) and the page will load as expected.