Missing information
This article is missing information about UI (user interface).
You can help The Sims Wiki by adding it.

Live mode is one of the three main modes in The Sims series, the others being Buy mode and Build mode. Live mode is the only mode in which Sims can be controlled, and it is the only mode where time can pass. The user has control over the time in most circumstances, and can adjust the speed at which time passes. Live mode is the only mode where improvements to a lot cannot be made (Buy mode is used to purchase household items, and Build mode is used for architectural and building purposes).
The Sims, The Sims 2
and
The Sims 3
are similar in their passage of time, and in the ways that the user can speed up or slow down that passage.
The Sims
series utilizes a 24-hour clock cycle, and each game minute is equal to a real life second when playing on normal speed. Thus, on normal speed, one game day will pass in 24 real life minutes. The user can adjust the speed of the simulation. Speeds for these settings are variable depending on the power of the user's computer, amount of game activity, version of the game being run, etc.
The Sims 3
introduced a new clock feature, where the clock can be set to run at high speed until the currently-selected Sim completes his/her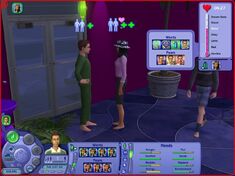 current task, at which point the game clock will slow down to normal speed.

In The Sims and The Sims 2, time passes when Sims visit community lots or other places, but when those Sims return to the home lot, little if any time has passed at the home lot; in The Sims 3, time passes in Live Mode while outside the household, such as when a Sim visits a community lot, rabbit hole, another household, or is simply around the neighborhood.
Time can be paused while in Live mode. Time does not pass while in Buy mode or Build mode, or while accessing the options, viewing the game credits, or while performing other tasks outside of Live mode. Additionally, the game will automatically pause even while in Live mode, such as when a prompt appears on-screen requesting attention or user input.
Ad blocker interference detected!
Wikia is a free-to-use site that makes money from advertising. We have a modified experience for viewers using ad blockers

Wikia is not accessible if you've made further modifications. Remove the custom ad blocker rule(s) and the page will load as expected.