Lum family

Description
Lawrence Lum is a bright, friendly teen with outgoing parents. Will he take after his computer whiz father or social climbing mother?
Name
Lum family
Members
Theodore Lum, Lily Lum, Lawrence Lum
Number of generations
2 generations
Funds
§20,625
Difficulty level
Other Information
Game
The Sims 3
Playability
Family Bin
The Lum family is a premade family in The Sims 3 They appear in the Family bin, and can be moved into any neighborhood.
Family tree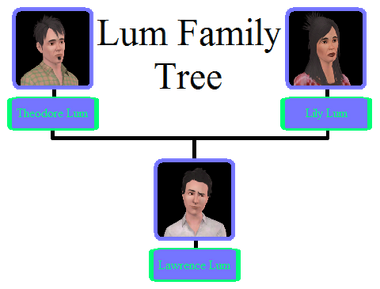 Members
Trivia
Ad blocker interference detected!
Wikia is a free-to-use site that makes money from advertising. We have a modified experience for viewers using ad blockers

Wikia is not accessible if you've made further modifications. Remove the custom ad blocker rule(s) and the page will load as expected.