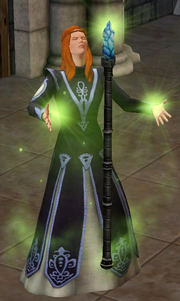 The Magical Staff is a wizard's staff in The Sims Medieval, which is craftable by the Blacksmith hero.
In-game description
Edit
"Wiseguys are always asking wizards, "Is that a magical staff in your reagent pouch, or are you just happy to see me?" Here's the answer."
Statistics
Edit
Crafting requirements
Edit
Profession: Blacksmith, level 7 or Wizard, level 8
Recipe: Automatically gained from leveled
Ingredients
Edit
Ad blocker interference detected!
Wikia is a free-to-use site that makes money from advertising. We have a modified experience for viewers using ad blockers

Wikia is not accessible if you've made further modifications. Remove the custom ad blocker rule(s) and the page will load as expected.