Mailbox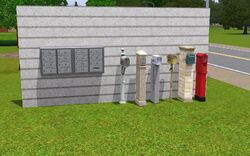 Several types of mailboxes in The Sims 3.

The mailbox is a special object, present on all residential lots in The Sims, The Sims 2, The Sims 3, and The Sims 4. Mailboxes are used to receive and to pay bills in all games. Various expansion packs allow other pieces of mail to be sent to mailboxes as well, such as date rewards or coupons.
In The Sims and The Sims 2, the mailbox object also has other functions not related to sending and receiving mail. The mailbox serves as a "marker" which allows visitors to find the front door. Taxicabs, carpools and school buses tend to stop near the mailbox. In The Sims 2: Bon Voyage and later, Sims who are walking back home from a community lot are considered to have arrived when they reach the area of the mailbox.
In The Sims and The Sims 2, the mailbox is not moveable and cannot be deleted unless the Moveobjects cheat is activated. Mailboxes cannot be bought or spawned in (unless the game is modified), so deleting the mailbox is not advised. The Sims 3 gives the player the ability to move the mailbox around the lot to a location of their choosing; however, a cheat is still required to delete the mailbox.
The mailbox has several special properties when the Testingcheatsenabled cheat is activated, in The Sims 2 and, to a lesser extent, in The Sims 3. In the latter game, using the same Testingcheatsenabled cheat followed by the Buydebug one, the player is able to obtain different mailboxes, provided that they have the Store worlds/expansion packs that include those different mailboxes.
Ad blocker interference detected!
Wikia is a free-to-use site that makes money from advertising. We have a modified experience for viewers using ad blockers

Wikia is not accessible if you've made further modifications. Remove the custom ad blocker rule(s) and the page will load as expected.