The Sims News
---
More Sims news... >

Community News
---
More community news... >  •  More The Sims Pen... >
Featured Article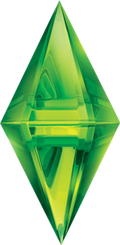 The Plumbob is an iconic feature of The Sims series. It is used in most titles to identify the currently selected character, and to show the mood of playable Sims. The plumbob has become an important and easily recognizable symbol of the franchise, and is featured in countless game covers, logos, posters, and other products.
In The Sims, the plumbob's color depends entirely on the Sim's current motives, which determines the Sim's overall mood. The plumbob will be green if the Sim is in a good mood, white if the Sim is "neutral", and red if the Sim is in a bad mood. A deeper and darker shade of green or red indicates the severity of the mood. In The Sims 2, the plumbob will be white if the Sim is in platinum aspiration, which raises the Sim's mood to maximum regardless of the Sim's motives. Otherwise, the plumbob will be green if the Sim is in a good mood, yellow if the Sim is in a mediocre mood, and red if the Sim is unhappy. The plumbob in The Sims 3 and The Sims 4 functions similarly to that of The Sims 2, although there is no platinum mood.
In The Sims: Hot Date and The Sims 2: Nightlife, a date partner or outing members will have a blue plumbob over their heads. This plumbob reflects their mood in Hot Date depending on the shade of blue, although this is not the case in Nightlife. In Open for Business, employees will have a spherical plumbob over their heads that reflects their mood, much like the normal plumbob does; players should keep a close eye on this plumbob in order to give them breaks appropriately, or they may quit when their motives get too low.
The appearance of the plumbob has changed throughout the series, but it has always generally resembled the shape of a hexagonal bipyramid, making it a dodecahedron. It has 12 isosceles triangles, 18 edges, and 8 vertices.
Recently featured: SimBot · Child · The Sims 2: Seasons
---
Vote for the next Featured Article · Past featured articles

Recent Releases
The Sims 4: Cool Kitchen Stuff
August 11, 2015
---

The Sims 4: Spa Day
July 14, 2015
---

The Sims 4: Perfect Patio Stuff
June 16, 2015

Most recent updates
Let us know how you would answer this question:
We've seen celebrity endorsed in the Sims series, be it through in-game music, cameos (Superstar) or even Stuff Packs (Sweet Treats). Would you like to see more? Why or why not?
Visit the Monthly Question blog to read more about the question, or go here to weigh in!
Participate in wiki and game discussions, ask for assistance, and more on The Sims Wiki's forums.
Join the Chat