Contents

The Sims News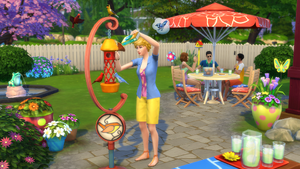 The Sims 4: Backyard Stuff now available
The Sims 4: Backyard Stuff—the eighth stuff pack for The Sims 4—was released worldwide on July 19, 2016. Backyard Stuff includes new clothes and hairstyles, a bird feeder, and a lawn water slide. (Jul 12 2016)
---
The Sims 4: Kids Room Stuff now available
The Sims 4: Kids Room Stuff—the seventh stuff pack for The Sims 4—was released worldwide on June 28, 2016 and focuses on children's clothes and activities. (Jun 28 2016)
---
The Sims 4: Dine Out now available!
The Sims 4: Dine Out, the third game pack for The Sims 4, was released worldwide on June 7, 2016. The pack allows Sims to own and manage restaurants. (Jun 7 2016)
---
Featured Article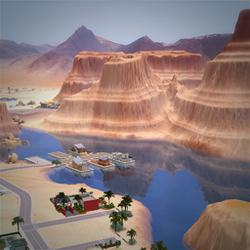 Lucky Palms is a world for The Sims 3. It was announced on June 18, 2012 and released on June 28 of the same year. It is the fifth world released for The Sims 3 Store. Lucky Palms is set in a desert setting with small pockets of green scattered throughout the world. There are 50 residents (and 5 unborn babies), making Lucky Palms the same size population-wise as Bridgeport, Hidden Springs, and Riverview.
It is available in a Standard and Gold edition. The Gold edition contains The Lucky Simoleon Casino, as well as several extra objects, including the blackjack table and the slot machine.
Recently featured: Teen · Barnacle Bay · Plumbob
---
Vote for the next Featured Article · Past featured articles

Community News
---
More community news →
The Sims Wiki Community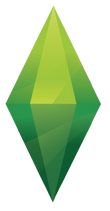 The Sims Wiki is maintained and grown by a dedicated community of editors. The
Community Portal
has been set up to connect users, give editing help to new editors, and develop a strong community for the wiki. There are many great ways to become a part of the wiki community.
The Forums are where the wiki discusses broad changes to articles, wiki policies and practices, and game-related topics. There is also a help forum for wiki or game help, and forums for off-topic chatting, game theories, and more!
We have a large and growing fanon namespace, where many authors create great fanon and fan fiction content. All registered users are allowed to create fanon articles!
We have many types of Featured Content, including featured article, featured media, wiki Battles, and more! Any reader or editor can nominate new content to be featured, vote on other nominees, and help decide what content is featured on the Main Page.
Several wiki users write blogs about The Sims and The Sims Wiki. We have many opinion blogs, The Sims news blogs, other various community blogs, and even a fanon blog. Any user can comment on blogs, and any registered user can write blog posts!
---
We hope you'll take some time to see all that the TSW community has to offer, and join us as we work to build a comprehensive The Sims encyclopedia!
0
The Sims Wiki

See our chat policy here.
Join the Chat>

Recent Releases

The Sims 4: Backyard Stuff
July 19, 2016
---

The Sims 4: Kids Room Stuff
June 28, 2016
---

The Sims 4: Dine Out
June 7, 2016
---

Most recent updates

Update 38
- July 18, 2016
1.21.37.1020(PC) / 1.21.37.1220 (Mac)
---

Update 37
- July 14, 2016
1.21.32.1020(PC) / 1.21.32.1220 (Mac)
---

Update 36
- June 23, 2016
1.20.60.1020(PC) / 1.20.60.1220 (Mac)
---
See all game updates for The Sims 4

Featured Media
---
Vote for or Nominate Next Month's Media
More featured media

The Sims Wiki Battles
The Sims Wiki's Battles pits your favorite Sims, families, games, or other content from The Sims head-to-head. Your votes decide who wins and who loses! Vote now for your favorite!
---
Check out past Battles