Marilyn Monroe

Name
Marilyn Monroe
Gender
Female
Age
Adult
Life state
Sim
Appearance
Hair color
 Blonde
Skin color
 Light
Body shape
 Thin
Marilyn Monroe is an NPC, much like Drew Carey, who wanders around the Studio Town lots. She gives out autographs and goes into the celebrity caravans. She may also go to Sim's houses from time to time, joined by the paparazzi, and present them with an award. The Sim modeled after her wears a pink strapless dress with matching gloves and shoes, which is likely based on her appearance in her iconic 1953 movie Gentlemen Prefer Blondes. Like other celebrities within The Sims, Marilyn has a star instead of the signature PlumbBob above her head. Her role within The Sims was very minor, many players found her cameo in The Sims: Superstar to be quite surprising as Marilyn Monroe was not announced to be in the game.
Real life
Edit
Marilyn Monroe (June 1, 1926 – August 5, 1962), was an American actress, singer and model.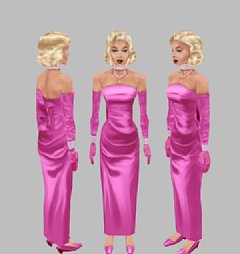 External links
Edit
Ad blocker interference detected!
Wikia is a free-to-use site that makes money from advertising. We have a modified experience for viewers using ad blockers

Wikia is not accessible if you've made further modifications. Remove the custom ad blocker rule(s) and the page will load as expected.