Matlapin family
Name
Matlapin family
Number of generations
3 generations
Family connections
Dreamer family
Description
'The Matlapin family are new in town, but thanks to Mariana's natural charm and social graces they are already well known and well liked by their neighbors. Their daughter Darleen has a dreamy disposition and an interest in the arts... and romance! Will Darleen find the man of her dreams amid the shifting sands?'
Members
Omar Matlapin, Mariana Matlapin, Darleen Matlapin
Lot
74 Pleasant View Road
Funds
§13,000
Difficulty level
The Matlapin family is a premade family that appears in both The Sims 2 and The Sims 3. They appear as the matriarch family of Dirk Dreamer, the son of Darren and Darleen, who is the playable member of Dreamer family in Pleasantview. In The Sims 2, the Matlapins are not featured as playable family, but instead all of the ancestors are deceased already, including Darleen, who died in a fire accident. Her grave is at the backyard of the Dreamers' home, near a willow tree.
They reappeared in Lucky Palms, a purchasable neighborhood from The Sims 3 Store, in a previous timeline before The Sims 2. There, all members of the Matlapins are still alive and playable. Omar and Mariana are adults, while their daughter Darleen is still at her prime young adulthood.
Onomatology
Matlapin: Means in Swahili "the different" or "difference"".
Omar Matlapin: Means "speaker" in Hebrew.
Mariana Matlapin: Means "of the sea".
Darleen Matlapin: A slang-like term for "Daring" From combination of darling and popular name suffix -leen.
Family tree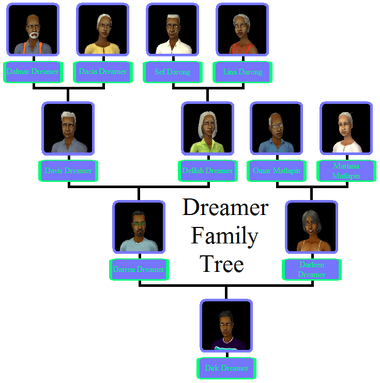 Members