Maya Wang

Name
Maya Wang
Gender
Female
Age
Young Adult
Life state
Sim
Education and Employment
Career

Unemployed
Hidden traits

 Asian Culture
Favorites

 Latin

 Dim Sum

 White
Appearance
Hair color
 Black
Eye color
 Brown
Skin color
 Light
Body shape
 Thin
Maya Wang is an young adult foreign Sim from Shang Simla. She lives with her husband Deng Wang. She has 4 skill points in Martial Arts, 4 in Cooking, and 3 in Painting. She has the hidden Asian Culture trait. Her husband Deng has the Can't Stand Art trait, which conflicts with her Artistic trait, however they share the same favorite food and color.
Maya Wang is mentioned in one of the object descriptions from The Sims 4: Movie Hangout Stuff, unlike most other objects, the one she's mentioned in is a tree, which holds paper lanterns she is said to have made.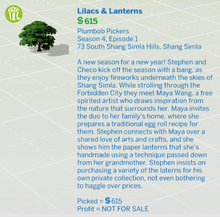 Ad blocker interference detected!
Wikia is a free-to-use site that makes money from advertising. We have a modified experience for viewers using ad blockers

Wikia is not accessible if you've made further modifications. Remove the custom ad blocker rule(s) and the page will load as expected.