Memories
Talk

0
7,779pages on
this wiki
Memories are collected by Sims in The Sims 2 and The Sims 3: Generations.
The Sims 2
Edit
See also: List of Memories and Vacation Mementos
Memories are stored in a panel in the Sim's simology tab. There are positive and negative memories, and some memories can be either way, depending on Sim's aspiration or secondary aspiration[TS2:FT]. For example, Knowledge Sims collect positive memories for being abducted by aliens, and Romance Sims collect negative memories for getting married.
Memories are usually used as a subject of a conversation, in addition to interests. Recent memories are likely to be the conversation topic and will eventually wear off and not become a topic anymore. Negative memories can be spread by gossip. Sims who have heard a gossip can pass it on to other Sims as well. A topic of the gossip is started by Sims who witness a bad experience, or heard the story itself from other Sims via gossip or chat.
In Bon Voyage, a new feature of memory is added. A suitcase icon appears in Sim's memories panel. Clicking it will show the Sim's vacation mementos that are collected while going on vacation. The amount of mementos Sims collect will display the title of vacationing Sims. Vacation memento is only a trivial feature, and collecting all of them will not reward anything to Sims. Each Sim has their own vacation mementos.
The Sims 3
Edit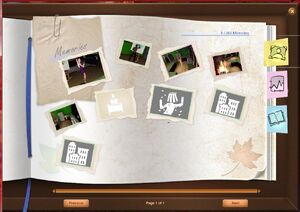 This feature is not included in the base game, however moodlets act as temporary memories. Larger event moodlets will last longer, ex: a death or divorce. Sad moodlets will make Sims cry every once in a while until the moodlet goes away.
Memories return in the update introduced by The Sims 3: Generations.[1] The Sims will collect them; it's possible for the player to change a Sim's memories. Instead of using icons to represent memories, the in-game camera will take a snapshot of the memory and, when enabled, will notify what memory occurred.
A tool to create memories will be available. Any user-made memories require a picture taken by the player, and will also require a title. If the camera is not on the same lot as the Sim in the active household who is receiving the memory, the memory will have a placeholder for the picture and a gray background. If the Sim receiving the memory is not in the active household, the memory will have a watermarked background depicting whether the memory is positive, neutral, or negative. Editing a memory provides a share function which can either upload the memory to the Sims 3 website or to Facebook as a status update. Players who upload memories may get items from the store (according to the number of memories uploaded).[clarification needed]
See also
Edit
References
Edit