Rabbit hole
Talk

6
7,779pages on
this wiki
Rabbit hole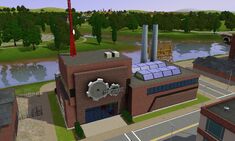 The Soil and Water Research Facility in Riverview, an example of a rabbit hole
A rabbit hole is an object, generally in massive size, which Sims can enter or do activities in, but players are unable to see what's inside it. Rabbit holes fade away when the camera gets closer to them, and Sims cannot be seen what they're doing inside one.
Functions
Edit
Most rabbit holes function as workplaces where Sims are employed and work in. Most of them are building-sized, though some of them are not, such as mausoleum, gypsy caravan, or arboretum. Sims can perform various activities inside rabbit holes, such as getting employed, attending a show, attending a class, and so on. Some rabbit holes render the lot assignment of community lots. Rabbit holes placed in a community lot will also replace the lot's map tag with the rabbit hole's map tags.
Some rabbit holes are investable. Sims can become partner and own them. Once Sims become an owner, they can rebuild the lot to improve it to become more attractive, rename the rabbit hole, and also fire Sims at their will. They can't, however, fire the last employee who works there.
In some careers and professions, some of their duties or opportunities are to enter certain rabbit holes to perform something. What they do doesn't really matter, because they will just enter the rabbit holes and complete their tasks themselves. For example, Firefighters sometimes have a building disaster where they'll enter a rabbit hole and complete it eventually.
Although rabbit holes will fade when the camera gets closer, players can see the contents inside them with cameraman view by pressing the Tab key. Everything inside the building is 2-D decorative textures that serve to make the rabbit holes or buildings more realistic when players peek them through window from the outside. Environment sounds and music can be heard when Sims are inside the rabbit holes. Usually it's a sound effect related to the rabbit holes, such as school bell at school or eerie voices at mausoleum, with an audible background music.
Autograph session
Edit
Sims who are at their top of certain careers can hold autograph sessions in some rabbit holes. While in autograph session, Sims must give autograph to as many visitors as possible. The more Sims get autographs, the more the player will earn money. Sometimes, this will also attract and advertise Sims to enter the rabbit holes to watch show or game for example, which will give bonus as well. Technically, Sims can hold autograph sessions in rabbit holes where Sims can enter to attend a show, i.e. theater, stadium, equestrian center, or film studio.
Additionally, Sims can also make an advertisement deal with bookstore and supermarket. This is simpler as Sims only need to enter the rabbit hole in an amount of time, and they'll earn money. Sims need to wait for a week to make another advertisement deal. Sims cannot have two deals at a time; which means they need to wait for a week to make a deal in supermarket if they've made one in bookstore.
Multi-purpose rabbit holes
Edit
Since Late Night, some multi-purpose rabbit holes are present to preserve neighborhoods that lack enough space for big lots, such as Bridgeport. Although this seems practical, there are some issues regarding with multi-purpose rabbit holes, such as the inability to complete opportunities that are related to rabbit holes. Sometimes, the option to perform task from opportunities is not available, which prevents player from completing the opportunities. For example, the aftershool activities-related opportunities cannot be completed at school in Moonlight Falls.
Types of rabbit holes
Edit
Types
Function
Workplaces and classes
Notes
EP
Abandoned warehouse
None
Criminal career, Art Appraiser career
Sims in the Law Enforcement career may receive an opportunity to raid the warehouse in exchange for a cash reward. This usually causes Sims unable to go to their workplace in abandoned warehouse.

Administration center
Reassign roomates, clear name, record anti-cheating video
None
None

Annex
University graduation ceremony
Handiness class

Arboretum
Enter gardening competition, search for fairies, play with fairies, tour arboretum
None
This house is exclusive to fairies. Not investable.[1]

Bistro
Eat in or outside, hold autograph session
Culinary career, Cooking class, Mixology class
Sims can eat inside or outside the bistro. Sims who eat inside sometimes receive a chance card. Sims will change to formal wear when going to bistro.

Bookstore
Buy books, hold autograph session, make advertisement deal
Bookstore Clerk part-time job
None

City hall
Protest, receive service awards, celebrate the top-level profession, tour city hall
Political career, Architectural Designer profession, Charisma class
Not investable.

Classroom
College class
Various skill classes
There are 3 types of classroom rabbit holes. Each of them have different variety of activities.

Diner
Dine in
Culinary career, Cooking class, Mixology class
Sims employed in the Culinary career can transfer their workplace between the Bistro and the Diner rabbitholes, as they are functionally the same.

Equestrian center
Watch horse competition, breed mare, offer stallion as stud, buy a horse, enter a horse competition
Riding class
None

Film studio
Attend film screening, hold autograph session, tour film studio
Film career
The set outside the building will periodically change.

Gypsy caravan
Have fortune told, WooHoo
Fortune Teller career
None

Hospital
Giving birth when the baby is coming, get plastic surgery, wax body hair, receive flu/allergy shot
Medical career
Vampires can raid the hospital for plasma packs.

Mausoleum
Tour mausoleum, explore catacomb, manage the dead
Mausoleum Clerk part-time job
Does not generate a map tag, unlike other rabbit holes. Not investable.

Military base
Tour base camp
Military career, Handiness class
Not investable.

Office building
Dispel rumor[2]
Business career, Journalism career, Video Game Developer career,  Writing class, Social Networking class
None

Police department
None
Law Enforcement career
Sims in the criminal career can be arrested. Sims can also recieve investigation cases here. Not investable.

School
Prank, attend prom, sign up for afterschool activities
Education career, Painting class
Not investable

Science lab
Sell insects and spirits, tour science lab
Science career, Ghost Hunter profession, Logic class, Gardening class, Inventing class, Science class
Sims can claim their clone when they have a clone voucher purchased from lifetime reward.

Skydiving center
Skydiving simulator
None
Sims can increase Athletic skill by using the skydiving simulator. This is a special rabbit hole from Ford Focus Skydiving Simulator from store content.

Spa
Get salon, facial, massage, body treatment, and package service; get tattoo, wax body hair, hold autograph session
Spa Receptionist part-time job, Spa Specialist part-time job
None

Stadium
Attend game, attend concert, hold autograph session
Professional Sports career, Sports Agent career, Athletic class
The Binder Clips Center in Starlight Shores also functions as a big show venue as part of shell-rabbit hole.

Subway
Travel, play for tips
None
Subways can be individually named, and travelled between for free. There is a chance for sims to be mugged when using the subway or playing for tips in the station. Sims can replenish their Bladder need in the station. Not a building.

Supermarket
Buy grocery, sell fresh fruit and vegetables, hold autograph session, make advertisement deal
Grocery Store Clerk part-time job
Fishing class
Vampires can raid the supermarket for plasma packs.

Theater
Attend play, attend symphony, hold autograph session
Music career, Instrument skills
The Hoi Polloi Event Center from Showtime also functions as a big show venue as part of a shell-rabbit hole.

Vault of Antiquity
Enter trivia contest, research supernatural, tour archives
Alchemy class
On the right of the door there is an illuminati symbol consisting of a pyramid containing an eye.
References
Edit
↑

The XML data in the game files actually has a complete data of investment, e.g. buyout cost and investment return per week, but it's disabled for some reason.

↑ Disgraced celebrities can dispel rumors for a fee