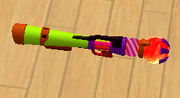 The
NPC and Townie Maker
is a cheat object which can be accessed by using
testingcheatsenabled
. It was first introduced in
The Sims 2: FreeTime
. When spawned, it appears as a repo gun lying on the ground.
How to access
Edit
The NPC and Townie maker can be accessed by pressing "CTRL", "SHIFT", and "C" and entering boolprop testingcheatsenabled true into the cheat box. When holding "SHIFT" and clicking on a Sim, one of the options that should appear is "Spawn". When clicking on "Spawn", one of the options is "NPC and Townie Maker". This option will not appear or work if FreeTime or a later pack isn't installed. If the player tries to access the NPC and Townie Maker with testingcheatsenabled with Nightlife, an old version of the NPC and Townie Maker will appear as a spooky tree.[1]
Abilities
Edit
Some of the things the NPC and Townie Maker can do are:
Randomize a Sim's Name.
Turn a townie into a social class townie.
Turn a townie into a downtownie.
Turn a downtownie into a social class townie and vice versa.
Generate a Townie
Generate an NPC
Generate a Downtownie
Generate a Social Class Townie
Change a Sim's Clothes
Change a Sim's Appearance
Generate Replacement Townies and NPCs
References
Edit
↑ Step 4a) of this thread mentions an NPC and Townie maker that looks like a dead willow tree.
Ad blocker interference detected!
Wikia is a free-to-use site that makes money from advertising. We have a modified experience for viewers using ad blockers

Wikia is not accessible if you've made further modifications. Remove the custom ad blocker rule(s) and the page will load as expected.