Origin
Talk

4
7,789pages on
this wiki
Origin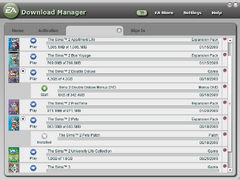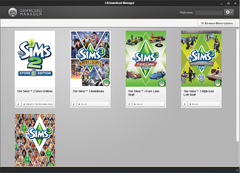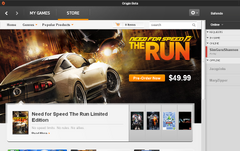 The Old and New versions of EADM with a queue of digitally downloaded games in The Sims Series. The third image is of Origin, notice the integrated social features and easy access to the Origin Store.

Origin
(formerly known as
EA Download Manager
or
EADM
prior to 8.1) is the download manager provided by
EA
used to download and install digital versions of purchased games, software and game manuals from the Origin store. Origin also allows users to register their downloaded games, and easily keep all their game titles (digital and/or physical) up to date with the latest
patches
. Origin works in a similar way to the
Steam
content distribution service from
Valve
, which can be seen as its main competitor in the digital download market. However, the two are not quite equivalents, as Steam has game-integrated features (such as achievements) and is required to play the games; Origin focuses on content distribution and is not required to be used.
If the user downloads The Sims 3 or The Sims Medieval, the user is required to accept the EULA before downloading. Titles that lack an EULA such as The Sims 2 Double Deluxe and The Sims 2 Seasons don't have this requirement.
It comes with all new releases from EA, but exists as a separate tool and can be installed and un-installed independently. To avoid using Origin, players will need to download and install updates manually. If a digital copy of a software title is purchased at the Origin store, EA requires that it be downloaded through the Origin. As of December 26, 2012 (2012 -12-26)
, the latest release is version 9.1.3.2636
Comparisons and differences between Origin and Steam
Edit
Both services supply The Sims 3 and all of its expansion packs.
Steam supplies content from a variety of developers and publishers, including EA, whereas Origin only supplies content that was published by Electronic Arts.
Origin has the same social functions as Steam.
Origin supplies exclusive content for EA games which isn't available via Steam or retail.
Origin requires a separate download and install for each expansion pack, Steam downloads and installs them all together.
Steam installs expansion packs and stuff packs as DLC and requires the content to be launched from the base game whereas with Origin, you would launch from the latest released or installed expansion/stuff pack.
Windows 7 and Windows Vista Sims 3 Launcher Crash
Edit
When The Sims 3 Late Night came out on Oct 26, 2010 (29 Oct 2010 in Europe), many Windows 7 and Vista users reported that The Sims 3 Launcher would crash after they closed it. EADM was the cause of this and the latest version of it resolved the problem. The glitch is not present on The Sims 3 Fast Lane or earlier The Sims 3 games but the same problem will occur if running updates released on or after Oct 26, 2010.
In The Sims 3 Outdoor Living, the same problem occurred when using the Latest EADM Version (This was fixed on April 29, 2011 with version 8.0.3.427).
This glitch doesn't occur on The Sims Medieval or on Windows XP & Mac OS X.
3rd Party Games
Edit
Version 8.3.7.3619 of Origin adds the ability to purchase and download third-party games.[1]
External links
Edit
References
Edit