Pei family

Name
Pei family
Members
Ai Pei, Gao Pei, Liu Pei, Wei Pei
Number of generations
2 generations
Lot
87 South Shang Simla Hills
The Pei family is a foreign family that resides in Shang Simla from The Sims 3: World Adventures. The family consists of the elderly parents Ai and Gao with their children, Liu and Wei. Their home address is 87 South Shang Simla Hills. It should be interesting to note that all members of this family has the same favorite music, which is Chinese.
Onomatology
Liu Pei: Liu Bei, the first emperor of Shu in The Three Kingdoms of China.
Family tree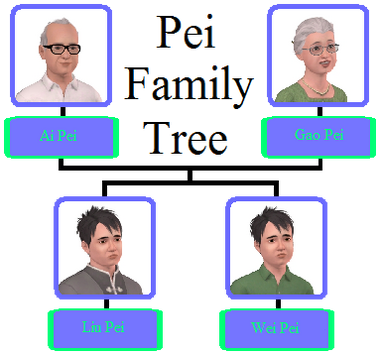 Members
Ad blocker interference detected!
Wikia is a free-to-use site that makes money from advertising. We have a modified experience for viewers using ad blockers

Wikia is not accessible if you've made further modifications. Remove the custom ad blocker rule(s) and the page will load as expected.