Pet trait
Talk

12
7,789pages on
this wiki

Pet Trait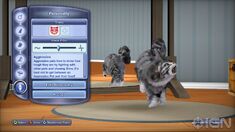 A cat demonstrates the "Aggressive" Trait via action in Create-A-Pet for The Sims 3: Pets (Console).
See also: Trait, Trait (The Sims Medieval), and Trait (The Sims Social)
Pets from The Sims 3: Pets have their own unique traits that are not available to Sims. On the other hand, traits for Sims are not available to Pets either. There is a total of 30 pet traits. Pet traits can be unique to one, two or all three species (pets), for example Agile which is a horse-only trait, or Loyal which is a dog-only trait, Skittish is cat and dog's trait, and Playful is a trait for all kinds.
Pet traits work like Sim traits, by defining a pet's personality and fitting the pet's reactions to it. After picking three traits for a pet, the player can train behaviors so they can develop a "trained" trait.
Trained trait
Edit
Sim can train their pet behaviors through the pet doing related action to the trait or praising/scolding them. If the pet has been trained well enough they can develop a "trained" trait. The difference between the usual pet trait is a highlighted green box around the trait icon. Trained traits can be lost if a Sim trains their pet the opposite behaviors. It is possible for a pet to have more than 5 traits.
List of Pet traits
Edit
List of Traits
Mental
Physical
Social
Lifestyle
Hidden

Pets

Calm
Clueless
Destructive
Genius
Loyal
Noisy
Non-destructive
Ornery
Skittish

Agile
Brave
Fast
Hates Jumping
Hydrophobic
Hyper
Lazy
Likes Swimming
Neat
Piggy

Aggressive
Friendly
Independent
Nervous
Obedient
Playful
Proud
Shy

Unicorn

30 traits
+ 1 hidden trait
9 traits
10 traits
8 traits
3 traits
1 trait
Since Horses are not featured in The Sims 3 Pets (console), all pet traits that are exclusive for horses are not available on the console version.
Pets created in CAS can have up to 3 traits, If the player buys the Attitude Adjustment Lifetime reward they can add 2 more traits, in which the total number of traits is 5.
If a pet with more than 5 traits moves to another world, they will lose all their "trained" traits. Only the first 5 traits on the pet's bio list will still remain.