Phineas Bledsoe

Biography
This gentleman is living the good life in a place where being himself is all there is!
Name
Phineas Bledsoe
Gender
Male
Age
Adult
Life state
Sim
Bledsoe family
Parents
Unknown
Marital status
Single
Zodiac sign
 Aquarius
Lifetime wish

| | |
| --- | --- |
| | Super Popular |
Favorites

 Classical
 Sushi

 Black
Appearance
Hair color
 Brown
Eye color
 Brown
Skin color
 Medium
Body shape
 Thin
Social Standing
Celebrity status
Phineas Bledsoe is a pre-made Sim, featured in Midnight Hollow. He lives alone at 125 Poffald Place, and is employed in the Journalism career as an Automated Spell Checker Checker.
Phineas is a 3-star celebrity if The Sims 3: Late Night is installed. Despite being a celebrity, he only knows Sarah Holden, Joaquin Dorsey, Josie Crane and his boss. He has two points in both Athletic and Writing skills.
He could be a reference to John Galliano.
Phineas Bledsoe is mentioned in a table and two chairs' object descriptions from The Sims 4: Movie Hangout Stuff.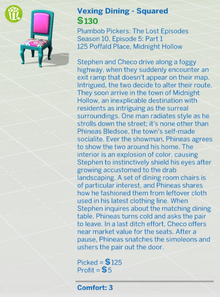 Ad blocker interference detected!
Wikia is a free-to-use site that makes money from advertising. We have a modified experience for viewers using ad blockers

Wikia is not accessible if you've made further modifications. Remove the custom ad blocker rule(s) and the page will load as expected.