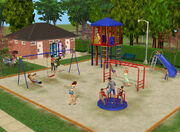 A playground is a recreational space, mainly intended for children. Playgrounds may exist on residential lots, as part of an apartment lot[TS2:AL], or on a community lot, usually designated as a park.[TS3][TS4]
A playground can be any place where child-oriented toys or objects are located, but typically a playground will contain some or all of these objects:
Ad blocker interference detected!
Wikia is a free-to-use site that makes money from advertising. We have a modified experience for viewers using ad blockers

Wikia is not accessible if you've made further modifications. Remove the custom ad blocker rule(s) and the page will load as expected.