A pumpkin is a uniquely carved vegetable which serves as a light source and/or decorative object typically during the season of fall/autumn. This item is introduced in The Sims 3: Seasons and The Sims 4: Spooky Stuff (with the help of a Carving Station).
The Sims 3: Seasons
Edit
In
The Sims 3
, pumpkins are harvested through the
Gardening
skill, and will be placed into the
inventory
of the Sim who harvested the crop. Once harvested, Sims can interact with the pumpkin by carving a unique design on it, after which Sims can place a light inside, or smash it.
The Sims 4: Spooky Stuff
Edit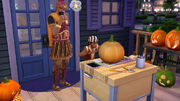 In
The Sims 4: Spooky Stuff
, pumpkins return as one of the new gameplay features of the pack. Sims can interact with the pumpkins just like in
The Sims 3
, although they can no longer be simply grown and harvested. They are made through a pumpkin carving station.
Pumpkins can come in four colors, Orange, Pale Orange, Green, and White. Here is a Full listing of the types of Pumpkins (For a listing of require skills visit Pumpkin Carving Station):
Cockeyed
Classic
Cat
Ghost
Smiling
Owl
Scared
Puking
Wicked
Interactions
Edit
There are a variety of interactions Sims can do:
View
Light Candle
Light/Extinguish Candle
Smash
Put in Inventory
Preserve - Costs §50, requires Handiness 5
Ghosts Only interactions:
Ad blocker interference detected!
Wikia is a free-to-use site that makes money from advertising. We have a modified experience for viewers using ad blockers

Wikia is not accessible if you've made further modifications. Remove the custom ad blocker rule(s) and the page will load as expected.