Ad blocker interference detected!
Wikia is a free-to-use site that makes money from advertising. We have a modified experience for viewers using ad blockers

Wikia is not accessible if you've made further modifications. Remove the custom ad blocker rule(s) and the page will load as expected.

Description
'Are personality disorders inherited? Dennis slipped up and gave an inch. The old man took a mile. Now the corrupt old frauds just take, fake and foil. "Walking defect" Bill skims off the top while the teens beg for attention in neglected obscurity. How long can the sanity assault continue? Will Silver's hijacked years and stolen looks ever know the bitter-sweet taste of revenge? Little Lolly may be this line's only hope of redemption.'
Members
Max Racket, Marigold Racket, Bill Racket, Dennis Racket, Silver Racket, Shark Racket, Lolly Racket
Lot
53 Puddlewick Road
Funds
§75,000
Difficulty level
Description
'"Lil'Dudley Do Goodie" memories of the familial tease-sessions still burn. How many years has he been out? Their laughs have faded but the echoes still ring in the ears. A member of the Racket family behind a badge instead of bars? He walked out of that life early but never got over his fascination with criminal science. Who's the real wise guy now?'
Members
Dudley Racket
Lot
12 Catfish Flats Drive
Funds
§1,300
Difficulty level
The Racket family is a large family in Twinbrook. It consists of elderly grandparents, Max and his wife Marigold, their sons Dudley, Bill and Dennis, as well as Dennis' wife Silver and the couple's two teenage children, Shark and Lolly. The main part of the family lives at 53 Puddlewick Road and has 75,000 simoleons. Dudley lives by himself apart from his family. He lives at 12 Catfish Flats Drive with 1,300 simoleons.
The Racket family seems to have been modeled on a mafia family. One of the clues alluding to this is that many of the members seem to have monikers such as Shark or Silver. Another clue is that some of the family's bios state that Max Racket has a mystery "business," and, according to most of them, the "business" is one of crime. The name Racket comes from racket, which is an illegal business, usually run as part of organized crime.
Max and Marigold, the family leaders are both Evil and Insane, having selfish streaks, only Marigold is part of the mafia, but it is Max who is considered the "legendary patriarch."
The teens, Lolly and Shark hate each other, Lolly being a Hopeless Romantic and Never Nude, and Shark being less romantic and more flirtatious kind of guy. Both are not aware of the family's business, and, according to the family's bio, they beg for attention, but end up ignored and forgotten.
Dennis is a Kleptomaniac and a Hopeless Romantic, a Neat Mooch and Ambitious, who has joined the mafia along with his mother, Marigold. While his wife Silver is a snobby party-girl with a selfish streak, who was hesitant about marrying Dennis, but ended up accepting when she became aware of the amount of cash the family had. Dennis' brother, Dudley is a kind-hearted and perceptive man who quickly learned the truth about family's business and grew a strong sense of justice and tried to disconnect from his family by moving out of the manor (it is implied that he was teased and tormented by his family when he lived with them) and Bill, Dennis' brother is a difficult, inappropriate man. The three brothers appear to be competing for something, as they all have a rivalry with each other.
There is a deceased Sim in Twinbrook named S. Windle Racket. It is implied that he is related to the Racket family since he has both the Evil trait and the Mean-Spirited trait and his lifetime wish is to be the emperor of evil.
An urn of another deceased Sim, Pixie Carlton, can be found inside the house, Pixie does not appear on the family tree and is most likely not related to the Rackets in any way. Pixie died of Electrocution, and she might have been murdered, while it is somewhat impossible in normal gameplay. It is unknown why Pixie's urn is in the house.
Family tree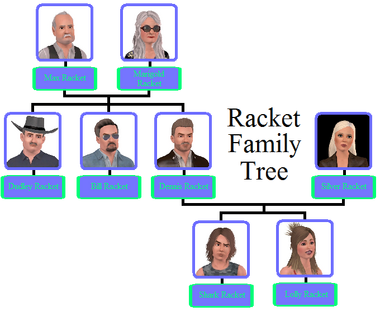 Members