A secret lot is a type of lots that is, unlike normal lots, is only available to a Sim that has completed a certain task.
The Sims: Makin' Magic
Edit
Sims can climb a beanstalk that has grown to full height. If they do, they will find a cloud with a giant Will Wright sleeping next to a spilled can of beans, which they are able to pick up as the "Magic Beans" ingredient.
The Sims 2
Edit
The Sims 2: University
Edit
Sims at college gain access to the Secret Society Club House when they befriend three or more members of the Secret Society. This lot contains a variety of career rewards and aspiration rewards. Each campus has a different Club House. After gaining membership, the Sim can go to the Club House anytime they want by using the phone.
The Sims 2: Bon Voyage
Edit
Maps can be found by digging or taking tours on vacation in The Sims 2: Bon Voyage, and they can lead to secret lots in the three exotic locations. There is one secret lot in every premade destination.
The Sims 2: FreeTime
Edit

Hobbies are special features included in The Sims 2: Freetime, and with every one of the 10 hobbies, came a special secret lot related to that hobby. Sims can gain membership to a Hobby Lot by passing Level 5 in Enthusiasm to the related hobby. There, Sims can interact with various other Sims that share their hobbies, perform hobby-related activities, and can also raise their skills, which makes Hobby lots the only Community lots where Sims can raise their skills, therefore, it makes Hobby lots more effective gyms, libraries, studios, etc..
The Sims 2: Apartment Life
Edit
In The Sims 2: Apartment Life, a secret neighborhood called "Magic" is added. It is only accessible by witches. There are two lots, where you can meet the head witches, buy reagents from them, and use their thrones, cauldrons and spell books. These lots are:
In Belladonna Cove there is a replica of Baba Yaga's hut, complete with chicken feet, named Watervista Palace. It can be seen by pressing Tab ↹, turning the camera towards the water, and heading towards the upper-left corner of the map. If the player carefully positions their camera, or simply installs a camera mod that allows them to view the edges of the neighborhood, the lot may be visited or placed in the Lots and Houses bin. It is well furnished with a bedroom, a kitchen/living room combination, and a small bathroom. It costs about 40,000 simoleons and is assumed to simply be an Easter egg.
The Sims 4
Edit
The Sims 4 features secret lots which can be accessed when certain requirements are fulfilled.
Sylvan Glade
Willow Creek's secret lot is called Sylvan Glade, and it's accessed through interactions with the Living Tree located in the low-class neighborhood, in the lower right corner of the World View. In order to access it, you have to first "Water" the tree, then "Compliment Leaves" and then "Talk". This unlocks the entrance, which then triggers a text adventure, fairly easy to complete. Sylvan Glade is a world that contains a fairly large amount of Logs to search for Frogs, and is the only place where a Treefish can be caught. It's required to complete the Fish collection.
Forgotten Grotto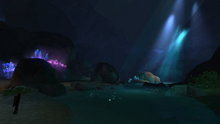 Oasis Springs' secret lot, called Forgotten Grotto, is accessed through 2 places in the world. The first one is located in the Park neighborhood, and the second is behind the Landgraab Mansion. Each of the entrances requires Handiness of level 10 to be pryed open, and become accessible. Similar to its Willow Creek counterpart, Forgotten Grotto has a text adventure that has to be completed before you can proceed, and the place contains a lot of Rocks to complete your Fossils, Metals, Crystals and Elements collection. It also has a unique fish, the Batfish, which can only be caught there and is required to complete the collection.
The Sims 4: Outdoor Retreat
Edit
Deep Woods
Granite Falls' secret lot is called "Deep Woods" and can be accessed via the Bramble Patch in The Forest.
The Sims 4: Get to Work
Edit
Sixam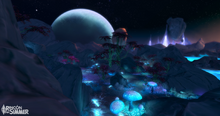 Sixam is a secret lot that comes with The Sims 4: Get to Work. It is the alien homeworld and is accessed via a Wormhole Generator or a Rocket Ship that has one. Two new crystals and metals can be found in Sixam, the former of which can derive a new Element, with three new forms of Plant life to grow in the Sim's Garden. There is a six-piece collection of Geodes which can be found, which gives Environment boosts, as well as alien plants to be harvested and grown back home.
Ad blocker interference detected!
Wikia is a free-to-use site that makes money from advertising. We have a modified experience for viewers using ad blockers

Wikia is not accessible if you've made further modifications. Remove the custom ad blocker rule(s) and the page will load as expected.