Skill
Talk

12
7,780pages on
this wiki

Skills
are talents that
Sims
need in their everyday life and to advance in their working
career
.
In The Sims, only adults can earn skill points. In The Sims 2 and The Sims 3 however, any age group from toddlers on up can gain at least some skills.
In The Sims 2, certain aspiration reward objects such as Smart Milk, the Thinking Cap, and the SimVac can also aid in the building of skills, as do the career reward objects which focus on one skill. All 7 main skills (Cooking, Cleaning, Mechanical, Logic, Creativity, Body, and Charisma) are covered by at least one object. If Seasons is installed, drinking a veggie cocktail will aid in skill building, and drinking eggplant juice will give a random skill point.
In The Sims 3, skills have been expanded, and something roughly similar to the talent badges from The Sims 2 has been worked into the skill system. Skills still have 10 levels of proficiency. Sims who have maxed out any skill receive a certificate which can be sold for §1,000 (price will drop after some time) or hung up proudly on their wall. The interface for The Sims 3 was redesigned, so that information about a skill, statistics and challenges can now be found in the skill journal. Additionally, classes in all the skills can be taken at various Community buildings. Another difference from previous games is that Sims can learn skills on any lot. Previously, Sims could not gain skills on community lots, though some expansion packs for The Sims 2 had limited exceptions to this.
Skills by game
Edit
Skills and secret skills, including talent badges, learned in each game or expansion pack.
Regular skills
Edit
Other skills
Edit
Skill benefits
Edit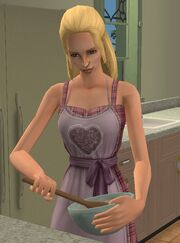 A few examples of skills that are needed in everyday life:
Sims will be less likely to set ablaze their kitchen or burn their food when they know how to cook.
If a Sim is experienced in the Mechanical skill, they can repair broken things in the household faster and the chance of electrocution while repairing objects (e.g. a trash compactor or TV) decreases significantly. This is particularly useful in The Sims 2 and The Sims 3, since it can mean not having to wait for the repairman to come.
Skills can affect the job performance of a Sim, specifically skills related to that job.
Sims with high Charisma tell better stories and jokes. They are also not too likely to be rejected for these interactions by other Sims they might want to make friends with.
Sims will clean things in the household slightly faster if they have gained enough cleaning skill. However, some players report that it also depends on the neatness of the Sim. [confirmation needed]
The Body skill of a Sim is built by using treadmills, weights, or swimming. When Sims are fat, they can train and not only get thin, but also stronger. When two Sims fight with each other, it is said that the Sim with the higher Body skill is more likely to win the fight.
The creativity skill, when high enough, will lead to Sims who create masterpieces on the easel which that sell for a lot of money (in The Sims 3, up to several thousand simoleons for master painters). Alternatively, creative Sims can also write novels (in Sims 3, a masterpiece by a truly talented and experienced writer can fetch over 10,000 per royalty payment, which adds up to over 70,000 Simoleons). Sims with high music skill can earn tips when they play an instrument in front of an audience; in Sims 3, a virtuoso with maxed out guitar skill can make a couple of thousand Simoleons per session.
If a Sim has every skill maxed they will also begin a career half way into it. Also when they pick up a job at this stage the career reward usually becomes immediately available, enabling them to achieve all the rewards within a few days. [

TS2

]
Perfecting a skill unlocks new abilities; for example, a high logic skill lets a Sim tutor other Sims, new cooking skill levels unlock new recipes, and new fishing skill levels lets Sims catch new types of fish.[

TS3

]
Sims get a Power Study moodlet if they study at the library.[

TS3

]
This section describes features that are only available in The Sims 2 and The Sims 3.

In The Sims 2, Sims of any age and aspiration may roll wants to gain a skill point or to gain a point in a specific skill. These wants are more common for Knowledge Sims, and Knowledge Sims may also have wants to increase a specific skill to a certain level, to maximize a specific skill, and to maximize all skills. These wants have higher values, and are also Influence wants. Also, Fortune and Family Sims have a somewhat higher chance of rolling skill-related wants. Fortune Sims will frequently want to gain skills needed for promotion, while Family Sims will often want to gain cooking and cleaning skill.
FreeTime changes this somewhat, in that Sims who do not have Knowledge as a primary or secondary aspiration may have wants to increase a specific skill to a certain level. Sims with hobby enthusiasm may have wants to increase skills related to their hobbies.
In The Sims 3, Sims above the toddler age may also wish to gain a particular skill point or to increase their skill in a particular area. These wants are influenced by a Sim's traits or lifetime wish (artistic Sims will want to gain points in the painting skill, Sims who wish to be monster makers will want to gain points in the inventing skill).
Skill journal
Edit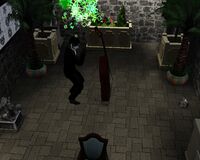 This section describes features that are only available in The Sims 3.

Players do not see the skill in the Sim panel until the first point is unlocked, then they can view the skill journal. Each skill has a tab in the skill journal detailing the level of the skill, statistics, what the challenges are, and sometimes other special information. For example, the athletic skill journal shows the statistics: hours of cardio workout, hours of strength workout, distance jogged. The skill journal is viewed by pressing the 'J' key in-game or selecting the skills tab and clicking the small document that appears at the end of the skill bar after unlocking the first point.
Various challenges are also available in the skill journal. For example, in the Painting skill journal, a challenge to paint thirty paintings is available. When completed, the Sim earns a reward of being able to paint significantly faster than normal Sims.
There are multiple skill challenges for each and every skill, as well as collections. All of them earn some kind of benefit, such as quicker completion, better results, etc.
Community lot skill buildings
Edit
This section describes features that are only available in The Sims 3.

There are certain rabbit holes where Sims can go to learn skills:
These lessons take a few hours to complete, and are available to Teens and above. The lessons may cost around 320 - 500 Simoleons. They are also a much more efficient way to train skills, due to their price. Sims can only be trained once for each skill. They'll need to use other methods (read books, practice, etc.) after the class.
See also
Edit