Souvenir
Talk

1
7,763pages on
this wiki
Souvenirs are items Sims acquire on vacation. In The Sims: Vacation, they could only be won by winning or found by taking part in other vacation specific activities. In The Sims 2: Bon Voyage, souvenirs can be collected and found in each Vacation Destination.
Souvenirs are added to the game with the Vacation expansion pack. In general, souvenirs in Vacation are won in carnival games, but they can also be discovered while fishing, or uncovered while using a metal detector. These items are placed in the Sim's inventory and will stay there until the vacationing family comes home. At that time, if there is space on a souvenir shelf or in a souvenir cabinet, they will be placed there, though the stuffed animal souvenirs are too large to fit. Otherwise, they will be put on the nearest available surfaces. These souvenirs can be sold in Buy mode, and may increase in value over time.
If a player clicks on a souvenir and selects the "Remember" interaction, the Sim will pick up the item, gather a crowd, and apparently tell the story of their vacation. If no other Sims are around, the Sim will hold the item for a short time, and appear to reminisce about their vacation.
In addition to souvenirs which can be won or found, there are some (the Landgraab Nutcracker, Patrick the Pachyderm, and the Unicorn by Fran Tassie) which can be bought. These souvenirs can only be given as gifts.
Carnival Games
Edit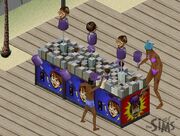 Some Vacation Island lots have carnival games, which cost between §2 and §20 to play. Sims earn game tokens from the games, and the tokens can be taken to a vendor ("Barney the Carnie") and exchanged for a variety of souvenirs. Body skill appears to affect how well Sims do at the games, and therefore how many tokens they win. Also, the more expensive games tend to yield more tokens. Some players have observed that Sims seem to get better at the games the more they play them, but this is unconfirmed.
Below is a list of carnival games:
Captain Popper's Dart Game - Cost: §5 per player - Players throw darts at balloons posted on a rear wall.
Strength O Meter - Cost: §4 per player - Players use a mallet to launch a weight in order to ring a bell at the top.
Chicken Toss Game - Cost: §6 per player - Players hit a button to launch a fake chicken into a large pot.
Bust-A-Clown Game - Cost: §5 per player - Players aim a gun of water at a blue balloon in order to pop a clown head balloon.
Whack-A-Will! - Cost: §7 per player - Similar to Whac-A-Mole, players hit miniature versions of Will Wright's head that pop up out of a fake cityscape.

Souvenirs
are collectibles that can be collected by finding some while on a
vacation
. Souvenirs can be bought for §75 from
Simple Seller Souvenir Racks
that are available in several community lots in Vacation Destinations. Each souvenir rack sells two kinds of souvenirs. There is small chance that a Sim acquires a souvenir after making an offering in
Temple of Jumbok IV
.
Souvenir racks must be placed in their respective destination. The game actually checks whether the souvenir racks are placed in the correct destination. A glitch caused by Bon Voyage patch rendered the souvenir racks unusable.. The souvenir racks were supposed to be able to be placed in an owned business lot.[1]
Collecting five of any souvenir from the same destination and placing them on ShowMeOff Rack of Glory souvenir shelf will give special benefits for nearby Sims. The buyable souvenirs are Pagoda by Oh The Memories and Doll by Oh The Memories from Takemizu Village, Bit o' Vug and Lumberjack's Pride from Three Lakes, and Little Chest of Booty and Private Island Figurine from Twikkii Island.
Collecting five of any Far East souvenirs will allow faster skill building.
Collecting five of any Mountain souvenirs will make non-romantic interactions more effective.
Collecting five of any Tropical souvenirs will make romantic interactions more effective.
Collecting five Voodoo dolls will make Sims who view the rack imagine that they're being chased by bees.
Plundering
Edit
In addition to buyable souvenirs, Sims may collect pirate collectibles by plundering the captain's cabin in a pirate ship. Sims might find Captain's Log, Gold Doubloon, Treasure Map, or nothing. Their values are worth §675, §750, and §2,500 respectively. Sims might also encounter Pirate Captain Edward Dregg while plundering. When the pirate captain is out, Sims cannot plunder more.
Pirate collectibles cannot be placed on souvenir shelf, and thus, they don't have any special effects, but still valuable to be sold for money.
References
Edit