Steve Cupp

Biography
Steve has performed all over the world in the most extravagant venues as accomplished Illusionist known for an old school approach. He also likes to combine work with pleasure, using his travel as an excuse to get in a little adventuring along the way. Most recently Steve was in Al Simhara in search of rare artifacts in the Great Pyramid where he was attacked by a mummy. With a little bit of luck and a few impressive illusions, Steve made his great escape and cashed in on a very rare Plum Stone. Using his new found fortune, he decided to invest in a venue in hopes of attracting new world class talent to his hometown.
Name
Steve Cupp
Gender
Male
Age
Adult
Life state
Sim
Cupp family
Parents
Unknown
Sibling(s)
None
Marital status
Single
Child(ren)
None
Zodiac sign
 Gemini
Lifetime wish

| | |
| --- | --- |
| | Renaissance Sim |
Favorites
 Classical
 Sushi

 Yellow
Appearance
Hair color
 Blonde
Eye color
 Blue
Skin color
 Light
Body shape
 Thin
Steve Cupp is a pre-made Sim introduced in Showtime living in Starlight Shores. Steve is 6 days away from becoming an elder and has not learned any skills. He dislikes Brandon Woods and in his inventory is both the Box of Mystery and Box of Danger.
Steve Cupp is mentioned in one of the object descriptions from The Sims 4: Movie Hangout Stuff.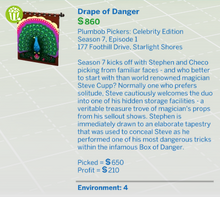 Ad blocker interference detected!
Wikia is a free-to-use site that makes money from advertising. We have a modified experience for viewers using ad blockers

Wikia is not accessible if you've made further modifications. Remove the custom ad blocker rule(s) and the page will load as expected.