Styled Rooms are a feature of build mode in The Sims 4. 'Styled Rooms' lists some pre-made rooms, which are ready for players to place in a house.
Players can choose one of the styled rooms and place it to quickly add a new addition to a house. Every room has different color sets to choose from before placing it. Each room costs a certain amount of Simoleons to be placed.
The Sims 4
Edit
The Sims 4: Luxury Party Stuff Pack
Edit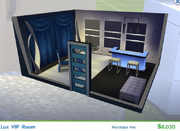 Lux VIP Room
Price: 8,030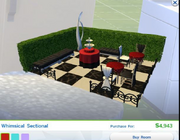 Whimsical Sectional
Price: 4,943
The Sims 4: Perfect Patio Stuff Pack
Edit
Backyard Confine
Price: 11,799
The Sims 4: Cool Kitchen Stuff Pack
Edit
The Sims 4: Spooky Stuff Stuff Pack
Edit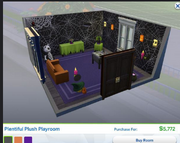 Plentiful Plush Playroom Price: 5,772
Unliving Room Price: 11,033
The Sims 4: Movie Hangout Stuff Pack
Edit
Ad blocker interference detected!
Wikia is a free-to-use site that makes money from advertising. We have a modified experience for viewers using ad blockers

Wikia is not accessible if you've made further modifications. Remove the custom ad blocker rule(s) and the page will load as expected.