Talk:Glitches
8,901pages on
this wiki
Unconfirmed glitches for The Sims or The Sims 2 or The Sims 3
Edit
Please sign your name (using ~ ~ ~ ~ without spaces) after adding unconfirmed glitches to the list. If you have experienced a listed glitch, leave a comment underneath the glitch, and it will be moved to the main page. Please cite the game that you are experiencing the glitch in.
There are glitches for The Sims 2 like:The sims "body skill" not "athletic skill" gains really fast and, no phone on the hook.? 20:11, June 18, 2010 (UTC)Monster2821? 20:11, June 18, 2010 (UTC)
Sometimes in Open For Business when customers check out they go around in circles around the cash *regsister.? 01:24, June 23, 2010 (UTC)Monster2821? 01:24, June 23, 2010 (UTC)
I've experienced this as well. Sometimes the customers also seem to go to the wrong place, where actually no cashier is standing at all and then they get angry, because "the cashier isn't doing his/her job" in the sight of those NPC's, while actually the NPC's are standing at the wrong place, as already said. Because of that, it often also seems like NPC's give their cash to "the air" instead of giving it to the cashier. 149.172.163.84 (talk) 20:56, August 2, 2013 (UTC)
SIMS 2: Game crashing when a sim is about to give birth, but it is easily solved by making a toddler in CAS. SIMS 2:Babies coming on your lot. --24.11.128.37 12:00, July 14, 2010 (UTC)
MUSTACHES! In Sims 2, one time everything outside of my sims house became mustaches. I LOVED IT!216.228.206.155 (talk) 03:25, January 25, 2012 (UTC) MamaPickle
Sims 2. I just installed Free time; All the urns of previously dead sims are gone
Sims 2 . On downloading and installing BonVoyage and Apartment life, all the other hoods dissapeared: Pleasantview, Veronaville, Strangetown and even Riverblossoms168.143.109.42 (talk) 23:11, October 14, 2012 (UTC)Ng
Help, my the sims 2 university is vanished. But, in the the sims 2 launcher, it shows the sims 2 university installed. I also get a message "You have uninstalled the sims 2 university. Every sims appear in the college lot will be appear as an adult in the family bin". (I'm doing nothing with my the sims 2 university) 180.245.73.115 (talk) 11:34, October 19, 2012 (UTC)
I was using the cosmotology station on a sim when all of a sudden instead of the "change appereance" screen, the "Plastic Surgery" screen came up. Freyaflowers96 (talk) 07:37, February 26, 2013 (UTC)
Many times, in The Sims, I've had packets of snacks that sims took out of the fridge when I didn't want them to. Naturally, I cancelled the action, which makes them put it on the floor, and often means you're not charged for it. Usually you can then tell a sim to eat it (for free) or clean it up. Sometimes, though, nobody can interact with the packet, ever. You can't delete it in buy mode, you can't have a sim throw it away, it just stays on the floor, forever, gathering flies and lowering the sims' environment. If you saved before realising the problem, the only way I've found to resolve it is moving out :( 86.164.66.83 11:48, August 2, 2010 (UTC)
I just had a strange thing happen with my Sims 3 game. I have World Adventures installed, and I'm not sure what it would have to do with it. After giving my Sim it's voice, I went to Astrological Sign, and it was still on the favorites and voice tab while the page was Astrological Sign. Does anybody else have this problem?I am Twilight, Twilight the Wolf - http://sonicfanon.wikia.com/wiki/User:Twilight_the_Wolf 23:40, November 29, 2010 (UTC)
Thank you, but I prefer O Positive! (Talk) This Plasma Pack tastes fool!17:36, March 21, 2011 (UTC)
In The Sims 2: Apartment Life, I once killed a resident of another apartment (containing a townie), using a Cowplant. Then, the apartment was empty and was visitable by anyone. But that was not the actual bug. When my vampire bit her (when I resurrected her), and then invited her over his lot, I saw about 30 or more copies of here appearing at the lot. Then ever more started spawning up. All those Sims had the same appearance and age, personality, aspiration and reputation, interests, and finally, memories. The only solution to this was to move from the apartment.

I don't know if this is an actual glitch in The Sims 2, but it's certainly an annoyance. As far as I can tell, it happens when a Sim is a) the owner of a car, and b) in a job with a work outfit. At least some of the time, if the "Go To Work" action is canceled after the Sim has changed into the work outfit, it will be repeatedly pushed on the Sim. Dharden (talk) 03:39, March 22, 2011 (UTC)
When I use that locker room shower item, the Sim's body vanishes until they put their clothes back on. Asteriski 15:20, April 2, 2011 (UTC)
I play the sims 2 and I've had this happen twice. Sometimes, when my sim has a baby, the baby becomes frozen and can't move. I also can't socialize with it, so its needs drop. So when the parents go to pick it up, they just stand there. I can't click out of the socialization, so both the parent and the baby's needs drop until the social worker comes. Then the baby is taken away and the parent dies moments later. Can someone help me? It's really annoying. It doesn't just happen with babies, it happens with the other life stages too. Child and above, they'll just be frozen for a few seconds. Sometimes if a child freezes, all I have to do is socialize with it with another sim.
HELP?? I have this problem with my lights. They stop working and just stay off. I can't even click on them anymore. I have tried replacing them all with new lights and the new lights just do the same thing. I also tried exiting the game and going back in, then I moved the house to the lot bin and placed it in the neighborhood again and nothing seems to work. This does'nt happen in all the lots either, it just seems to randomly happen but once the lights go out they are permanently broken. Any ideas? I would like for my sims to not have to exist in perpetual darkness.
Unconfirmed glitches for Sims 3
Edit
Please sign your name after adding unconfirmed glithes to this list:
My husband expired but the grim reaper never came for him. I dont have his grave or anything.
-Alina
Whenever i teach my toddler how to talk he learns to talk for a whole day. When i make the parent stop teaching the baby the bay and parent keep learning to talk till a social security worker comes. What do i do?-From sims 3 
Random Blackbar -- There are two random black bars under my lot in which I cant build anything on it, which means i cant put flooring, walls or anything on it. I have a pool right over it, I dont even know how that managed to happen. Like these bars are just completely unsuable, no image may appear over it or anything. How can I fix this? --- Jon
Underground/ Aboveground House -- When I try to put a new lot in, whether it be a pre-made lot I made or one from the actual sims website, for some reason the terrain gets messed up and it goes underground, then my sims cant get to it. Like the visual just gets stretched downward on the sides. The whole thing is still there but no-one can get to it because the terrain wont let it. Same thing goes vise-versa in where when I place it its really high up sometimes. How do I fix it? --- Jon
Furry Face--My second generation werewolf sim has fur on his face. I dont know if this is a sign of bigger problems or not, but I got a Code 12 after he became a young adult. cutiepi17
My sim gets the singed moodlet when it sits at a table in the house, when i first moved into the house i had a meteor distaster and i had to clean up and put out fires but there were none around, as if the house was normal just a few rocks here and there... and whenever the sim gets a singed moodlet it says 'from fire' but there are definitely no fires around. Annika
Sim comes out of the shower naked and unpixellated. Steph
Sims game freezes frequently. Steph
long change clothes glitch —Preceding unsigned comment added by Monster2821 (talk • contribs) 23:46, Jun 7, 2010 (UTC)
When I want to change my sims in there everday clothes, the whole section is lost and not to be seen. I dont know if it is just my game being weird or a very iritating glitch. —Preceding unsigned comment added by GamerCornerTV (talk • contribs) (UTC) - Please sign your comments with ~~~~
What do you mean the section is lost? Did you "change clothes" or "plan outfit" in CAS? If it disappears, try disabling the clothing filter.

Nikel

Talk – Vote! 04:07, January 24, 2013 (UTC)
I found a solution. Just make a second outfit for the sim and the everyday section in change clothes is back again. GamerCornerTV
When you tell a Sim to change clothes it does take a few seconds. This is because the game loads the clothes before changing them of course. It's not a bug if it only takes a few seconds. It might also take longer if the clothes is user-created and feature alot of vertices or whatever the creators call them. Duskey(

talk

)(

blog

) 08:49, July 8, 2010 (UTC)

It takes 30 sim miniutes--Danny(Monster2821) 00:42, July 27, 2010 (UTC)

Try without Custom content. Duskey(

talk

) 18:15, July 27, 2010 (UTC)
Sims with no character data —Preceding unsigned comment added by Monster2821 (talk • contribs) 23:46, Jun 7, 2010 (UTC)
sometimes the game will freeze. —Preceding unsigned comment added by Monster2821 (talk • contribs) 23:46, Jun 7, 2010 (UTC)
Once in a while, people build skills really fast for no reason at all. —Preceding unsigned comment added by Monster2821 (talk • contribs) 23:46, Jun 7, 2010 (UTC)
This seems like it's caused by completing all skills like anger management and parenting.? 20:17, June 18, 2010 (UTC)Monster2821? 20:17, June 18, 2010 (UTC)
Sometimes, it's just the body skill they learn very fast (like I'm talking 2 minutes) —Preceding unsigned comment added by Jamiegirl3000 (talk • contribs) 00:06, Jun 8, 2010 (UTC)
Sometimes the drawer in the trash compacter goes missing —Preceding unsigned comment added by Jamiegirl3000 (talk • contribs) 00:06, Jun 8, 2010 (UTC)
Sometimes the phone goes missing off the hook —Preceding unsigned comment added by Jamiegirl3000 (talk • contribs) 00:06, Jun 8, 2010 (UTC)
sSms body disappears —Preceding unsigned comment added by Jamiegirl3000 (talk • contribs) 00:06, Jun 8, 2010 (UTC)
Code 12 and Code 13 save game errors occur with Ambitions (possibly related to using the Pedestrian Sculpting Station) Tchotchke 01:47, June 19, 2010 (UTC)
Firefighter extinguisher upgrade always disappears after return from vacation. Tchotchke 01:47, June 19, 2010 (UTC)
NPC visitors sometimes get stuck on lot, won't leave unless moved/remove via debug cheats. Tchotchke 01:47, June 19, 2010 (UTC)
Sim gets caught in tomb floor trap indefinately, especially during turbo speed. Tchotchke 01:47, June 19, 2010 (UTC)
Sim with duplicates of Canopic relic jars in inventory will not be able to successfully summon mummy. Fix: reload game, remove duplicates from inventory, then summon. Tchotchke 01:47, June 19, 2010 (UTC)
Vizard of Vine counter resets when sim goes on vacation (or returns home). Tchotchke 01:47, June 19, 2010 (UTC)
Underwear as everydaywear: After having a tatto done, the black underwear shown in tatto mode will be available for your sim to use... as everydaywear! —Preceding unsigned comment added by 82.42.36.14 (talk • contribs) 16:00 July 17, 2010
Grim Reaper quits his job - If you move the Grim Reaper in, there is a chance that he will not be replaced, and therefore will not come for a Sim if he/she dies. They will simply be lying there, unable to die andunable to live, in a state of limbo between life and death...—Preceding unsigned comment added by Monster2821 (talk • contribs) 18:49, July 6, 2010 UTC
Okay, I installed world adventures and ambitions and tried to go to the game launcher but it went funky and said I need a game update but I can't because I can't acsess it! HELP ME!!!!!!! —Preceding unsigned comment added by 72.72.119.221 (talk • contribs) 19:41 July 26, 2010 UTC
Try taking a look at the Sims 3 patch trouble page Duskey(

talk

) 18:35, July 26, 2010 (UTC)
Teaching a toddler how to talk, sometimes when the toddler is done being taught the game does not acknowledge it and the toddler and adult become frozen, though everything around them continues as normal, and their needs still drop. Even if you try canceling their action, it won't work. Other sims cannot interact with the frozen sims, and even when the social worker appears she cannot take the toddler. 68.19.229.53 21:46, September 4, 2010 (UTC)
I found a way to fix this. Open the cheat bar. Type in moveObjects on. Go to buy mode. Move one of the two people. It should be fixed.
I've been editing a young adult, and then clicked through the Sims to see what they would have looked like as a teen, child, ect. But when i went back to normal young adult, the guy had his legs squished down and no arms below his elbows. So basiclly he was in the toddler body design, but every thing else was normal....it was actually really creepy 0.o M3J1999
Save and quit. Go back on and they'll look normal, but they'll be able to do stuff teens children ect. can do as well as what a young adult can do. No fix for that part.
Mysterious Vanishing Magic of Pangu's Axe: After a couple of days of owning Pangu's Axe, it will vanish. Completely. Forever. This has happened to me every single time I've got the axe. It even happens with the two Eyes of Horus and the Moodlet Manager. 82.42.36.14 15:25, October 30, 2010 (UTC)
Ghostly Ghosts, Ghostly Tombstones/Urns: If a Sim dies in the neighbourhood that is not part of your current active household, once the death animation is complete, their tombstone will disappear. This can be easily ignored, but if you really liked that Sim, it means that you can never ressurect them. 82.42.36.14 15:25, October 30, 2010 (UTC)

Not necesscarily, 82.42.36.14, if you go to the town Mausoleum and select "Manage The Dead" within a reasonable amount of time, all recently dead sims' tombstones will be there. However, if you wait too long (probably 3-4 sim days) the gravestones will vanish.UBFunkaneer says "That's what a gentleman does." 23:15, February 19, 2011 (UTC)

three glitches one a major annoyance not fixed the grilling interaction corvers your first interaction a temporary fix is to turn of and back on the game 2 a graphical glitch when talking to ghosts your sim may disapear now my sims just appear as if you just used reset sim also sometimes the game does not make a toddler and the teacher of walking close enough and the toddler and teacher have a wired way of doing eg strechy arms toddler jumping Xxgreenbunnyxx
I've had some trouble with Bridgeport's firefighters. There are always generated ones who come even at the very beginning of the game. There still are premade ones but in my game, they never show up after an emergency call... JM9193 18:27, November 30, 2010 (UTC)
Off-Centre Vampires: When sleeping on the Vampire Altar, oddly, the vampire will float with part of their body overhanging the edge, rather than floating over the centre.
The above glitch happens in my game too. --Guilherme Guerreiro (talk here) 20:01, December 10, 2010 (UTC)
The auto-updater only updated my World Adventures Pack but not my Sims 3 core game and now a error notice appears and say "base game is not up to date"
After doing a few missions in World Adventures, the adventures don't come up as often on the board. Eventually they don't come up at all. How can I fix this? --WoganHemlock - The Dark Sage 06:51, March 23, 2011 (UTC)
(Console version) when my sims came home from work with the singed moodlet(Science career, y'know those explosions and stuff) and it never dissapeared which meant they could never change clothes,they were at risk of getting electrocuted and burnt easier. I've deleted the save but would still like to know in case it happened again.
When moving an unoccupied residential lot in edit town to another spot in town, the price of the house in the new lot is only the price of the undeveloped lot- e.g if I moved a £20000 house onto a £1200 peice of land, it would only cost £1200! 86.177.252.69 13:16, April 2, 2011 (UTC)jamjar33
(PC) I didn't save a neighorhood with a certain sim placed in it, and a glitch occured when I started playing that town again (Barnacle Bay). I put the same sim in a different house, and the house's maptag showed up on the unsaved old house! I bulldozed the house and the lot, and that removed it, but then all the maptags in all neighborhoods disappeared. Changing the filter settings and using maptag cheats had no effect. However, the problem was fixed after a game restart.
Yes Jealousy: After Generations is installed, the No Jealousy lifetime reward loses its functionality. It still removes immediate relationship drop if cheating is witnessed, but the "Be Accesed of Cheating" action can still appear, with the same effect. A temporary workaround for this is to use the resetsim cheat on any Sim who goes to accuse your Don Juan/Female Fatale. This glitch was fixed in rhe 1.29 update.90.197.79.135 15:06, August 6, 2011 (UTC).

However, recently, it seems to have returned. 90.197.79.218 (talk) 14:56, December 9, 2012 (UTC)

Cant order an omniplant after patch 1.15 this can be fixed by canceling the order omniplant command when your sim still walk to the mailbox--Wir.wiryawan 07:37, August 16, 2011 (UTC)
Photography skill broken (blank out), cant capture any subject, the take photo command stuck in the command queue cannot be canceled caused your sim to freeze to death, and the worst is this can cause your game to crash. this happen after installing generation. to fix this move your sim to another town.--Wir.wiryawan 07:37, August 16, 2011 (UTC)
I think this glitch happens to me to, but I can't be sure because of the way it is worded. What happens is (in world adventures) whenever I order my sim to take a picture with a camera (purchased in Al Simhara) the sim freezes completely but their motives still decay. Other sims can interact with the sims but they will not respond in any way. I fix this glitch by using the Resetsim "Firstname Lastname" cheat, but the pictures are not in the camera so I can't take any pictures and it is impossible complete adventures that require you to take photos. 74.61.195.133 (talk) 22:41, October 10, 2011 (UTC)
Bodyhair is missing after add or edit it on cas. to fix this your sims must change their everyday cloth with the cloth you get from spa after get a tattoo (yes, only black underwear) before entering the cas to add a bodyhair.--Wir.wiryawan 07:37, August 16, 2011 (UTC)
Sometimes, if I use a cheat code in my game, which I do a lot (Hey! I don't like evil sims, kay?), the next time I played and made a new family, the family funds was only 25 freakin' simoleons!! Please help. I have no expansion packs and er...forgot the update.207.119.8.173 03:20, August 30, 2011 (UTC)
Every single time I quit my game whilst playing a sim family, my game decides to reset itself. It's only started happening today but I don't know how to fix it! Can someone help? (P.S. I have all the current expansions but no stuff packs.) Alix Weaver 19:22, October 15, 2011 (UTC)
When I start up Bridgeport, all the sims have wierd names, as if they've reverted back to the placeholder names that the creators gave them before establishing their real names. For instance, Hyacinth Atkins and her sister Violet are named Bubbles and Blossom Ditto. Belisama Hemlock is named BabyJapenese, and Morrigan Hemlock is the only vampire in the whole town. Silverwing Mryddin 12:56, October 24 2011 (UTC)
The only games I have installed are the base game and Late Night. When playing the in the neighborhood from the base game, My sim turned invisible, with his Plumbob floating where his midsection should be. He would freeze when I tried to change outfits (More like he would become stuck in ftont of the dresser and his mood would steadilly drop.) and if I tried to change his apperance, it would give me options for woman's and men's hair with my sim still being invisible no matter what I click. I tried the reset sim cheat, but it didn't work. I installed the latest patch, but that did nothing. I ended up deleting him and I placed a copy in the town. Everything was fine until I looked over at the town. Some townies seem to be at a lower level (As if in a basement.) with their thought bubbles just above the floor. They can interact with other, normal townies and buildings just fine, but I can not interact with them. I have no idea how to fix this, please help me by e-mailing me at cabbagemiso@yahoo.com.
This is really annoying me. I can't get any item other than bills out of my mailbox. It says I have my wedding gifts but I haven't. Same with invisible friend thing. It also happens when I get given something, like pictures from the photobooth from Showtime. This is really bugging me and I don't know what to do. 94.172.194.3 (talk) 09:02, April 11, 2012 (UTC)

my male child randomly got pregnant O_O
When my dogs tried for a baby, the male was pregnant.... not the female O_O
i sent my family to Egypt and when they returned they were not related and there names changed, for example: Daniel Jackson= El-Epir Sonyon........O_O

Thanks! It was a mod!
I've had ons of glitches.My sims tun all black and the screen gets distorted, my stadiums blink and glitch so that if my sims go near them they are stuck there, so no "athletic career" for us anymore. Most recently I'm in Riverview and we adopted a baby and everytime I want the mother to "feed on floor" or the baby's already in her hand and i tell her to do something she automatically brings him downstairs and puts him outside. Also, my sim won't go to work, I've tried so amny ways to get her there. And there are still so many more. PLEASE HELP!!!69.119.201.120 (talk) 15:36, June 3, 2012 (UTC)A.C.

Try removing your custom contents first, and remember to check whether you CCs are outdated or not.

Nikel

Talk – Vote for Featured Media! 05:19, June 4, 2012 (UTC)
i've got a glitch at one of my vampires families the vampires don't look at the game as vampires. they got no special look(pale skin,gloving eyes,'v' tatoo,fangs,and got normal sim hunger bar ),but they look at creat a sim as normal vampires, and got all the vampires abilities!
hi! i have a glitch where a baby ages up they strech in there headshot for a while, i have no cc. it all happened after the katy perry sweet treats patch. now babies are extremley glitchy! and if a child ages to a teen they do the "bind pose" in their headshot quickly then become a teen. i have no mods or cc
i have a good glitch where my sim freed my genie, and my sim died. and then the genie cloned. i'm playing as my genie Domian, and the clone is called Al. Domian can't interact with Al, but they can pillow fight. This is a good glitch because Al is'nt playable, never leaves the house. Never returns to his lamp, and he helps clean and is good at playing drums.

My sims suddenly stop being able to use the computer. Whenever they try to do anything, it simply teleports them back to the middle of the room and shuts the computer off. I've tried resetSim, but it's not working. :c 24.34.142.144 (talk) 17:21, October 9, 2012 (UTC) Roisin
My sims whenever you zoom in as close as you can they get glitched like balck lines over them or having there clothes turn the color of there skin.
Severe glitche in CAS, when choosing the lifetime wish of sims, the icons for them dissapear and are replaced with hearts. When hearts are clicked nothing happens which then makes the game unplayable to an extent - New sims cannot be created due to the fact that you can't choose a lifetime wish for them.
I used testingcheatsenabled true in order to 'make me know everyone'. I quit the game, and when I came back, my vampire was gone! There was just the little box where her head was supposed to be. I couldn't click on it to find her, and she was nowhere on the lot. I restarted the game without the cheat, I moved the family in and out, but I ended up remaking her and lost all skill progress. It sucked. Hurshbr (talk) 15:41, January 10, 2013 (UTC)Hurshbr
Glitched clothes? my sims clothes are glitching really bad i uninstalled all my bad cc and now it is really messed up! okay so i was making a new family in create a sim and it was normal and then when i got to sleepwear and put on his dresing gown he was naked like a naked dressing gown!! it showed his abs then it showed his you know what luckly it was covered up by a bunch of hair (yuck i know) and then it crashed on me, i tried again and the same happened and it crashed. then the third time i tryed playing it i made the guy first and the girl second ( because the guy was glitching everytime i finished the girl) then he wasnt glitched (thank god) but then when i made the girl she was wearing a naked dress and then my guy glitched after i deleted her and he went all black except for his face which was even more creepier because it had this weird green thing on his face and his eyes were just pure white and it scared me and the backround for the hair make up clothes traits etc were black! that third time it didnnt crash instead i closed it before it got any more scary and worse im so freaked out right now! help!! 123.211.166.24 (talk) princ3ssblonde
Whenever I open up a cheat box my keyboard suddenly stops working. When I press escape, hopeing to get out of the paused cheat box, it just closes the window for the game instead. To get my keyboard working again I have to restart my whole computer. I'm not sure what I did to make the game actually affect my keyboard and keep it from working like usual.  -May
The chosen sims' image and stats froze. I could still interact and use the other sims but nothing would change at the bottom of the screen (Sim picture, wishes, moods etc) making me unable to know how the other sims were feeling. I let the sims whose image and stats had frozen move out but nothing changed, it still appears as if he is the active character even though he is no longer part of the household.  83.183.37.133 (talk) 18:50, October 24, 2013 (UTC)agnesjenny
My sim in University died on vending machine, but I used resetsim so he's not dead, but whenever he goes on a public lot sims get a bad memory and start staring at him for no reason.MaddyRhydian 14:56, November 12, 2013 (UTC)Maddy Rhydian
I don't know...
Edit
i'm Done with article?Monster2821?
I have doubts about this page, and whether it's really needed, especially as it exists currently. A list of known game glitches (and possible fixes) would no doubt be useful, but I don't know how that ties into this article. Any thoughts? LostInRiverview 23:43, June 7, 2010 (UTC)
On The Spore"another maxis game" Wiki there is a glitches page and a patches page,so i think it should be on here too.?monster2821?:
Understood, but I'm interested to know in what capacity it exists on other wikis. I think it could be valuable, as well as a list of common glitches and an associated category (which there is), but I think this page needs some work.
Oops, forgot to sign! --LostInRiverview 00:21, June 8, 2010 (UTC)
It's long enough to be split into two pages on the spore wiki.?monster2821?*
?monster2821?
I've got a Glitch (and it's no Secret!)
Edit
In my game, Tory (my male bought SimBot) has no image data. He has no in-game sim. It just shows a plumbbob and thought bubbles on the ground. I first noticed this after I saved (unfortunately) after two sims in my household went to China (the day or so after he went to France alone.) Okay, I've tried a couple things. ResetSim, RabbitHoles... that's it. He doesn't have enough Happiness to get "Body Sculptor" and, since he's a SimBot, he can't use the mirror or dresser. His picture icon disappears occasionally as well. The family icon never loads due to his condition. Other sims can't interact with him (he has no image). However, his Family Tree/Relationship icon still is the same- always. His traits are the same. UBFunkaneer 14:10, June 30, 2010 (UTC)
A fix could be on the Cheats page Xxgreenbunnyxx
Occasionally i get chance cards from the Law Enforcement Career although I have my sims in the Criminal Career. Even when they not even on work. However none of the cards has effect no matter whatIi click on
En eller anden 13:16, September 21, 2010 (UTC)
My two teenage sims threw a party when their parents went on a free vacation, they trashed the house and got grounded. So they started sneaking around, but when they got let off the hook, they carried on sneaking everywhere even in the house. One of the teenagers aged to young adult and they still sneak around. It's a really annoying glitch that I can't get rid of! - 11normane
Sims 2 Graphics Glitch?
Edit
Usually when I go to my custom neighborhoods the whole landscape is completely black, this has also happened in Strangetown (strange isn't it?) but anyways everything excluding the actual houses and things I decorated the landscape with are gone so it is hard for me to place new lots, and i've had most of my custom families have screwed up profile pictures (eg: when my sims mom died and he turned into an adult his face was merged with hers. Also another glitch happened once (which I'm pretty sure is unrelated) is that a sim came home from work with a bad mood and had black paint smeared all over his face and it got worse the more I clicked him, when he took a shower I could see the paint physically on his body. This however has only happened once. I get my mods from MTS2 and they all are rated good, and I have double deluxe with no extra stuff/expansion packs outside of nightlife and party stuff. Help Please.
weird crash/glitch
Edit
Hey when I turn on the sims 3....it turns itself of then my computer gets the blue screen but my computer works fine with the disk out
SIMS 2 Vacation Glitch
Edit
This is my glitch (SIMS 2). I sent four of my family members on vacation in the mountains, taking four other guests with them. One of the guests froze and will not move, even when the shuttle comes to take them all home, they cannot leave because the frozen sim will not get into the van. This is the most anoying situation because the family has an infant who was left home with the nanny that they can't get back to and I got other characters important to my storylines that need those sims back in the neighborhood. Does anyone know how to solve this problem? —Preceding unsigned comment added by 67.242.157.30 (talk • contribs) 18:52, January 4, 2011 (UTC) - Please sign your comments with ~~~~
If your Sim is frozen, then it means you have The Sims 2 Seasons. Your Sim is supposed to be awaken by sunrise. You can also make selectable other Sims to warm up the frozen Sim by using boolprop testingcheatsenabled true.—Preceding unsigned comment added by Nikel23 (talk • contribs) 12:39, February 2, 2011 (UTC) - Please sign your comments with ~~~~
I don't think that's the sort of "frozen" that 67.242.157.30 had in mind. Dharden (talk) 15:17, February 2, 2011 (UTC)

Try using 'boolprop testingcheatsenabled true', hold down the shift key and left-click on the frozen Sim, select 'force error' and click 'Reset.' Hopefully this unfreezes the Sim. -- LostInRiverview talk · blog 15:48, February 2, 2011 (UTC)
Baby Glitch!
Edit
This is getting very annoying i downloaded a family from the exchange (which I will NEVER do again) and they brought custom content into the game... the custom content SCREWED UP MY BABIES and TODDLERS IT MAKES ME SO SAD!!!! :( SEE BABY GLITCH!!!
This happened to me too except i downloaded lots of sims before i went to playy it and now i can only use teens adults. i've tried deleting the stuff from my computer but when i went into the game again all the clothes are still there. Can anyone please tell me how to fix this because i cant play the game at all anymore because it's so ruined!!!!​​
I'm sorry, but it sounds like your game is corrupted. You might want to ask a total expert or someone on the official sie though, as I am neither. The only way to cure your game of corruption is to uninstall the software for the game, then reinstall it.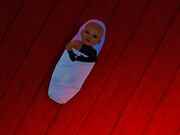 yellow/blond glitch
Edit
on the sims 3 for the nintendo ds, if your sim has blond/yellow hair,
the pictures of the sim show the sim having yellow eyes and lips,
which is not usually possible.
and if you zoom in close, you might be able to see red lips instead.
NPC's don't have this glitch, for whatever reason.
Issue using new Function 'Edit in CAS'
Edit
My daughter has had a problem with the ability you now have with testingcheatsenabled to 'Edit in CAS' any sim you pass in town. She Edited a townie sim in CAS and he became immediately unavailable to her sim and was never home. Even when called for a date, he arrived and immediately left again. Requests for the sim to come to her sims house were refused. She was forced to delete him for fears he was going to corrupt her entire saved game. Does anyone have any information about whether or not this new feature corrupts sims or indeed entire towns? I personally think it's possible but I wonder if anyone else has any more information. I will ask Cricint at The Sims 3.com later today as well. MiyuEmi 13:19, June 21, 2011 (UTC)
New Glitches that should be added
Edit
Reported on the Sims 3 Forums and experienced by myself, there are two currently game stopping bugs which are causing problems. The first one is that after a couple of generations, everyone in the town, including your sims, stop aging. Secondly, houses around town become vacant despite being inhabited. If you call a sim you'll be told they 'Don't feel like it right now' but your sim will never be able to go to their home because they're never there. The only work around for this is going into Edit Town and moving people around just to actually interact with them but eventually everyone because inaccessible again. The aging bug will be a real problem though, especially with people, like myself, who are working on a legacy. Sims and entire save games are being corrupted somehow, someone on the forum suggested it has to do with the automatic forming of a group and people get stuck waiting for their group. Either way these are bugs that can stop you from being able to play your legacy. Also, Save Errors are back as memories are bloating the size of a save game. Every time your sim takes a bubble bath they're getting a memory of it etc etc. Should these be added? MiyuEmi 23:47, June 22, 2011 (UTC)
The Sims Tutorial House glitch
Edit
I found a glitch in The Sims when i was going to load the tutorial house on Sim Lane 7. I have video proof, could it be placed on the Glitches page? EclipseCookie 12:22, October 24, 2011 (UTC)
I know what the cause is. It was because i had to rename a file called UserData to UuserData since the game was loading for hours. What i think is, The first part is an error, kinda obvious of course. After that i tried to resest the tutorial. But it didn't reset. I think that is the glitch part. EclipseCookie 15:02, October 24, 2011 (UTC)
If i rename the Uuserdata file back into UserData, will this error be fixed, or will the game load for                          hours again??? D: EclipseCookie 09:13, October 25, 2011 (UTC)
sims 3+ generations HELP!
Edit
hey :)) i just got sims 3 + sims generations for christmas and have already played it in the past although since i recently just installed the games, every sim in town or just the sims i make sit at the dinning table on the chairs but arent sitting on them properly, its like the chair is there but their sitting on an invisble one behind it..HELP!!!!!! —Preceding unsigned comment added by 2.218.6.57 (talk • contribs) (UTC) - Please sign your comments with ~~~~
Have you got moveobjects on? if so turn it off and restart the game (close it down and open it back up again). If not move the chair to the space behind where it was. - 11normane
Corrected spelling/grammar
Edit
sims3 pets glitch
in the sims 3 pets for pc a distrotion glitch happens to all 3 main pets(cats,dogs,horses).
even using a video card that meets the system requierments it still happens.
its a new glitch for the glitches page. also i need help fixing it
Did you mean the deformed animal glitch? It's said that this glitch has been fixed in the Pets patch as in this blog. However, there is an unofficial way to fix it in here.

Nikel

Talk 10:13, February 18, 2012 (UTC)
I have experienced a glitch in my Sims3 game everytime I use the stairs, it glitches. Or after I saved the game and quit, then I comes back to it. I have tried uninstalling all my sim3 games and expansion packs, but still experiencing glitch. Maybe something I downloaded? How to i uninstall what I have downloaded from Sims3.com from the exchange store? Please help! I can't play my game anymore :(
BABY GLITCH
Edit
I have downloaded content from the Exchange and here laely my toddlers/babies have been messing up From being different colors to becoming a toddler with no body! How do i fix this? i cant even play the game because its so terrible! Thanks!64.130.135.91 (talk) 03:39, May 24, 2012 (UTC)Destiny copass
Yes this keeps happening to me too! Except only babies are affected. Their arms and body are different colors than usual, but the rest is fine. I would probably just uninstall all the custom content. 
Strechy Stray Dogs and Akward Babies!
Edit
Okay there are some glitches i have
Glitch 1: Stray Dogs act like normal sims and strech to act like normal sims at random times.
Glitch 2: Okay this only happens with baby boys, not baby girls, strangley. They get stuck in my sims hand at random times and it fixes itself. And when they age up the headshot shows a baby sim with a long neck.(i am not talking about toddlers, toddlers are okay. IT'S JUST BABIES!)
I have no mods or downloads or any CC.
I can't wait for Supernatural because...
Edit
Stray pets have been murdering my game ever since! They keep streching to act like sims and im not talking about the disorted pets glitch i am talking about how they strech to act like sims. And now that supernatural is coming out i can set the strays to 0 so there will be no strays at all!
Sim Disappered- One of my sims completely disappeared. Before he disappeared, his picture on the side of the screen was nothing but a blank green background. I thought nothing of it and saved and quit my game for the day. The next day thought, when I went to play the game, his picture wasn't there at all, and couldn't find his sim anywhere! Just before I saved the game the night before, he had gone to work at the hospital, so I watched the building for some time to see if his sim would appear. He never came up. All of his household members still have relationships with him, and his kids still get the wish "Get attention from Dad". It shows he is still alive on the family tree. I have been using the cheat testingCheatsenabled true lately to move townies into my house hold without have to build up their relationship to do so. If that is the reason that my game is glitching like this is their anyway to get my sim back? Also, he is still in the family portriat, so i dont think my game reads that he is for some reason no longer in my household. I tried resetsim to get him back, but nothing happened. 98.92.176.195 (talk) 15:31, August 4, 2012 (UTC)Liyah
Sims 3 extras GLITCH
Edit
So I recently installed my Sims 3. And I added a bunch of extras. Hair, clothes, make-up and objects. And all of them work fine EXCEPT the objects.. Whenever I'm in buy or build mode, they show up but when I click them so I can place them somewhere, my game freezes for a few minutes then turns itself off..
I downloaded all the extras from the same site, and all the other ones work fine, except the objects. What do I do? I tried uninstalling them installing again but it doesn't work. Heeeeelp.
79.175.91.60 (talk) 14:54, December 11, 2012 (UTC)Dianna
Where did you get those custom contents from? Remember that you should pay attention whether those objects are compatible with your current patch. Check if they're not outdated yet, and if you can, get the updated versions. If you can't find them, I suppose you shouldn't dare using outdated items. I myself have never used CCs, but mods, yes.

Nikel

Talk – Vote! 14:18, December 12, 2012 (UTC)
I used the testingcheatsenabled cheat on the mailbox and made my vampire "Know Everyone." I went out to edit town, and when I came back to her family, she was gone! Her roomates were still there, perfectly normal, but there was just the frame her face should have been in, and I couldn't click on it to find her. I searched the entire house, but I didn't find her. I had to remake the household because nothing else worked.Hurshbr (talk) 16:37, December 11, 2012 (UTC)Hurshbr
I've never dared using that mailbox cheat, but in case you have a missing Sim, perhaps Hall Twallan's DebugEnabler mod can help. It can be used to retrieve missing Sims.

Nikel

Talk – Vote! 14:18, December 12, 2012 (UTC)
The Sims 3 Family Glitch
Edit
FAMILY GLITCH HELP PLEASE:( (The Sims 3)
I didn't download any families or anything. My sim was pregnant and was going to have a baby. During her pregnancy, I switched over to another family and played them for a few days. When I saw in the family timeline that my Sim had her baby, I went to go play with her. When I loaded her family, the baby was no where to be seen. I couldnt find the baby ANYWHERE! But on the timeline it said she had a baby. Is there ANY way I can find this child? I've tried moving the family but the child is forever gone. Where is he?!?!? Help please!!!!!208.95.51.166 (talk) 19:30, January 13, 2013 (UTC)
Maybe this mod can help Hall Twallan's DebugEnabler , it helps you find sims. But it didnt work when I tried it, hopefully it will work for you. -11normane
SIMSSSSSS
Edit
hi i have lots of sims expasion packs and i lost my sims2 freetime and thats the one i have to insert to play, I deleted it off my desktop and now everytime i insert any other disc it tells me to insert sims2 freetime even though i have deleted it please help! thankyou :)
You may have deleted it, but did you unistall it? deleting it is removing a short-cut to the game, however uninstalling it removes all the content. - 11normane
Wierdo University Glitch
Edit
Now Im having some trouble with my game! It was pre-ordered so of course there will be a glitch now here is what is goin on:
I tried to send my sim to college and it said a Llama will come but instead a briefcase appeared and my sim left but a few seconds later the Llama appeared I dun get it! then when i went to University my sim was NO WHERE TO BE FOUND! Not in the box thing or any of the buildings my sim was GONE! SOMEONE or SOMEPONY HELP!
T.T
A similiar thing happened to me, and after that it would let me change the active household, I had to unistall University Life and install it again. - 11normane
Severe-ish Problem due to update.
Edit
Okay. I already mentioned this on my profile, but since I found this page, it might attract more attention.
I am very outdated with my The Sims 3 games - I have everything until Showtime. And I didn't update my game for a VERY long time.
So I got the new Patch 50 - the one that added Dumpster Diving (I think). Anyways, everything was fine until my cousin visited (not because he caused it). Here is a list of what had happened so far:
1. The game would crash. Then it would bring me to my computer's home screen and say something about a debug.
2. My Sim's character portrait (the small box on the left) was acting spastically. One moment, it would display my Sim's picture normally, and then it would turn into static. Then it would change back, and then go into "static sim" again.
3. The Simology bar would vanish, and the screen will display lines of static on certain parts. The area your sim is in will still be visible (e.g. If your Sim was in Central Park, you can still see what the place looks like, and the sims can be seen) and when you click on something, you sim's head can be seen, but not the options will not.
4. Attempting to quit the game while in "static mode" will cause problems. You can hear the sounds when pressing Q, but no box will be seen.
Any help will be appreciated. :) SimAddict (talk) 11:06, April 18, 2013 (UTC)
Hmmm sounds like it could be something to do with the compatibilty of the game and your computer. What make of computer do you have? (Is it an Acer, Ive heard they don't function correctly with the sims 3) try looking up glitches with your make of computer and any video games. The other problem could be your computer doesnt have enough RAM, Sims 3 requires a large amount of RAM due to the very high graphics (although you could change this by going into 'options' and lowering the 'visual graphics' then it will ask you to restart your game (close the game and opne it back up). I hope Ive helped. - 11normane 
TS3 Patch 50 Bug
Edit
I only have Base Game. I've updated my game from Patch 1.42 to 1.50.
After installing the patch, I tested the game using a family I made, and here's what happened:
1. The character portrait boxes only show the mood, but no Sim portrait.
2. Other Sims in the household are not selectable.
3. All Sims are stuck.  Even ResetSim cheat doesn't fix the problem.
3. Female Sim groans for hunger in a male voice.
4. No Sim relationships, even with family members (spouse, children). Only relationships with a vehicle.
112.203.30.166 (talk) 14:03, April 19, 2013 (UTC)

UPDATE: It seems that the (corrupt) .package files are the culprit. I ran the game without the .package custom content (but the .sims3pack content still installed) and it turned out to be functioning properly. Sims are moving, they're not stuck. Perhaps deleting any of those corrupt .package fills will do... 112.203.30.166 (talk) 18:09, April 19, 2013 (UTC)
At the end of this video: http://www.youtube.com/watch?v=iXWOEYlWLIg, a sim named Simon gets stuck (notice the red energy bar) and i would like to know the cause of this bug.
Ok, so I am fairly new to playing on PC. But I moved my family to a new house which was a pain in its self. But I did it, and I have been  remodeling the house and working with the family and happy that I managed to get rid of Bonehilda in the move. I have been checking my mail box constantly and no mail. I have been playing on and off for a few days now ( I had a break for a few weeks) and nothing and then I see one of my since panicing in my guest house and the repo man is there taking one of the computers. Im not sure what to do. I can't pay bills if I never get them in the first place
My sim comes out of the shower unpixellated and showing everything. 
My game also freezes frequently.
The Sims 2 University glitch
Edit
'Sup? I've found this minor, but annoying glitch - when my Sim finished Freshman year of college, he was left with 4 Want slots and when he graduated, he only got 1 extra, so now he's got only 5 slots. Anyone knows how to fix this?Nadare (talk) 15:27, May 14, 2013 (UTC)
That's strange. You can use the Sim Modder cheat, and then choose "Wants and Fears" > "Add Want Slot".

Nikel

Talk – Vote! 17:04, May 15, 2013 (UTC)
whenever my sim gives birth or adopts a baby the baby invisible? please help as its really annoying!!): 
Invisable babies: (I've copied this off a yahoo answer)
Once you have your stick/invisible baby, press Ctrl + C and type in "TestingCheatsEnabled True" without the quotation marks. Then you Press Shift and Left click your child. Then press Trigger Age Transition. After your baby has it's birthday, have it go to the dresser and press Plan Outfit. When this screen loads, you will see your baby is wearing some weird shirt with a vampire face and no bottoms (or at least my did). Just pick a new outfit and save the changes! For some reason this outfit was set as the default so the babies will continue to be born like this, or at least that is my belief. I had 5 kids on my game before this started happening so to avoid this long process you're going to have to change the default outfits I suppose. As to how to do this, I haven't looked into it yet. Hope this works for you! Try it - 11normane
The Sims 1: Ghost Glitch/Easter Egg?
Edit
Hi, I'm not sure if this is listed here already or not. On three occasions, I encountered a glitch or easter egg where I could control ghost characters in the first "The Sims" Game but I'm not sure how exactly to make it happen again. I had Macintosh versions which I played a lot at the time so I think it was in those versions.
Each time I encountered it, The sim who turned into a ghost was a female caucasian who was fat at least at one time and they all died in fires.
The first time, I had no expansion packs installed and I was saving the game after the character died then I thought "Oh no!" and pulled my computer's power plug so it wouldn't save. When I rebooted the game, The character was selectable as normal but was a ghost that I could control but she'd disappear if I didn't have her selected and doing something; I'd have to pause the game, Select her and then get her to do something to not disappear.
I encountered this a second time, I may have had the first one or two expansion packs installed at the time.
The third time, I at least had the first two expansion packs installed and I was playing with the Newbie family in tutorial mode to rack up simeloans. Then Betty accidentally died in a fire while wearing a thin skin/set of clothes and Bob lost pleading to the grim reaper. After that, I was playing for a while and accidentally hit the Escape key and exited the tutorial at which point Betty became selectable again but as a ghost and it was like the first and second times I encountered it; If Betty wasn't doing something she'd disappear so I'd have to pause the game and tell her to do something. On the plus side, These ghosts would not die in fires so they were great firefighters. Also, This may be an easter egg: If I had a ghost sim and I clicked on a tombstone (I don't think it mattered which one, I think I could click on any tombstone or urn to select this) there was a second option instead of "Mourn";  It was "Ghost Walk"! If you selected this with a ghost character, The character would act like a ghost does at midnight as usual in some sim nights playing The Sims. I've never heard talk of this anywhere else but haven't looked much, Is it known in the Sims community? 98.21.71.253 (talk) 04:50, June 17, 2013 (UTC)BarryFromMars - June 17, 2013
Click on Sim, but no options come up (Sims 3)
Edit
Help! I click on my sim, but no options come up, and I have no idea what to do. It won't let me use her cell phone from the inventory either. I've taken off testingcheatsenabled, and I have also used the resetsim (Firstname) (Lastname) cheat as well, which worked temporarily earlier (however, it doesn't work anymore), but I don't know what else to do. Please help! -Megan
TS3 Alien Face Glitch
Edit
I found an alien in my pewdiepie household's back yard, and added it into my game. He went to university and had a wife after he graduated. After their marriage, whenever he exits a shower, his face turns into a sims face and I go into CAS and saw his icon at the bottom is a regular sim that is tan with brown hair. But what Peidax (the alien) looks like (his model on the right next to the clothing selection) is his alien self with the long average thin alien face. It started after he woohoed his wife and relaxed on the bed, he was still green, but his face is like a sim, then after a few seconds he reverts back to his old self. I desperately need an answer to this because I find it annoying. VERY annoying.- MintyMousse
Started new section
Edit
I wanted my teen sim to become pregnant so i did the cheat "testingcheatsenabled true" then clicked edit sim in creator mood to change her from being a teen to an adult ,I made the 2 sims try for a baby but now it wont let me click edit sim in creator mode to change her back to a teen:o  2.31.165.45 (talk) 17:32, August 30, 2013 (UTC)
Ashlyn 
I'll start a new game and move in a family. As long as I keep playing they can earn skills such as logic, cooking, ect. but if I save and quit and play again nothing goes up. The skill bar just stays in place frozen no matter how long they continue the activity. This happens with every skill and if they start a new one it won't go up or takes an unusually long time to increase. Any clue how to fix it? 
Into the Future glitch
Edit
I've been playing the sims 3 into the future for a while now, and I actually have two glitches. 1. Whenever I bring plumbots back to the present, they cannot be interacted with, and sometimes the inventory glitches to other sims and has a chance to COMPLETLY remove everything from every inventory of the household.
2. My sims cannot interact with one another. I tried everything from reseting sims to removing the household and replacing them with the same one. Nothing works! I susspect it's because I've been playing all day. I'l test it out tonight. I'll reply to this message if it works.
If you have a fix or anything, PLEASE let me know. My game is not very fun with these glitches.
Ummm, my into the future family portrait rotated itself. I have no idea how this happened. Um, I have no idea what to do with this family.
Yes, the same thing had happened to me. When the family portrait rotates, just ignore it. It will probably return to normal after a while. Nothing serious. Joey.eyeball (talk) 04:30, November 4, 2013 (UTC)
Got Into the Future for my birthday and found a doozy of a glitch where returning to the future for a second trip has no Sim portraits, no wishes, no LTW, no moodlets, and the Simology and other tabs can't be opened, the game also lags and the Sims sometimes slide around not even animating.75.97.199.174 (talk) 20:11, November 16, 2013 (UTC)
talk glitches
Edit
hi im kirsty and ive been playing the sims3 island paradise now for a while but when i put it on my computor it says the sims 3 stoped working every time i play it and yes i do upload sims but it even happend befor i did and it wont stop if this is a bad glitch i would like to know or if its just my game and i do use cheats maybe this is the cuase please let me know thank you. —Preceding unsigned comment added by 50.29.199.167 (talk • contribs) (UTC) - Please sign your comments with ~~~~
Baby Glitch
Edit
Has anyone seen a glitch with a baby that has a random color on its arms and chest? (sims 3) and/or the baby filling your whole screen/ stretching up as tall as a full grown sim?98.220.221.3 (talk) 07:37, November 28, 2013 (UTC)Wonderfilled
Sometimes, a minor glitch occurs after Sim's changes or similar. Example: Baby born, changed a Sim's clothes or hair, family member grew up. The glitch is that sometimes the family portrait rotates and/or a Baby, Toddler, Child, and Teenager is stretched to a Young Adult or Adult's height. All you need to do is return to the family, save, and go back to Edit Town. The portrait should of changed. And about the colours on its arms and chest, sorry, I don't know anything about that. Joey.eyeball (talk) 07:48, November 28, 2013 (UTC)
Sims3- Reached Level 9 in Acrobatics Career, and now it won't let me click on my sim options or her cell phone options :(
Whenever my sims walk or even stand still a black square follows them under their feet, but it stops when I go outside. It even happens when making a new family. what do I do?-ebony