TheSims2.com
Talk

0
8,905pages on
this wiki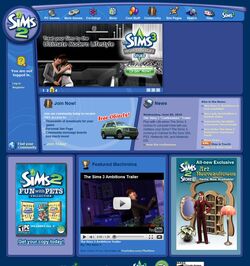 TheSims2.com
was the official site for
The Sims 2
games and
expansions
. Game patches were available there
[1]
, and it offered free downloads of custom content including
lots
, neighborhoods, items, and
Sims
. Other features included: Community Chat, Community Boards (BBS), PodCasts, The Sims 2 Store, LOLSims (a parody of LOLCats)
[2]
and information about upcoming events (or game releases). TheSims2.com was monitored by
Maxoids
.
On February 1, 2011, EA announced that The Sims 2 Store would close as of March 31, 2011 and therefore, support of The Sims 2 Store Edition had ended.
On July 20, 2011, there was a link for The Sims 2 on The Sims 3 Website, but that link was replaced by The Sims Social. MySims was also been replaced by The Sims Medieval and SimAnimals with The Sims 3 (console) (Later The Sims 3 Pets).
As of July 17, 2011, attempts to visit TheSims2.com resulted in a screen with color bars and a message saying that the site was closed for maintenance but as of August, an error page similar to The Sims 3 website appeared. Attempts to visit sub-sections such as the BBS or the Exchange failed.
The site did eventually return in the Spring of 2012. In December of 2012. EA announced that TheSims2.com would be shut down on January 14, 2013, and it was permanently shut down on that date. If players try to access it, they will be redirected to TheSims.com.
References
Edit