TheSims3.com
is the official site for
The Sims 3
. It went live March 2008. Beginning in the Summer of 2008, the development team posted blogs about features in
The Sims 3
on topics like the neighborhood, collecting, traits, and storytelling.
Since the release of The Sims 3, it has become a source of news, stories, movies and custom content from "The Store" and "The Exchange".
The Sims 3 Store
Edit
The Sims 3 Store offers exclusive items and room sets from hairstyles and outfits to furniture and architectural items. Game Update 1.8/2.3[1] allows players to shop the Store while playing The Sims 3.
The store consists of seven categories that are available for individual sale. There is an eighth, Premium Content, which contains items that are only available with the purchase of an item set, or world. The seven individually purchasable categories are: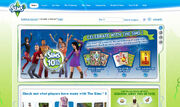 Worlds - This category is by far the most expensive, and the smallest in quantity. However, it is arguably the biggest thing you can buy in the store. It even has its own subsection in the forums. The price for one world is generally $20–$25, or 2000-2500 simpoints.
Venues - This section includes pre-made lots to place in your town, usually community lots.
Sets - This section has collections of items, usually with one collective theme for each. It sells sets with Build/Buy items, CAS items, or even both. It also has a wide variety of prices depending on the set, ranging from free to $72!
Build/Buy - This section sells individual items for Build/Buy mode, such as fireplaces, plants, columns, lamps, appliances, and everything type of item you can purchase in Build/Buy. The items they offer are usually themed, or look especially luxurious or cool. You can browse through the sections through the item types (Hobbies and Skills, Lighting, Comfort, etc.), not their room categories (Living Room, Study, Bathroom, Bedroom, etc.).
Create a Sim - This section divides into two main categories: Hair and Clothing. From both hair and clothing, it divides further into Male and Female subcategories. From there, you can browse organizing by price, newest to oldest and vice versa, or Expansion Pack.
Sale! - This section displays all the items that are on sale at the time. However, it is not an independent section. The sale section shows items that can be found in other sections. It simply shows the collection of all item on sale at the time.
Daily Deal - This category is like the sale section, but it features one particular item, usually one of the more expensive ones, and sells it for about 50% off. It also displays two timers: one that shows when the next 2 "deals" start, and one that shows when the current "deal" ends. However, they have the same countdown time, so you can look at either.
Make Me an Offer - This category is like the sale section, it will search 3-5 items that you dont own and put them on sale with random discount between 10% and 60% for 1 hours. You can spin 5 times in per day and the limit will be reset after 24 hours or if you decided to purchase the bundle that Make Me an Offer offered. Make Me an Offer have some exclusive item that can only be purchased when they offered randomly.
SimPoints
Edit
SimPoints are the currency used within The Sims 3 Store. SimPoints bundles, each with different prices, can be directly purchased with real currency by a player. SimPoints cannot be transitioned back into real currency once purchased. SimPoints may also be given to players after purchasing a particular Expansion Pack, Stuff Pack or World, though this is usually a promotional offer and is not the norm. Presently, it costs $USD 10.00 to purchase 1,000 SimPoints, though the exact cost of SimPoints may vary depending on sale prices, special bundle prices, or the currency being used to purchase the bundle.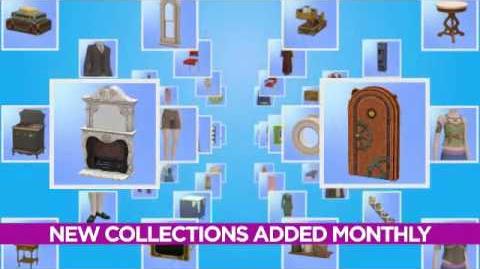 As a "sneak peak" to The Sims 3, players could try out 3 "SimTeasers", which are kind of demos of The Sims 3.
SimSideKick

SimSidekick is a plugin that allows the surfer to browse the web with a Sim. There is a Firefox addon but it only works on Firefox 3.0 and the link does not work. The plugin can be downloaded here instead.
SimFriend allows the player to choose a Sim for a "friend". The "friend" then begins to send the player emails about what is happening in their lives and occasionally asks them for advice. The players receives a Trust score based on how good that advice is. Other achievements such as how many relationships, jobs and skills the friend has can be acquired.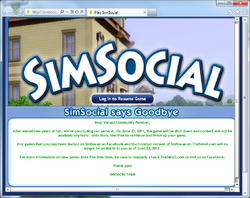 SimSocial is a bite-size version of The Sims 3 based on Kudos 2 by Positech Games. It contains abbreviated Create a Sim options, including traits and a lifetime wish. Otherwise it plays exactly like Kudos 2.
On May 23, 2011, EA said that SimSocial will be shutdown (a week prior to Generations).
SimSocial was most likely shut down due to unpopularity and a new game that would be on Facebook using the same name. EA later announced at E3 2011 that The Sims Social would launch on Facebook.
Badges can be earned throughout the game and on the Sims 3 website.
Badge
How it's Earned

Featured Member Badge

By having an exchange item

be featured on The Sims 3 website.

Freezer Bunny Cupid Badge

Bought at The Sims 3 Store.
Sim Love Starter Badge
A free badge from The Sims 3 Store.
Switzerland
Bought at The Sims 3 Store.
Luck be a Simoleon
St. Patrick's Day Badge

Bought at The Sims 3 Store.
Premium Content
Edit
In 2011 EA added the first piece of Premium Content,[2] The Sharper Sim Foot Massage Chair (Premium Content is an item that adds additional gameplay, moodlets and animations). Since then they have added at least one new Premium Content item a month to The Sims 3 Store (usually as part of one of that month's new sets). Besides the message chair, they have also added items such as an automatic toilet, wind chimes, a gumball machine, an automatic pet food dish and the Pinball Machine.[3] In December 2011, they also brought out the famous Laganaphyllis Simnovorii for purchase, otherwise known as the Cowplant.
The Sims 3 Store released all store sets and worlds on Thursdays.
References
Edit
Ad blocker interference detected!
Wikia is a free-to-use site that makes money from advertising. We have a modified experience for viewers using ad blockers

Wikia is not accessible if you've made further modifications. Remove the custom ad blocker rule(s) and the page will load as expected.