The Sims 4: Get to Work
is the first
expansion pack
for
The Sims 4
. It was released in North America on March 31, 2015, in digital and physical formats for PC, and digital for Mac.
[1]
[2]
[4]
It includes three new active careers; Detective, Doctor and Scientist, and also allows Sims to own and manage their own retail businesses. It is a spiritual successor to
The Sims 2: Open For Business
and
The Sims 3: Ambitions
.
Official description
Edit
Rule the Workplace
You rule the workplace with The Sims 4 Get to Work. Actively control your Sims while they're on the job, and determine whether they're headed toward a big promotion or are becoming the workplace menace. Jump to the rescue and save countless lives as a Doctor, torment your neighbors with mischievous inventions as a Scientist, or investigate crime scenes and crack the big cases as a Detective. If you'd rather be your own boss, you can even create, customize, and manage your own retail businesses and become a Simoleonaire! You decide how your Sims get to work.
KEY FEATURES
Become a Doctor, Detective, or Scientist. Control your Sims in all-new career venues, and use your analytical mastermind to create crazy inventions as a Scientist, see what secrets you uncover as you investigate crime scenes as a Detective, or treat patients, deliver babies, and perform emergency surgery as a Doctor.
Create unique retail businesses. You rule your business! Create any type of retail business you desire, including bakeries, clothing boutiques, art galleries, bookstores, and many more. Customize every facet of your business with Build Mode and watch the Simoleons roll in! Select what items to sell, manage your employees as you see fit, and schmooze your customers to close the sale.
Learn new skills. Teach your Sims some new skills to create more unique objects to enjoy in The Sims 4. Capture the picture-perfect photo or bake and decorate a delicious treat with the new Photography and Baking skills. Display your creations at home or sell them to earn some extra Simoleons!
New features
Edit
Mannequins
Digital Cameras
Photo Studio
Chemical Analyzer
Chemistry Lab
Invention Constructor
X-ray machine
New gameplay mechanics
Edit
New Life state: Alien
New Secret lot: Sixam
Hospital birth.
Illness system.
New Baking and Photography skills.
New venue: Retail
Sims can now run a business.
New radio station called Easy Listening.
New alien exclusive !#*%&$@% television channel.
New Geodes collection.
World and neighborhoods
Edit
The Sims 4: Get to Work includes a new independent neighborhood - Magnolia Promenade. Magnolia Promenade is not a full world, and contains four lots, three of which have prebuilt stores, and one empty lot that the player can build their own business on. Get to Work also includes a secret lot called "Sixam" (which is "Maxis" spelled backwards), which can be found using the Wormhole Generator, available at level 10 of the new Scientist Career. Sixam is a great place to find some alien friends or find new collectables.
Active Careers
Edit
Get to Work also introduces active careers, which are the main focus of the expansion. Active Careers allow you to follow your Sims to work (unlike other careers) and complete the daily tasks by their side. When joining Sims at work, they will be visiting hidden career lots where players can play through their work day.
There are three active careers: Detective, Doctor and Scientist.
Retail Business
Edit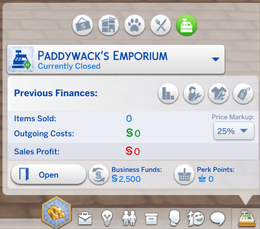 Sims can once again have their own retail businesses. There are many types of businesses that Sims can run. They can sell items from the buy catalog or items they have crafted. There are only two things that store will require to open a business; a cash register and a counter.
In order for a Sim to run a business they will need to purchase a retail lot. Any lot can be zoned into a retail lot. The Sim must purchase a home lot to live on before they can purchase a retail lot. They are not able to run any type of business on a home lot. However, Sims can live on a retail lot if they choose to.
There is a variety of retail businesses such as a photo gallery, bakery, book store, or clothing shop. Shops can sell practically any item.
Get to Work was priced at $39.99 USD and £29.99 GBP at launch, the same as the original pricing of an expansion pack for The Sims 3.[5] Expansion pack prices for The Sims 4 are intended to be similar to prices for The Sims 3 expansion packs in most locations.
References
Edit
Ad blocker interference detected!
Wikia is a free-to-use site that makes money from advertising. We have a modified experience for viewers using ad blockers

Wikia is not accessible if you've made further modifications. Remove the custom ad blocker rule(s) and the page will load as expected.