---
More Sims news... >
---
More community news... >  •  More The Sims Pen... >
Featured Article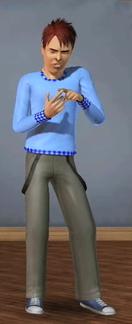 Teen is a life stage that is featured in The Sims 2, The Sims 3, and The Sims 4. It succeeds the child life stage, and precedes the young adult[TS2U][TS3][TS4] or adult[TS2] life stages.
Teens have more freedom than their younger counterparts, and are able to do more things. They can develop and build all available skills, pay bills, get a part-time job, drive cars, cook meals, and sneak out. In The Sims 2: University, teens may also go to college, where they will automatically age up to young adult.
A notable difference between teenagers and children is that teenagers able to pursue romantic relationships. They can perform all romantic interactions, but cannot WooHoo or get married; teens in The Sims 4, however, can "Mess Around" and exchange promise rings. Teens may want to have their first kiss or go steady with another Sim. Teens can only date other teens, and cannot perform romantic interactions with a Sim in any other life stage. In The Sims 2, the romantic bond between two teens will be broken if one teen ages up and the other does not. In The Sims 3, a teenaged lover who ages up will remain listed as their boyfriend/girlfriend, but cannot perform romantic interactions until the other Sim ages up as well.
Teens can live on their own without the aid of older Sims in the house. They cannot be taken away by the social worker, and can even run away from home if their relationships with the rest of the family drops too low. In The Sims 3: World Adventures, teens can travel abroad on their own. Teens in The Sims 3, however, have a curfew, and may be arrested and brought home by the police if they are caught violating it. Teens in The Sims 2 may sneak out of the house at night, but will be brought home by the police if they are caught.
When a child becomes a teenager, the player may select their aspiration[TS2][TS4] and chemistry.[TS2NL] Teens have four[TS3] or two[TS4] trait slots.
Recently featured: Barnacle Bay · Plumbob · SimBot
---
Vote for the next Featured Article · Past featured articles

Recent Releases

The Sims 4: Spooky Stuff
September 29, 2015
---
The Sims 4: Cool Kitchen Stuff
August 11, 2015
---

The Sims 4: Spa Day
July 14, 2015

Most recent updates
Update 69
- November 12, 2015
Version 1.69.36.0240** (PC only)
---

Update 26
- November 3, 2015
Version 1.12.118.1020 (PC) / 1.12.118.1220 (Mac)
---

Update 25
- September 24, 2015
Version 1.11.64.1020 (PC) / 1.11.64.1220 (Mac)
---
See all game updates for The Sims 4
Caption this!
The Sims Wiki has a new feature: a caption contest! Visit our Caption This! page and submit a caption for the image below: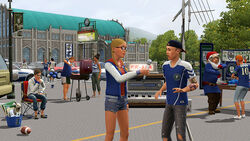 Be sure and vote for a caption for the previous image: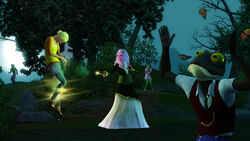 The Sims Wiki Forums
Participate in wiki and game discussions, ask for assistance, and more on The Sims Wiki's forums!

The Sims Wiki Battles
Join the Chat