Featured Article
Ghosts are the remaining entities of a dead Sim, and appear in all main series games, either as non-playable characters or as a playable life state.
Ghosts possess a number of unique abilities. They are able to pass through walls and solid objects. In many cases, ghosts can manipulate objects around them, causing them to levitate or else possessing them in some way. The color of a ghost can represent how the Sim was killed[TS2][TS3], or the emotional state of the ghost[TS4]. Ghosts can often become angry, and haunt or scare living Sims, especially if their gravestone or urn is mistreated or a particular Sim does something to anger the ghost.
Recently featured: Agnes Crumplebottom · Lucky Palms · Teen
---
Vote for the next Featured Article · Past featured articles

Community News
---
More community news →
The Sims Wiki Community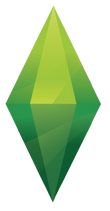 The Sims Wiki is maintained and grown by a dedicated community of editors. The
Community Portal
has been set up to connect users, give editing help to new editors, and develop a strong community for the wiki. There are many great ways to become a part of the wiki community.
The Forums are where the wiki discusses broad changes to articles, wiki policies and practices, and game-related topics. There is also a help forum for wiki or game help, and forums for off-topic chatting, game theories, and more!
We have a large and growing fanon namespace, where many authors create great fanon and fan fiction content. All registered users are allowed to create fanon articles!
We have many types of Featured Content, including featured article, featured media, wiki Battles, and more! Any reader or editor can nominate new content to be featured, vote on other nominees, and help decide what content is featured on the Main Page.
Several wiki users write blogs about The Sims and The Sims Wiki. We have many opinion blogs, The Sims news blogs, other various community blogs, and even a fanon blog. Any user can comment on blogs, and any registered user can write blog posts!
---
We hope you'll take some time to see all that the TSW community has to offer, and join us as we work to build a comprehensive The Sims encyclopedia!
0
The Sims Wiki
See our chat policy here.
Join the Chat>

Recent Releases
The Sims 4: Vampires
January 24, 2017
---
The Sims 4: Vintage Glamour Stuff
December 6, 2016
---
The Sims 4: City Living
November 1, 2016

Most recent updates

Update 47
- February 2, 2017
1.27.80.1020(PC) / 1.27.80.1220 (Mac)
---

Update 46
- January 12, 2017
1.26.96.1010(PC) / 1.26.96.1210 (Mac)
---

Update 45
- December 6, 2016
1.25.136.1020(PC) / 1.25.136.1220 (Mac)
---
See all game updates for The Sims 4

Featured Media
---
Vote for or Nominate Next Month's Media
More featured media
Simulation Games
Go to these sites for info or for help with your own wiki!
Ace Combat • Animal Crossing • Armored Core • Elite: Dangerous • FarmVille • Goblins of Elderstone • Hay Day • Jalopy • LSD: Dream Emulator • Megapolis • Minecraft • Minecraft Pocket Edition • Minecraft Story Mode • Neko Atsume: Kitty Collector • Niche • Planet Coaster • Police Quest • Professor Layton • RollerCoaster Tycoon • Rune Factory • SimCity • The Simpsons: Tapped Out • The Sims • Spore • Township • Truck Simulator (American & Euro) • World of Warships
Want your community included? See how!

Ad blocker interference detected!
Wikia is a free-to-use site that makes money from advertising. We have a modified experience for viewers using ad blockers

Wikia is not accessible if you've made further modifications. Remove the custom ad blocker rule(s) and the page will load as expected.