Featured Article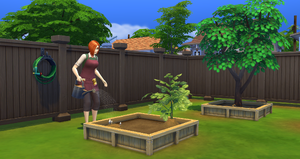 Gardening in The Sims 4
is a game mechanic and
skill
, allowing Sims to grow plants that can be sold or used in various
recipes
.
Sims can plant plants on their lot, in bare earth or in flower pots. Sims need to tend plants regularly to keep them alive and healthy. Plants that are well-tended and remain healthy eventually increase in quality. As plant quality increases, the needs of the plant increase; higher-quality plants may need to be weeded or sprayed for bugs to keep them healthy. Plants produce harvestables which can be sold, eaten, or used in cooking or herbal recipes. The quality of the harvestable depends on the quality of the plant. Higher-quality harvestables can be re-planted, and the plant that grows from the harvestable will start at that higher level.
As Sims develop their gardening skill, they obtain new abilities, such as the ability to talk to plants, fertilize gardens, and graft plants together. More advanced gardeners can graft cuttings of multiple plants onto a single plant, allowing that plant to produce multiple types of harvestables at the same time; some rare harvestables can only be obtained by grafting certain plants together.
The Sims 4 base game features 33 different types of plants that can be collected and grown; other content packs increase the total number of available plants to 50.
Recently featured: Toddler · Ghost · Agnes Crumplebottom
---
Vote for the next Featured Article · Past featured articles

Community News
---
More community news →
The Sims Wiki Community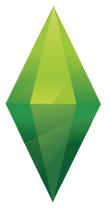 The Sims Wiki is maintained and grown by a dedicated community of editors. The
Community Portal
has been set up to connect users, give editing help to new editors, and develop a strong community for the wiki. There are many great ways to become a part of the wiki community.
The Forums are where the wiki discusses broad changes to articles, wiki policies and practices, and game-related topics. There is also a help forum for wiki or game help, and forums for off-topic chatting, game theories, and more!
We have a large and growing fanon namespace, where many authors create great fanon and fan fiction content. All registered users are allowed to create fanon articles!
We have many types of Featured Content, including featured article, featured media, and more! Any reader or editor can nominate new content to be featured, vote on other nominees, and help decide what content is featured on the Main Page.
Several wiki users write blogs about The Sims and The Sims Wiki. We have many opinion blogs, The Sims news blogs, and other various community blogs. Any user can comment on blogs, and any registered user can write blog posts!
---
We hope you'll take some time to see all that the TSW community has to offer, and join us as we work to build a comprehensive The Sims encyclopedia!
Twitter If you see this, JavaScript might be disabled in your browser or the DiscordIntegrator plugin isn't working. If it's the latter, please contact an administrator.
By clicking "Connect", you agree to abide by the server rules.

Recent Releases

The Sims 4: My First Pet Stuff
March 13, 2018
---

The Sims 4: Jungle Adventure
February 27, 2018
---
The Sims 4: Laundry Day Stuff
January 16, 2018

Most recent updates

Update 66
- April 17, 2018
● 1.42.30.1020
(Windows)
● 1.42.30.1220
(macOS)
---

Update 65
- March 20, 2018
● 1.41.42.1020
(Windows)
● 1.41.42.1220
(macOS)
---

Update 64
- March 8, 2018
● 1.41.38.1020
(Windows)
● 1.41.38.1220
(macOS)
---
See all The Sims 4 PC version updates

Monthly Question
This month, we've got a "monthly question" awaiting your input. This month's question is a straightforward one:
What is your least favorite expansion pack?
To answer this question, and to see other responses, go to the Monthly Question blog.
---
January poll results
Half of the respondents to January's question seem exasperated by the large number of stuff packs for The Sims 4. About 25% were excited for their Sims getting to do laundry again.

Featured Media
---
Vote for or Nominate Next Month's Media
More featured media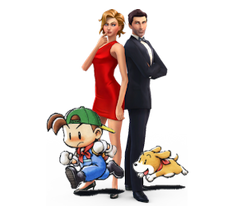 Simulation Games
Go to these sites for info or for help with your own wiki!
Ace Combat • Animal Crossing • Armored Core • Elite: Dangerous • FarmVille • Goblins of Elderstone • Hay Day • Jalopy • Jurassic World Evolution • Megapolis • Miitopia • Minecraft • Minecraft Pocket Edition • Minecraft Story Mode • MySims • Neko Atsume: Kitty Collector • Niche • Nintendogs • Planet Coaster • Professor Layton • RollerCoaster Tycoon • Rune Factory • SimCity • The Simpsons: Tapped Out • The Sims • Spore • Surviving Mars • Township • Train Sim World • Truck Simulator (American & Euro) • VA-11 HALL-A: Cyberpunk Bartender Action • Virtual Villagers • Viva Piñata • War Robots • World Neverland
Want your community included? See how!
See all of our Simulation gaming wikis!