Contents
Upcoming Release Countdown
The Sims 4: City Living
November 1, 2016 ·
Countdown:

The Sims News
New City Living careers announced
Three new careers in The Sims 4: City Living have been revealed; politics, critic, and social media. Each career will have two career branches, and will include career assignments that allow Sims to travel around the world to perform work tasks. TheSims.com has an official Careers blog with more information. (Oct 13 2016)
---
New information about City Living apartments
A new apartments trailer for The Sims 4: City Living, as well as an extensive Twitter Q&A session, have given us lots of information about apartments, penthouses, and many other new features in City Living; read more about it here! (Sep 21 2016)
---
The Sims 4: City Living expansion pack in development
The Sims 4: City Living was announced as the third expansion pack for The Sims 4, with a scheduled November 1, 2016 release date. (Sep 12 2016)
---
Featured Article
Ghosts are the remaining entities of a dead Sim, and appear in all main series games, either as non-playable characters or as a playable life state.
Ghosts possess a number of unique abilities. They are able to pass through walls and solid objects. In many cases, ghosts can manipulate objects around them, causing them to levitate or else possessing them in some way. The color of a ghost can represent how the Sim was killed[TS2][TS3], or the emotional state of the ghost[TS4]. Ghosts can often become angry, and haunt or scare living Sims, especially if their gravestone or urn is mistreated or a particular Sim does something to anger the ghost.
Recently featured: Agnes Crumplebottom · Lucky Palms · Teen
---
Vote for the next Featured Article · Past featured articles

Community News
---
More community news →
The Sims Wiki Community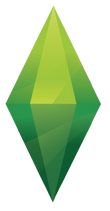 The Sims Wiki is maintained and grown by a dedicated community of editors. The
Community Portal
has been set up to connect users, give editing help to new editors, and develop a strong community for the wiki. There are many great ways to become a part of the wiki community.
The Forums are where the wiki discusses broad changes to articles, wiki policies and practices, and game-related topics. There is also a help forum for wiki or game help, and forums for off-topic chatting, game theories, and more!
We have a large and growing fanon namespace, where many authors create great fanon and fan fiction content. All registered users are allowed to create fanon articles!
We have many types of Featured Content, including featured article, featured media, wiki Battles, and more! Any reader or editor can nominate new content to be featured, vote on other nominees, and help decide what content is featured on the Main Page.
Several wiki users write blogs about The Sims and The Sims Wiki. We have many opinion blogs, The Sims news blogs, other various community blogs, and even a fanon blog. Any user can comment on blogs, and any registered user can write blog posts!
---
We hope you'll take some time to see all that the TSW community has to offer, and join us as we work to build a comprehensive The Sims encyclopedia!
0
The Sims Wiki
See our chat policy here.
Join the Chat>

Recent Releases

The Sims 4: Backyard Stuff
July 19, 2016
---

The Sims 4: Kids Room Stuff
June 28, 2016
---

The Sims 4: Dine Out
June 7, 2016

Most recent updates

Update 41
- September 27, 2016
1.23.24.1010(PC) / 1.23.24.1210 (Mac)
---

Update 40
- August 16, 2016
1.22.22.1020(PC) / 1.22.22.1220 (Mac)
---

Update 39
- July 26, 2016
1.21.40.1020(PC) / 1.21.40.1220 (Mac)
---
See all game updates for The Sims 4

Featured Media
---
Vote for or Nominate Next Month's Media
More featured media

The Sims Wiki Battles
Simulation Games
Go to these sites for info or for help with your own wiki!
Ace Combat • Animal Crossing • Armored Core • Cities: Skylines • Elite: Dangerous • FarmVille • Jalopy • LSD: Dream Emulator • Megapolis • Minecraft • Minecraft Pocket Edition • Minecraft Story Mode • Neko Atsume: Kitty Collector • Police Quest • Professor Layton • RollerCoaster Tycoon • Rune Factory • Shoppe Keep • SimCity • The Simpsons: Tapped Out • The Sims • Spore • Truck Simulator (American & Euro)
Want your community included? See how!