The Sims News
---
More Sims news... >

Community News
---
More community news... >  •  More The Sims Pen... >
Featured Article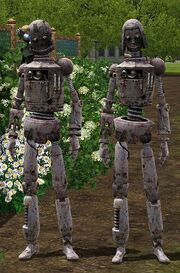 The SimBot is a life state introduced in The Sims 3: Ambitions and appear to be the predecessor of Servos. SimBots have the same motives as normals Sims except for hygiene.
Unlike Servos, SimBots cannot recharge themselves in any way other than by sleeping or getting electrocuted. SimBots can eat food, although they prefer scrap, and one piece of scrap is usually enough to satisfy their "Scrap Reserves" motive. SimBots are hydrophobic, and will short-circuit when told to take a shower or play in a sprinkler. However, they have no trouble simply being sprayed by a sprinkler, and can mop up puddles of water. SimBots are not affected by fire, allowing them to detonate objects without fear of getting burned or singed.
SimBots have special jets in their feet, allowing them to hover from place to place. They are used as a substitution for running, and for navigating between lots.
Recently featured: Child · The Sims 2: Seasons · Toddler
---
Vote for the next Featured Article · Past featured articles

Recent Releases
The Sims 4: Cool Kitchen Stuff
August 11, 2015
---

The Sims 4: Spa Day
July 14, 2015
---

The Sims 4: Perfect Patio Stuff
June 16, 2015

Most recent updates
Let us know how you would answer this question:
We've seen celebrity endorsed in the Sims series, be it through in-game music, cameos (Superstar) or even Stuff Packs (Sweet Treats). Would you like to see more? Why or why not?
Visit the Monthly Question blog to read more about the question, or go here to weigh in!
Participate in wiki and game discussions, ask for assistance, and more on The Sims Wiki's forums.
Join the Chat