Home
Talk

228
10,231pages on
this wiki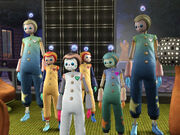 An
Imaginary Friend
is a
life state
, featured in
The Sims 3: Generations
. Imaginary Friends begin their lives as inanimate dolls, delivered to newborn
babies
or to
toddlers
. The doll can also be given to a Sim as a gift. Toddlers can interact with the doll, and often are carried around in the toddler's
inventory
. Dolls left outside the inventory tend to teleport around the lot (similar to
gnomes
), usually to be closer to the toddler.
If a toddler forms a close enough bond with the doll, the Imaginary Friend will transform into a life-size living creature. Its age will always correspond to the age of its owner. Imaginary Friends are visible only to their owners, and to other Sims who own an Imaginary Friend. An Imaginary Friend can be made "real" through the use of the Imaginary Friend Metamorphum potion. Once real, the Imaginary Friend is visible to everyone and can be interacted with like any other Sim. It can engage in WooHoo and, though it is not biologically a Sim, it can produce offspring.
There is a 75% chance that a newborn Sim will receive the doll. Once received, it cannot be sold or deleted without the use of cheats, though it can be given away or kept away from the toddler in order to prevent it from forming a bond.
---
Vote for the next Featured Article · Past featured articles
---






---
Let us know how you would answer this question:

In your opinion, what would you say is the best feature in The Sims, as a whole?

Visit the Monthly Question blog to read more about the question, or go here to weigh in!

Random Quote
"What time is it when an elephant sits on your fence? Time to get a new fence."
—A joke in The Sims 3.
Vote for your favorite of two selected items (Sims, neighborhoods, objects, etc.), then come back to see which one wins!
Dystopian future vs Normal future vs Utopian future
Go to The Sims Wiki:Battles to vote for your favorite!
---
Vote for or nominate a battle
Previous battles

Today's Events
There are currently no events planned for today.
Join the Chat