Contents
Upcoming Release Countdown
The Sims 4: City Living
November 1, 2016 ·
Countdown:

The Sims News
New information about City Living apartments
A new apartments trailer for The Sims 4: City Living, as well as an extensive Twitter Q&A session, have given us lots of information about apartments, penthouses, and many other new features in City Living; read more about it here! (Sep 21 2016)
---
The Sims 4: City Living expansion pack in development
The Sims 4: City Living was announced as the third expansion pack for The Sims 4, with a scheduled November 1, 2016 release date. (Sep 12 2016)
---
Rachel Franklin leaves Maxis
Rachel Franklin, General Manager of Maxis, announced through her "SimGuruRachel" Twitter page that she is leaving the company. Franklin has served as Maxis' general manager since September 2015. (Sep 9 2016)
---
Featured Article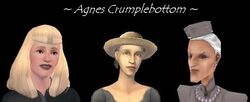 Agnes Crumplebottom, also known as Miss Crumplebottom, is a well-known and notorious pre-made Sim.
She first appears as a non-playable character in The Sims: Hot Date. Miss Crumplebottom detests public displays of romance, and will promptly scold, smack, or beat with her purse, any Sims engaged in public displays of affection. She appears in The Sims 2 as well, though in that game she is deceased, and the job of opposing public romance is taken up by a distant relative with a similar name.
In The Sims 3, which occurs first in the original timeline of The Sims games, Agnes is a young and bitter widow, haunted by the ghost of her husband who died on their honeymoon.
Recently featured: Lucky Palms · Teen · Barnacle Bay
---
Vote for the next Featured Article · Past featured articles

Community News
---
More community news →
The Sims Wiki Community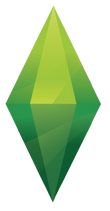 The Sims Wiki is maintained and grown by a dedicated community of editors. The
Community Portal
has been set up to connect users, give editing help to new editors, and develop a strong community for the wiki. There are many great ways to become a part of the wiki community.
The Forums are where the wiki discusses broad changes to articles, wiki policies and practices, and game-related topics. There is also a help forum for wiki or game help, and forums for off-topic chatting, game theories, and more!
We have a large and growing fanon namespace, where many authors create great fanon and fan fiction content. All registered users are allowed to create fanon articles!
We have many types of Featured Content, including featured article, featured media, wiki Battles, and more! Any reader or editor can nominate new content to be featured, vote on other nominees, and help decide what content is featured on the Main Page.
Several wiki users write blogs about The Sims and The Sims Wiki. We have many opinion blogs, The Sims news blogs, other various community blogs, and even a fanon blog. Any user can comment on blogs, and any registered user can write blog posts!
---
We hope you'll take some time to see all that the TSW community has to offer, and join us as we work to build a comprehensive The Sims encyclopedia!
0
The Sims Wiki
See our chat policy here.
Join the Chat>

Recent Releases

The Sims 4: Backyard Stuff
July 19, 2016
---

The Sims 4: Kids Room Stuff
June 28, 2016
---

The Sims 4: Dine Out
June 7, 2016

Most recent updates

Update 41
- September 27, 2016
1.23.24.1010(PC) / 1.23.24.1210 (Mac)
---

Update 40
- August 16, 2016
1.22.22.1020(PC) / 1.22.22.1220 (Mac)
---

Update 39
- July 26, 2016
1.21.40.1020(PC) / 1.21.40.1220 (Mac)
---
See all game updates for The Sims 4

Featured Media
---
Vote for or Nominate Next Month's Media
More featured media

The Sims Wiki Battles