Home
Talk

234
10,305pages on
this wiki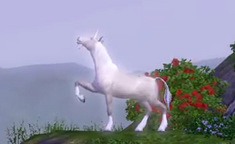 The
unicorn
is a mystical
horse
-like creature introduced in
The Sims 3: Pets
.
Wild unicorns are present in the world between 8:00pm (20:00) and 5:00 the next morning, though there is only a 33% chance that a wild unicorn will appear on any given night. Unicorns generally resemble horses, though with some notable differences, including different tails and facial hair (on male unicorns). Unicorns give off a glittering light or trail of light when they appear, disappear, or gallop, and emit rainbows from their horns while standing still, eating or drinking.
Unicorns seem to have a close relationship with plants and with nature, and will often autonomously bless plants or cause small plants to grow. Despite this, unicorns, like horses, will often choose to eat garden plants and so must be kept separated from them.
Sims,
child
or older, can try to tame a wild unicorn so it can join their household. The Sim will need to be best friends with it first, and also be 'best friends forever' with 3 household animals. Once tamed, Sims will be able to utilize the unicorn's unique magical abilities, including teleportation, fire extinguishing, and the blessing or cursing of flora and fauna.
---
Vote for the next Featured Article · Past featured articles
---





---
Let us know how you would answer this question:

How do you play The Sims? What's your style of gameplay? What feature do you play and enjoy the most? What has kept you playing The Sims until now?

Visit the Monthly Question blog to read more about the question, or go here to weigh in!

Random Quote
"Alas, it looks as though the great equalizer has taken its toll, as everyone in this household appears to have died. But there's no reason to allow this now empty house to remain empty! You can move in a new family. That's the way your Sims would have wanted it, don't you think?"
—Grim Reaper dialogue box in The Sims 2 when all the Sims in a household die.
Vote for your favorite of two selected items (Sims, neighborhoods, objects, etc.), then come back to see which one wins!
Insane vs Unstable
Go to The Sims Wiki:Battles to vote for your favorite!
---
Vote for or nominate a battle
Previous battles

Today's Events
There are currently no events planned for today.
Join the Chat