Contents

Upcoming Release Countdown
The Sims 4: Cats and Dogs
November 10, 2017 ·
Countdown:
---

The Sims 4 console version
November 17, 2017 ·
Countdown:

The Sims News
Laundry Day Stuff gets a name and an icon
The user-guided stuff pack previously known as "Eco Living Stuff" has been given the official name of Laundry Day Stuff after a vote. The upcoming stuff pack also has a new icon, also approved by popular vote. (Sep 13, 2017)
---
Toddler Stuff is out now!
The Sims 4: Toddler Stuff was released worldwide on August 24, 2017. (Aug 24, 2017)
---
The Sims 4: Cats and Dogs under development
The next expansion pack for The Sims 4, titled The Sims 4: Cats & Dogs, was announced by EA at Gamescom 2017. The pack has a planned worldwide release date of November 10, 2017. (Aug 21, 2017)
---
The Sims 4 is coming to Xbox One and Playstation 4!
The Sims 4
is officially confirmed to be in development for both Xbox One and Playstation 4, almost three years after the release of
The Sims 4
on PC. Versions for both consoles will go live on November 17, 2017! Check out
the official announcement blog
for more news. (Jul 26, 2017)
---

Featured Article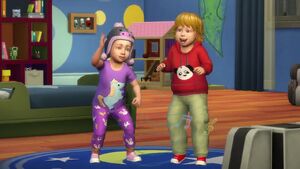 Toddler is a life stage present in The Sims 2, The Sims 3, and The Sims 4. It is the second life stage for Sims (following infancy), and the youngest life stage that can be chosen in Create a Sim. Toddlers grow up into children.
Toddlers gain a measure of independence from infancy, but still require active parenting. Toddlers, like babies, can be held and carried by Sims, teenaged or older, and need to be carried up and down stairs. Toddlers are unable to use certain objects accessible to older Sims, and are generally only able to take care of their most basic needs. During this stage, acquiring toddler skills is an important focus. Toddlers are able to learn how to speak, how to walk, and to be potty trained. Passing these milestones give toddlers additional self-sufficiency, and may affect whether the toddler grows up well. Toddlers are also able to develop other skills for the first time through the use of toys and games.
Recently featured: Ghost · Agnes Crumplebottom · Lucky Palms
---
Vote for the next Featured Article · Past featured articles
The Sims Wiki Community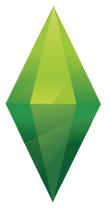 The Sims Wiki is maintained and grown by a dedicated community of editors. The
Community Portal
has been set up to connect users, give editing help to new editors, and develop a strong community for the wiki. There are many great ways to become a part of the wiki community.
The Forums are where the wiki discusses broad changes to articles, wiki policies and practices, and game-related topics. There is also a help forum for wiki or game help, and forums for off-topic chatting, game theories, and more!
We have a large and growing fanon namespace, where many authors create great fanon and fan fiction content. All registered users are allowed to create fanon articles!
We have many types of Featured Content, including featured article, featured media, wiki Battles, and more! Any reader or editor can nominate new content to be featured, vote on other nominees, and help decide what content is featured on the Main Page.
Several wiki users write blogs about The Sims and The Sims Wiki. We have many opinion blogs, The Sims news blogs, other various community blogs, and even a fanon blog. Any user can comment on blogs, and any registered user can write blog posts!
---
We hope you'll take some time to see all that the TSW community has to offer, and join us as we work to build a comprehensive The Sims encyclopedia!

Recent Releases

The Sims 4: Toddler Stuff
August 24, 2017
---
The Sims 4: Fitness Stuff
June 20, 2017
---

The Sims 4: Parenthood
May 30, 2017

Most recent updates

Update 55
- September 12, 2017
● 1.34.18.1020
(Windows)
● 1.34.18.1220
(macOS)
---

Update 54
- August 22, 2017
● 1.33.38.1020
(Windows)
● 1.32.1.1220
(macOS)
---

Update 53
- July 18, 2017
● 1.32.1.1020
(Windows)
● 1.32.1.1220
(macOS)
---
See all game updates for The Sims 4
Reader Poll
Are you excited about The Sims 4: Cats and Dogs?

Featured Media
---
Vote for or Nominate Next Month's Media
More featured media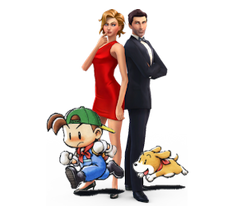 Simulation Games
Go to these sites for info or for help with your own wiki!
Ace Combat • Animal Crossing • Armored Core • Elite: Dangerous • FarmVille • Goblins of Elderstone • Hay Day • Jalopy • LSD: Dream Emulator • Megapolis • Minecraft • Minecraft Pocket Edition • Minecraft Story Mode • Neko Atsume: Kitty Collector • Niche • Nintendogs • Planet Coaster • Police Quest • Professor Layton • RollerCoaster Tycoon • Rune Factory • Shoppe Keep • SimCity • The Simpsons: Tapped Out • The Sims • Spore • Township • Truck Simulator (American & Euro) • VA-11 HALL-A: Cyberpunk Bartender Action • War Robots
Want your community included? See how!