The Sims Wiki:Featured article
Talk

0
7,784pages on
this wiki

Every month, The Sims Wiki selects a
Featured Article
to display on the main page of the wiki. These featured articles represent some of the most informative, well-written and interesting articles that The Sims Wiki has to offer. Community voting and nominations are used to determine which articles are featured.
Current Featured Article
Edit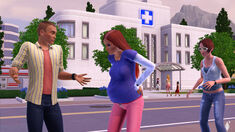 Pregnancy
is a game mechanic and multiple-day event that begins after a successful '
Try for Baby
' interaction between two Sims of opposite gender, and ends with the pregnant female Sim giving birth to one or more
newborn
children. Pregnancy primarily affects
adult
and
young adult
female Sims. Pregnancy brings many physical and lifestyle changes to the pregnant Sim, including increasing body size, faster-decreasing
motives
, and forced vacation/maternity leave from
work
.
Pregnancy was introduced as a game feature to The Sims 2 and has appeared in each subsequent game. Prior to The Sims 2, kissing or playing in the "Vibromatic Heart Bed" were the only ways for two Sims to have children - in these cases, a baby would be born immediately after the completion of the action, forgoing any pregnancy period.
Under normal circumstances, only female Sims can become pregnant. However, male Sims can be impregnated as well, either through Alien abduction or by the use of cheats.
Past Featured Articles
Edit
Voting Rules and Guidelines
Edit
Initial nominations
Edit
Anyone may nominate any article they wish, as long as the article has not already been featured or already nominated. Please follow this process:
Start a new section below with a link to the article being nominated.
Sign the nomination using four tildes (~~~~).
Rules for voting
Edit
Anyone may vote for as many articles as they choose. Please observe these rules:
Sign all votes, and do not vote for the same article more than once.
When nominating an article, the nominee cannot vote for it.
Selection
Edit
At the beginning of each new month, an administrator will determine the nominated article with the most votes. The article with the highest vote total may be selected as the Featured Article.
Administrators can override the winning article under these circumstances:
One administrator may override in order to feature an article on the wiki which is relevant to a current or recent event or game release
Two administrators in agreement may override a winning article if they determine it to be of poor quality. If overriden, the article will wait for a month to be featured - if it is not improved by the end of the month, the nomination will be deleted and it will have to be re-nominated. If the article is improved by that time, it becomes the next Featured Article.
Votes and Nominations
Edit
Place your nominations or votes below the article(s) you would like to see featured. Nominations and votes should be based on the article quality, not just the content of the article. Please sign all votes using four tildes (~~~~).
This page is literally rich with valuable information. It's very detailed, and has lists for every book in The Sims 3, which, I think, is quite useful. Cavia (wheek • speak) 12:49, April 4, 2013 (UTC)
Agree with this one! Walker guy94 Talk - Blog 12:57, April 4, 2013 (UTC)
Yeah, I guess it has some valuable information that some users can find useful. HanaGoth96 (Neigh...?) 08:36, April 8, 2013 (UTC)
I agree. —Preceding unsigned comment added by 67.224.41.219 (talk • contribs) (UTC) - Please sign your comments with ~~~~
This is the only think to vote for

Blue12porcupine

talk

20:40, May 16, 2013 (UTC)
I find this page very informative as it describes all the possible deaths throughout every game and Expansion Pack. The page is also laid out rather well and the page could come across as useful for many Sim players.

ColinThePanda meow 21:25, May 16, 2013 (UTC)
Agreed, this is a very informative and well-written page. -- LostInRiverview talk ~ blog 23:47, May 17, 2013 (UTC)
The page has a lot of information about this language, and it is written very well. -- LostInRiverview talk ~ blog 21:51, May 16, 2013 (UTC)
Per LiR, it's written very well and is very informative. Beds (parlare - blog) 13:37, May 20, 2013 (UTC)
I think this page is very interesting and informative. It has a lot of interesting photos and I think is very intriguing, in my opinion. --TheLopman (SPEAK to me!) 20:49, May 19, 2013 (UTC)
A most excellent article. I'm also very impressed with the lead section. -- LostInRiverview talk ~ blog 22:01, May 19, 2013 (UTC)
The article is highly descriptive given that the subject spans across multiple games and it appears to be written quite well. Lost Labyrinth • stuff • reading 21:26, May 21, 2013 (UTC)