Ad blocker interference detected!
Wikia is a free-to-use site that makes money from advertising. We have a modified experience for viewers using ad blockers

Wikia is not accessible if you've made further modifications. Remove the custom ad blocker rule(s) and the page will load as expected.


Unlucky
is a physical
trait
in
The Sims 3
. It conflicts with the
Lucky
trait, and is available from birth.
Things rarely go right for unlucky Sims. They often lose at everything they touch. Though some do take pity on their misfortune...
Attributes
Edit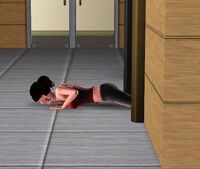 Sim is more likely to have bad things happen... fire, burglaries, losing, breaking objects.
When everything is lost there's nothing to lose. This Sim's got nothing to lose.
Player Notes
Edit

Unlucky Sims can only die of old age. If they die by any other method, the Grim Reaper will point and laugh at their misfortune, and then resurrect them.
If an Unlucky Sim has 4+ hours of sleep they will wake up with the "Feeling Unlucky" moodlet.
Whilst under the influence of the "Feeling Unlucky" moodlet, Sims are more likely to lose games, burn food and cause fires.
Provides a bonus to Sims writing in the Auto-Biography genre.
Unlucky Sims always receive a Bad Fortune when they eat a Fortune Cookie from the Fortune Factory Fortune Cookie Maker[

TS3:WA

] (even with the "Only Good Fortunes" upgrade by the Handiness Skill)
If University Life is installed and they rant against death via a megaphone, they'll likely die without receiving any sort of warning.  But the Grim Reaper will still humorously resurrect them afterwards.  This can be considered the fastest and easiest way to encounter the Grim Reaper without any repercussions (other than losing all the moodlets the dead Sim once had).
Unlucky Sims are very likely to lose a bar brawl,[

TS3:LN

] but the trait does not affect the outcome of the "Fight!" interaction.
Premade Unlucky Sims
Edit
Flo Broke, Susie Broke, Irene Funke 
See also: Category:Unlucky Sims
Traits in The Sims 3
Absent-Minded
Artistic
Avant Garde
Bookworm
Can't Stand Art
Computer Whiz
Eccentric

Gatherer
Excitable
Genius
Green Thumb
Handy
Insane
Natural Cook

Neurotic
Nurturing
Perceptive
Photographer's Eye
Savvy Sculptor
Unstable
Virtuoso
Heavy Sleeper
Hydrophobic
Light Sleeper
Lucky
Loves the Cold
Loves the Heat

Loves To Swim
Neat
Never Nude
Sailor
Slob
Unlucky
Born Salesperson
Brooding
Charismatic
Commitment Issues
Dislikes Children
Diva
Dramatic
Easily Impressed
Flirty
Friendly
Good Sense of Humor

Great Kisser
Grumpy
Hopeless Romantic
Inappropriate
Irresistible
Loner
Loser
Mean Spirited
Mooch
Natural Born Performer
No Sense of Humor

Party Animal
Proper
Schmoozer
Shy
Snob
Social Butterfly
Socially Awkward
Supernatural Fan
Supernatural Skeptic
Unflirty
Adventurous
Ambitious
Angler
Animal Lover
Bot Fan
Cat Person
Childish
Daredevil
Dog Person
Eco-Friendly

Equestrian
Evil
Family-Oriented
Frugal
Good
Hates the Outdoors
Hot-Headed
Kleptomaniac
Loves the Outdoors
Night Owl

Over-Emotional
Perfectionist
Rebellious
Star Quality
Technophobe
Vegetarian
Vehicle Enthusiast
Workaholic
Allergic to Fur
Conversationalist
Cultured
Easily Bored
Easy Going
Flip Flopper


Gadget Geek
Hyperactive
Loves Water
Megalomaniac
Outgoing
Paranoid


People Pleaser
Procrastinator
Shy
Sleaze
Vain
Witty

Hidden Traits