Unused accessories
Talk

23
7,782pages on
this wiki
Unused accessories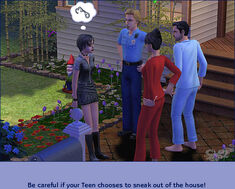 The parents and police officer's hair styles are not in the game.
An unused accessory is an accessory (such as an article of clothing or hairstyle) which appears in early screenshots or in-game (either on a family tree icon or in a storytelling picture) but does not appear in the game itself. These occur in most Sims games, including The Sims, The Sims 2 and The Sims 3, though it is much more noticeable in The Sims 2. There are several Sims with noticeable unused content in-game such as Irma Oldie and Gertrude Beaker.
French Braid
Edit
Braided Hair
Edit
Widow's Peak
Edit
Messy Hair
Edit
Bowl Twist
Edit
Pigtails
Edit
Gibs Hair
Edit
Female Toddler's Hair
Edit
Male Child's Hair
Edit
Facial Hair
Edit
Other Hair
Edit
Clothing
Edit
Cardigan
Edit
This cardigan is in the game but not in these colors.
Round Glasses
Edit
Thin Glasses
Edit
Accessories
Edit
Black Dress
Edit
Furniture Patterns
Edit