Nikel23/Sandbox
Talk

0
7,784pages on
this wiki
For other uses, see Pet (disambiguation).

The Sims 2: Pets (Also known as TS2 P) is the fourth expansion pack released for The Sims 2. This game was released on October 18, 2006 for US and Canada, October 20, 2006 for EU, and October 26, 2006 for Australia. The main idea of this game is to let the player own pets. The version is a remake of The Sims: Unleashed, which was a best-seller at that time. It is also included in The Sims 2 Fun with Pets Collection.
Description
Edit

Create the perfect pet for your Sims to train, play with, and love throughout a lifetime. Pick everything from their paws to their personality. Choose from dozens of popular dog and cat breeds like Schnauzer and Siamese. Or create a unique cat or dog by modifying their features and body type. Your Sims can teach their pets tricks, take them for a romp in the park to meet other furry friends, or buy them toys, beds, and much more. But pets have minds of their own-so expect the unexpected!
New Features
Edit
Pet Training
Edit
Pet Career
Edit
Obtaining a Pet
Edit
Create-a-Pet
Edit
Unlockables
Edit
New Additions
Edit
New Life State: Werewolf
New Lifetime Wants: Raise 20 Puppies or Kittens, Have 20 Simultaneous Pet Best Friends, and Have 6 Pets Reach the Top Career Level.
New NPCs: Obedience Trainer, Animal Control Officer, Skunk, Wolf, and Pack Leader
New Radio Station: Country
New Door Lock: Allow/disallow Pets
Minor Features
Edit
New Build Mode Additions
Edit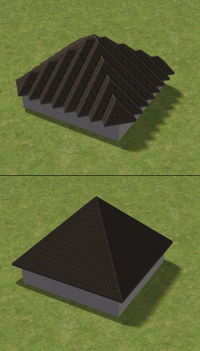 In addition to Room Tool, the tool to create a square-shaped room without holding the Shift button, the players can use this tool to create a diagonal-shaped room easily. Players can also toggle between Room Tool with this tool by pressing Ctrl+D button.
The diagonal roof is very handy to cover a diagonal room with roof. Diagonal roof comes with all styles of roof, including hipped, gabled, mansard, and pagoda[TS2:BV] styles. Previously, the only way to cover it is by placing normal roofs over and over which will awkwardly cobble together. Diagonal roof, however, is never used if players use auto-roof button.
This tool simplifies the creation of diagonal room. Instead of dragging the wall 8 times in different sides, players can simply use this tool. By default, the octagonal room will be 3x3 in size. To enlarge and shrink it, press + key and - keys. Players can also rotate the room before building it by pressing < or > keys. Ctrl + E hotkey can be used to toggle the Octagonal Room Tool with walls, half walls, and fences.
The Flatten Lot Tool will level the entire elevation in the lot with the road. Note that the terrain boundaries will still match the surrounding elevation, making the borders sometimes have steep terrain. Any elements that are above a terrain will not be affected, such as foundation, objects, or Sims. This tool technically has the same usage as Level Terrain Tool, but is used to the entire lot without exception.
The Sledgehammer Tool is a very useful tool when players want to delete the entire objects that stack with each others, such as shelves, surface with decorative sculptures, or multiple wall-hanging objects. Pointing an object with this tool will highlight it, making it contrast to see which object will be deleted. For example, clicking a curtain on the wall will only delete the curtain, but if clicking the wall if a window and the curtain is hanging on it will delete all those objects.
Players can rotate the floor tiles by pressing < or > button. Several flooring requires rotation to be fully decorative, such as floor tiles that only have one direction (sideways only), or corner tiles. Remember to rotate it back to its original direction, because some flooring that has patterns will be jumbled when rotated.
While selecting a floor tile, press the Ctrl+F hotkey to enable the quarter tiling. Previously, the only way to place half tiles is to build a diagonal wall or fence and place a tile between it. With this feature, players can create floor patterns more easily.
The Sims 2: Pets feature a new fence style that resembles a divider line. These edger fences can be used to delineate when two different floor tiles are adjacent to make a visible divider. Technically, these edger fences are the same as existing low fences which can be stepped on. Multi-tiled objects cannot intersect the edger fences, and because fences are not allowed inside an apartment slot, these edger fences aren't either.[TS2:AL]
New Objects
Edit
Pet houses and Pet beds
Kitty Kraze Katnip
The Chewinator by ChompCo Dog Bone
Pet Display Cases
Collar Connection Display Collar Rack
Tropico Avian Sanctuary Bird Cage
FMCU 3000 Hamster Cage
Mr. Maritime Aquarium
Beware of Pet Sign
New Interactions
Edit
Sim-pet based
Sims can adopt strays anywhere with sufficient relationship.
Sims can praise or scold to encourage/discourage their reinforced behavior.
Sims can take for a walk with a pet and boost their relationship for as long as they're away.
Object-based
New locking door option. Sims can lock doors to restrict pets from going through.
Most objects are modified for pets. These include objects to be chewable/scratchable, slept on, and so on.
Pets will yowl and howl on noisy objects, such as stereo, band objects[

TS2:U

], DJ booth, and karaoke machine[

TS2:NL

].
Pets may react to many moving objects or actions, such as alien abduction, RC cars, robots[

TS2:OFB

], resurrection[

TS2:U

][

TS2:FT

][

TS2:AL

], and so on.
Cats can jump onto counters, comfort themselves or eat food on it.
Adult pets can ride cars and share carpools, but cannot ride helicopter.[2]
Doofus pets are likely to react when they see their reflection in the mirror.
Dogs can knock over trash can and dig trash.
Sims can only bathe dogs in bathtubs.
Dogs can use Wet n' Wild Water Wiggler[

TS2:OFB

] to raise their hygiene, while cats will avoid it.
| Track | Real-world preview! |
| --- | --- |
| The Sims 2: Pets Theme | |
<videogallery id="0"> Video:The Sims 2 - Pets Official Trailer|The Sims 2 - Pets Official Trailer </videogallery>
External Links
Edit
Reference
Edit
↑

If by chance pets return home with a Sim who come home with a helicopter, the jump bug or error will occur and none of them will get paid from work.