Comments

14
The Sims 3 Plus Pets is Announced by EA!
Ad blocker interference detected!
Wikia is a free-to-use site that makes money from advertising. We have a modified experience for viewers using ad blockers

Wikia is not accessible if you've made further modifications. Remove the custom ad blocker rule(s) and the page will load as expected.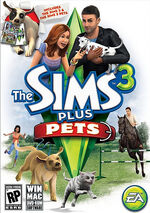 The Sims 3 Plus Pets is the next package for The Sims 3 Series announced by EA. It will be a mix of The Sims 3 and The Sims 3: Pets.
Whether you like them barking, meowing, or neighing, there's a pet for every Sim. The Sims 3 Pets introduces a multitude of animal breeds and species to choose from, along with the ability to tailor every facet of your pet. Choose their traits, personalities, and wishes, and then unleash them on a world filled with brand new locations.
The Sims 3 Plus Pets releases on October 18th, the same day as The Sims 3 Pets expansion pack and you can pre-order both on Origin. This is one treat you won't have to pull any tricks to get! El cobayatalk here 14:09, August 11, 2011 (UTC)