Mid-August News
We don't know quite yet if these 'Newsletters' will return as a regular thing here on The Sims Wiki, why not participate in the discussion? For now here's a bit about the latest shakings and rumblings on the site.
5,000 articles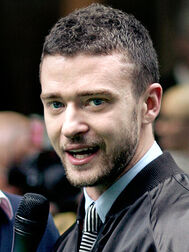 WE DID IT! We're past the 5K mark and still climbing! Bleeh and a morris has submitted some Custom content that you can download for free at our celebrations page.

So what does the future hold for The Sims Wiki? Who knows. Right now it's time to improve the quality of our excisting articles. You can get an overview of what needs to be done at our relatively new To-do page. Tasks are sorted into levels of difficulty so anyone whether they're new to wiki or veterans have needed tasks cut out for them. Category:Site maintenance also lists stuff to do like adding images, expanding stubs and so on. At the time of writing we also have over 1,000 files not in use, why not take 5 mins and add some to the appropiate pages?
Updated logo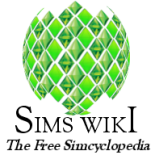 Just in case you haven't already noticed, we recently updated our logo following a vote of 3 to 0. The new logo has had its white background removed. Thanks to Ose for making it.
New userbox page
| | |
| --- | --- |
| | This topic has an associated userbox |
Recently we've taken the tired old, long and slow-loading userbox page and split it into sub-pages. The main page now holds a quick overview of the newest userboxes and some examples from each category. We've also begun using the box on the right to make users aware that there's userboxes available which are relevant to the current article.
Userboxes are a great way of telling people what kind of person you are, how you enjoy the game and your likes and dislikes.

The Sims Wiki has also begun re-structuring the Users category, expect it to look a bit wonky while we get all the categories and templates sorted properly. When this is done it'll be much easier to find like-minded people in our community, with users split into sub-categories by game, age, country, language and more.
Portals
| | |
| --- | --- |
| | This topic has an associated portal. |
Portals are a new initiative here on the Wiki. If you see this box on a page, it means there's a portal about it you can go to. While the Community Portal has always existed in some form, lately we've expanded on the idea with a Development Portal, an Admin Portal and portals for Fast Lane Stuff & Late Night. The purpose of these portals is to give a quick and easy overview about what's happening in the respective areas. The Community Portal is still your go-to page, but be sure to check out the others as well. Expect them to change over time as we get accustomed to them and learn how to improve them.

Note how the box is part of the Message template standardization project.
GamesCom 2010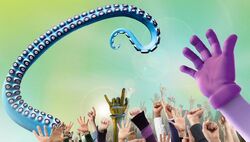 GamesCom 2010 is underway from August 18 – 22 and EA will be showing off many of their upcoming games. Among the Sim/Spore ones, fans who attend will be able to check out The Sims 3 on Consoles, The Sims: 3 Late Night, The Sims 3: Fast Lane Stuff, The Sims Medieval, MySims SkyHeroes and DarkSpore.
SimPrograms has a mega-post on the subject, check it out


Edit: The Sims Wiki has their own article on the event now, check it out: GamesCom 2010.
Admins
We've re-structured how the Administrators page looks like how where you Request for rollback rights or administratorship. These changes will hopefully make it easier for users to recognize the heroic administrators and rollback users who fight against the sinister forces of spam and vandalism in an epic struggle... or well, it's not quite that glamorous. Admins are often compared to janitors or cleaning ladies.

Requests for administratorship is currently closed since we have many active ones these days. Admins can still apply for specific positions though and rollback users are almost always in demand.
Monthly business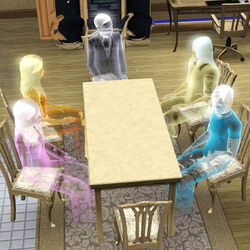 CUotM

In this months cleanup, we're trying to figure out which articles belong to The Sims Bustin Out' - console or handheld or both?. If you have any experience with these games, do join us in the cleanup.
Featured Contest

This month we're nominating and voting for potential names for the new Downtown neighborhood coming in The Sims 3: Late Night. At the time of writing Nightfalls is in the lead, closely followed by Downtown. Vote for nominate a name for yourself.
The Computer won last months vote for Most useful object.
Featured Article

Olive Specter is this months featured article. Vote or nominate next month's article. At the moment Create a Sim is in the lead for next months features article with 13 votes.
Featured Media

This month it was a photograph of ghosts which won featured media, see it on the right. Vote or nominate next month's media. Right now the The Sims 2 Announcement trailer is in the lead for next months featured media with 6 votes.

The Sims Wiki would like to remind people that new nominations for featured topics goes at the bottom of the voting page. Happy voting!
Blog posts
Noteable user blog posts

Check out Grey Beret's blog post which contains pictures of the area where she lives, they're quite beautiful. Can you guess where she lives from the pictures?
In the works

We're also working on bringing regular Sims News to the Wiki through blog posts, much like we have The Sims Wiki News on the front page. At the moment we only have the official news items from TheSims3.com, but there's alot more Sims News available out there. Sites such as Snooty Sims and SimPrograms often post updates about what's happening with The Sims games.
Votes
Discussions
User-created contests