The Sims Wiki in other languages

Did you know that The Sims Wiki is available in 16 different languages? The foundations have been laid for translating articles and for creating unique articles and communities in 15 languages other than English. The languages include French, Arabic and Chinese to name a few. You can see a complete list at our affiliates page. Not all of these language sub-domains are very developed and that's where we need YOU. Yes, you! If you're bi-lingual and don't mind lending a hand, use your time to set up inter-language links on both wikis. See Help:Interlanguage links for more information on how to do that. You can also merely go to the other language wiki and start making articles and help build a community.

The English Sims Wiki, links to all other languages of The Sims Wiki by default in order to help strengthen our Sims community. In return, we ask that you include links to other languages as well. There is a snip of code for the main menu on our affiliates page which you can insert into the main menu and it will list all currently known languages for The Sims Wiki, so users can easily navigate between them.


If The Sims Wiki of your language looks a bit small and dusty, fear not. If you are serious about taking that wiki to greatness and build a fantastic community it is best if you are not alone. You can use this wiki to try and coordinate a revival, or see if you can make some friends who are willing to do the same on other Sims community sites in your language.

If your language isn't featured as a Sims Wiki yet, you're very welcome to create one, but follow the same advice as above. It's best to already have a handful of people who are up for the job and be sure you check out Advice:Starting a wiki.
Babel userbox
| | |
| --- | --- |
| RU | This user speaks Russian at a native level. |
| | |
| --- | --- |
| ZH-3 | This user speaks Chinese at an advanced level. |
| | |
| --- | --- |
| AF-1 | This user speaks Afrikaans at a basic level. |
To further strengthen the language ties of The Sims Wiki, we'd like to introduce the Babel userbox. Now you can show other users which languages they can expect you to contribute in and how they can best contact you. For information on how to implement it, the languages supported and what level you are at, see the Babel userbox page.
See also the country userboxes.
Affiliates
Here at The Sims Wiki, we've also set up an Affiliates page. If you have a site related to The Sims series, we'd love to feature your banner or simple text link on our site. We do not have many affiliates at the moment, but that is sure to change.
The Sims News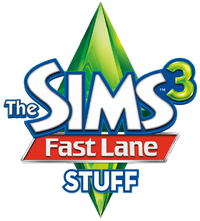 Since we're already doing a news update, might as well include what's been happening with The Sims.
Fast Lane Stuff release date
I'm not quite sure how this bit of news got past us, but the north american release date has been set to September 7, 2010. The european date is still set to the tentative Autumn though some online retailers list September 9, 2010. More info available on our Fast Lane Stuff page.
Twitterview with Grant Rodiek
That's right, we just made up a word. Twitter + Interview = Twitterview, you saw it here first.
One of the Sims 3 producers Grant Rodiek will be on Twitter to answer questions and comments about The Sims including new upcoming Late Night expansion pack. Be sure to join the Sims 3 Twitter this Thursday July 29th at 3 PM PDT (22:00 UTC).