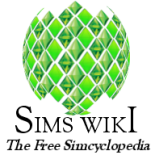 The Sims Wiki goes social with an arsenal of popular socialization mediums. We've recently signed up for Twitter, Facebook and Youtube accounts. Now you don't even need to visit the wiki to be recieve updates on what's going on.

Follow us on Twitter, like us on Facebook and subscribe to our channel on Youtube

Duskey(talk) 20:13, August 28, 2010 (UTC)
Ad blocker interference detected!
Wikia is a free-to-use site that makes money from advertising. We have a modified experience for viewers using ad blockers

Wikia is not accessible if you've made further modifications. Remove the custom ad blocker rule(s) and the page will load as expected.