Comments

7
Sims Medieval:Pirates & Nobles Release Date & Features!!!!
Ad blocker interference detected!
Wikia is a free-to-use site that makes money from advertising. We have a modified experience for viewers using ad blockers

Wikia is not accessible if you've made further modifications. Remove the custom ad blocker rule(s) and the page will load as expected.
Hi, Sim Fans has found a press release via EA Germany, which clearly states the release date for Expansion #1 of Sims Medieval. "Pirates & Nobles" is in fact a confirmed pack for The Medieval series and is due out 8/30/11. Look at the pic Below.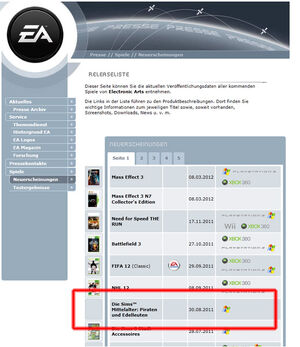 Also, Amazon has listed Sims Medieval Pirates & Nobles and has included a short feature description of what the game will include.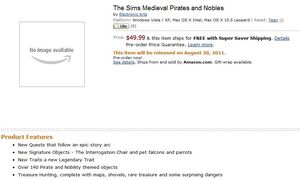 New Quests that follow an epic story arc
New Signature Objects – The Interrogation Chair and pet falcons and parrots
New Traits a new Legendary Trait
Over 140 Pirate and Nobility themed objects
Treasure Hunting, complete with maps, shovels, rare treasure and some surprising dangers
EDIT:Infinite Sims has spotted that yet again the ESRB has rated a game before release. The Sims Medieval Pirates & Nobles is CONFIRMED and rated T for Teen