Comments

7
Sims Medieval:Pirates & Nobles Release Date & Features!!!!
Hi, Sim Fans has found a press release via EA Germany, which clearly states the release date for Expansion #1 of Sims Medieval. "Pirates & Nobles" is in fact a confirmed pack for The Medieval series and is due out 8/30/11. Look at the pic Below.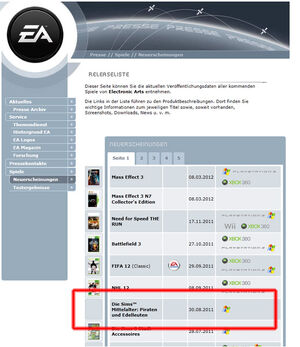 Also, Amazon has listed Sims Medieval Pirates & Nobles and has included a short feature description of what the game will include.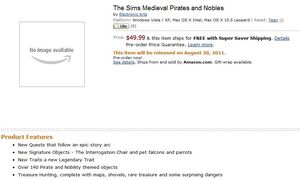 New Quests that follow an epic story arc
New Signature Objects – The Interrogation Chair and pet falcons and parrots
New Traits a new Legendary Trait
Over 140 Pirate and Nobility themed objects
Treasure Hunting, complete with maps, shovels, rare treasure and some surprising dangers
EDIT:Infinite Sims has spotted that yet again the ESRB has rated a game before release. The Sims Medieval Pirates & Nobles is CONFIRMED and rated T for Teen

Ad blocker interference detected!
Wikia is a free-to-use site that makes money from advertising. We have a modified experience for viewers using ad blockers

Wikia is not accessible if you've made further modifications. Remove the custom ad blocker rule(s) and the page will load as expected.